Mahmoud Darwish, Palestinian poet, is dead
Mahmoud Darwish, Palestinian poet, is dead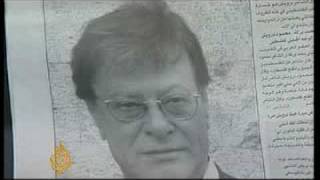 Reuters, The Associated Press
Ramallah, West Bank. Mahmoud Darwish, whose prose gave voice to the Palestinian experience of exile, occupation and infighting, died Saturday in Houston. He was 67.
The preeminent Palestinian poet, whose work has been translated into more than 20 languages and has won numerous international awards, died from complications after open heart surgery at a Houston hospital, said Nabil Abu Rdeneh, a spokesman for the Palestinian presidency.
Born to a large Muslim family in what is now Israel, he emerged as a Palestinian cultural icon eloquently describing his people's struggle for independence while criticizing both the Israeli occupation and the Palestinian leadership. He gave voice to the Palestinian dreams of statehood, crafted their declaration of independence and helped forge a Palestinian national identity.
"He felt the pulse of Palestinians in beautiful poetry," said Ali Qleibo, a Palestinian anthropologist and lecturer in cultural studies at Al Quds University in Jerusalem. "He was a mirror of the Palestinian society."
Darwish gained prominence in the 1960s with the publication of his first collection, "Bird Without Wings." It included the poem "Identity Card" that defiantly spoke in the first person of an Arab man giving his identity number - a common practice among Palestinians when dealing with the Israeli authorities and Arab governments - and vowing to return to his land.
Many of his poems have been put into music - most notably "Rita," "Birds of Galilee" and "I Yearn for My Mother's Bread" - and have become anthems for at least two generations of Arabs.
He wrote another 21 collections, the last, "The Impression of Butterflies," in 2008.
"He translated the pain of the Palestinians in a magical way," said the Egyptian poet Ahmed Fouad Negm. "He made us cry and made us happy and shook our emotions."
Darwish penned the words the late Palestinian leader Yasser Arafat spoke at the United Nations in 1974: "Today I have come bearing an olive branch and a freedom fighter's gun. Do not let the olive branch fall from my hand."
He also wrote the Palestinian Declaration of Independence in 1988, read by Arafat when he unilaterally declared statehood. The declaration was symbolic and had no concrete significance.
Last year, Darwish recited a poem damning the deadly infighting between the rival Palestinian groups Hamas and Fatah, describing it as "a public attempt at suicide in the streets."
Darwish was born in the Palestinian village of Birweh near Haifa, which was destroyed in the 1948 Middle East war that led to Israel's independence. He joined the Israeli Communist Party after high school and began writing poems for leftist newspapers.
Darwish left Israel in the early 1970s to study in the former Soviet Union, and from there he traveled to Egypt and Lebanon.
He joined the Palestine Liberation Organization, but resigned in 1993 in protest over the interim peace accords that the late Palestinian leader Yasser Arafat signed with Israel. Darwish moved to the West Bank city of Ramallah in 1996.
His work is widely admired on the Arab and Palestinian street. In Israel, it evokes different feelings.
In 2000, the Israeli education minister, Yossi Sarid, suggested including some of Darwish's poems in the Israeli high school curriculum.
Prime Minister Ehud Barak overruled him, saying Israel was not ready for his ideas in the school system.
In 1988, a Darwish poem, "Passing in Passing Words," was read by Yitzhak Shamir, then the Israeli prime minister, inside Parliament as an example of the Palestinians' unwillingness to live alongside Jews.
The poem suggested that Darwish called for Jews to leave the region.
Adel Usta, a specialist on Darwish's poetry, said the poem was misunderstood and mistranslated.
"He created a national Palestinian identity that no other poet could achieve," Usta said.
Siham Daoud, a fellow poet and longtime friend of Darwish's, said he traveled to a hospital in Houston, Texas, 10 days ago for surgery and asked not to be resuscitated if it did not succeed.
Akram Haniyeh, editor in chief of the Al Ayyam newspaper and a close friend of Darwish, was by Darwish's bedside in Houston.
He said Darwish underwent an operation Wednesday and there were complications.
Darwish married and divorced twice. He had no children. He is to be buried Tuesday in the West Bank city of Ramallah.
Última actualización: 28/06/2018