Christian Ide Hintze (1953-2012)
Christian Ide Hintze (1953-2012)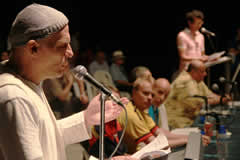 Ide at 21º International Poetry Festival of Medellín (July 2011)
We are very shattered and sad.
Ide Hintze died a natural death (the exact cause as yet unknown) at the end of last week.
This is too inconceivable for us to have any words to describe our feelings.
Ide was not just a poet and the director of the vienna poetry school, he was most of all a friend.
Ide, we miss you very much now.
Your enthusiasm, your humor, your genorosity, your great human kindness and warmth.
On behalf of the Vienna Poetry School,
Harriet Nachtmann
Please visit this link: Tribute to Ide Hintze from the Vienna Poetry School
We have created an online condolence book: http://sfd.at/newsflash/kondolenzbuch-fuer-ide
http://sfd.at/newsflash/christian-ide-hintze-1953-2012
February 14th, 2012
Última actualización: 28/06/2018