Graciela Maturo (Argentina, 1928)


July 8th to 15th, 2017
INVITED POETS
Graciela Maturo (Argentina, 1928)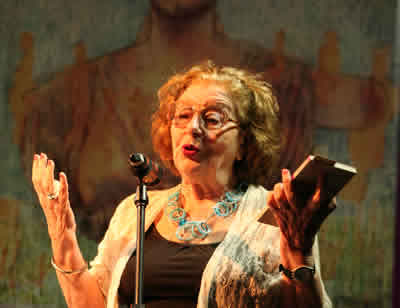 Graciela Maturo was born in Santa Fe, Argentina, in 1928. She is a poet, essayist, Americanist thinker, researcher and ex university professor. Founder of the Alétheia Center for Poetic Studies.
Books of poems: A Wind Made of Birds, 1958; The Face, 1961; The Sea that Resonates in Me, 1965; Live Among Us, 1968; Song of Eurydice, 1982; The Sea Has Your Name Now, 1993; Memory of the Nether World, 1995; Songs of Orpheus and Eurydice, 1997; Being Born in the Word, 1997; Water Cantata (chapbook), 1998; Navigation of Height, 2004; Poetic Anthology, 2008; Lark Forest. Poetic Anthology 1958-2008, 2009; Garden of Sand, 2011.
In her words: "Poetry is developed, concurrently with life, at least in my case. I have never asked myself, in the case of poetry, what I am going to write about, because poetry has no "topics". It unfurls a non-knowing, expresses the curiosities and concerns of the soul in the world. Nor can we ask about the formal structure, because it arises spontaneously, according to the above. "
Published at May 27th, 2017

Última actualización: 28/06/2018