Manal Al-Sheikh (Iraq)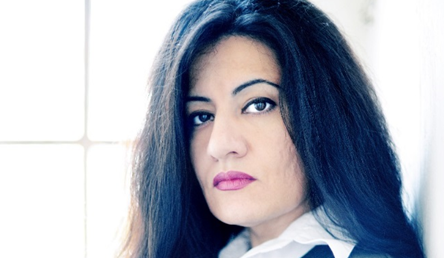 Por: Manal Al-Sheikh
Void…
I told you my love
I am not a politician and I haven't been one…
It's the void you left in my heart when you went away …
A void I filled with the news of the flowing blood in the eyes of God...
Wine
Gently squeeze me…
Slightly pour me in…
Don't rush off drinking me up…
Be patient…. Wait
To get my finest spirit ever…
A liquor that drives half the world to fluster…
The North Sun…
You don't know the North Sun…
Just like yourself…
Cold over meeting
Scorching over leaving…
War
Men plan wars
And women survive in the rubble
One day there will be no men
And a woman will pursue another
In search of the scent of the last man
Who touched his lips to her neck.
Crops…
My basket is unfilled today…
I picked no fruit…
My jar has dried up…I haven't filled it from the stream…
I was busy pulling the weeds out of my memory…
Typo
Since you are always on my mind…
I assumed you know what I am thinking about…
Stranger's Blood…
A stranger's blood in my body…
He has no name or address…
Yet, once the windflowers bloom in my lips…
I find me looking for him in the mirror…
Jean Dark
Like Jean Dark
I'm going to practice black magic
And lead my Country's revolution
Never shall I let fire eat me up
I
Did draw
A crematory
For the fire
This time;
It's my own silence.
*
Manal Al-Sheikh is a poet from Nineveh. She has a degree in English-Arabic translation from the College of Arts at Mosul University, and has worked in the local and wider Arab press as a freelance journalist. She has also been a very active participant in the Arab Union of Writers since 1993. Her literary and creative articles and texts have been published in several Iraqi, Arab and European newspapers and magazines, and she has also published collections of her own poetry as well as edited an anthology of modern Iraqi poetry.
Her first book, Inhirafut-tawabeet (The Deviation of Coffins), was published by the Iraqi Union of Writers in Nineveh in 1996. In 2007, she edited and published Umaraur-ruaa (Princes of Imaginative Visions), an anthology of modern Iraqi poetry. She published Assfar Alo'zlah (Books of Seclusion) in Egypt in 2008 and in 2009 Belnokta elhamraa tahta eynhi elyousrah (With a red dot under his left eye). In 2010 she published the poetry collection Impossible letters
Manal Al-Sheikh's work is translated into several languages, including Norwegian, English, Italian, Catalan and French. She was Stavanger City of Refuge's guest writer from 2009 to 2011.
Última actualización: 17/07/2018