Kiril Merjanski, Bulgaria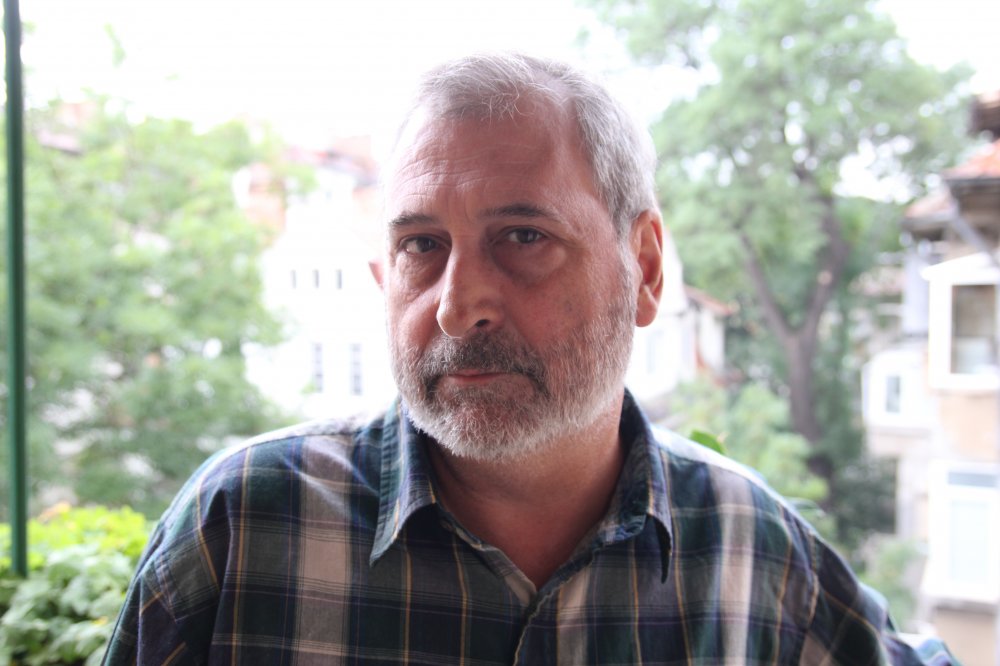 Por: Kiril Merjanski
Traductor: Holly Feldman Karapetkova
from The Myth of Odysseus in The New Bucolic Poetry (1997)

(the eye of the King)
In the early morning mist rises from the fallow earth.
The King stands silent beside the furrow -
a full chalice in one hand,
a strong, knotted club in the other.
The slaves quietly arrange the meal
in the cool shade of the blooming sycamore;
sprawled out in the soft yellow grass,
the grooms joke freely with them.
The King stands silent, his heart glad -
several stalwart lads
till the field thrice along its length.
Several stalwart lads
each bent across his plow;
the mist rises under their sturdy feet,
a fresh loaf steaming beneath the knife of the muddy plowshare.
Mist rises. The plowmen hurry on, they know -
the King watches them like a father,
his eyes kind but stern.
They hurry on, heads bowed,
muscles strained, bodies tensed...
And now - the winner bows low
at the end of the field.
A slave woman jumps instantly
to hand him a jug of wine;
he lifts it with a smile
and takes a long swig for health...
The others, with eager eyes,
salute his success
and continue through the long, dirty furrows,
their butts thrust up in the air.
But the sun reaches its zenith.
As does the King's full chalice -
cast in gold.
Between damp reeds
the azure flickers -
a string beneath the finger of a fawn.
*
(the song sung by Tityrus while grazing his flock in the scorching heat
of the afternoon)
I long for coolness, for peace
for a place to sit and rest
without thinking of the beginning or the end;
I long for the day to wind itself down
and depart, exhausted.
Exhaustion will refresh the blood
as the evening refreshes
a body slick with sweat,
as a cloud's heavy heart
grows white and weightless
after the rain;
calmly I will wait for the fall,
and for the winter, and the spring.
For everything to start again.
***
from Night Tide (1990)
translated from Bulgarian by Holly Feldman Karapetkova
The Day Swallows Everything
It's been raining since morning and will not stop
will not stop,
will not stop...
The gray drops
as a spider from the ceiling, silently;
so our love
like a fly sucked dry, empty
is left swinging in the web.
The day displays its frenzied appetite:
we won't be able to save ourselves
from its hunger by choking back the words,
or unleashing pointless impulses.
It's been raining since morning and will not stop
will not stop,
will not stop...
*
Your lips,
bitter as coffee in the morning
and exhaustion in the evening,
as the hatred on Saturday
and indifference of Monday.
Your lips,
as the lips of a bitter love,
will one day lose their taste.
Raindrops on the Window
I will sit next to you, next to your bed,
next to the lamp that washes the room in light -
a stop light flashes, runs down with the rain outside
like a wounded eye...
Shedding cold blood in spurts.
The night, reflected in red,
slips down the window in drops.
With your hair flung back, you stare at me.
I don't remember yet
why I came back.
***
selected Epitaphs From The Decline Of The Roman Empire
Translated from Bulgarian by Kalina Filipova
I
VIATOR IGNOTUS – ?
(AN UNKNOWN TRAVELLER. Age Unknown)
A man arrived on board a ship from Ephesus
and took a room at the "Ad Quirinam" inn.
He was a merchant but did not say a word about his goods,
instead he asked about the prices of the women.
He supped on cheese and salted fish
and drank two obols worth of wine.
And then the fatal accident occured.
He'd headed up the stairs, back to his room
(he was, it must be said, a little tipsy)
when something went awry – he either slipped, or tripped,
he fell and badly hit his head:
we gathered all around but he was dead.
We found a letter in his room,
a letter never finished, never signed.
It said: "Beloved,
I've reached as far as Apri, I will be home
before the Ides of March..." Poor fellow!
For who can ever tell
what fortune or misfortune may befall him?
So, traveller, do pause:
Here lies an unknown traveller.
And is not every one of us like him –
a traveller unknown?
II
MARTIA PAULINA – vixit annos XVIII
(MARTIA PAULINA. Aged 18)
Beneath this white, cold, heavy tombstone
lies Martia who was in life high-spirited,
kindhearted, jovial and gentle. Death
always takes away that which is our very own:
it is not Martia, lying here beneath the stone
but just her skeleton, washed by the rains.
It was her wish and so we buried with her
her mirror and her silver-plated comb.
Sit tibi, Martia,
sit tamen terra levis sub saxo! [1]
III
NUMERIUS CARUS – vixit annos XXXV
(NUMERIUS CARUS. Aged 35)
When I was young and handsome
I loved the Forum
and the arguing Sophists;
I used to read Cremutius Cordus, [2]
I liked the exquisite citaroedus Nardus [3]
and pored over the works of the Stoics.
But, then, I had to earn my living
so willy-nilly
I started work at Onocratus' [4] tavern –
a temporary job, I thought.
But soon I took to drink
and put on weight. And now
that I am dust swept by the winds
among star-pines and cypresses and lindens
I ask with every rustling of their branches.
Who was Numerius Carus?
And what was it all about?
Valete, viatores! [5]
Notes:
[1] "Martia, beneath this heavy stone may the earth above you be light." (Latin).
[2] Aldus Cremutius Cordus: a historian from the time of emperor Tiberius. In his "Annals" he spoke of Julius Caesar's assassins as "the last true Romans"; as a result he was sentenced to death and his work was banned and burned. One copy survived, however, and after Tiberius' death it became very popular among freethinking Romans. Unfortunately only a few fragments of the "Annals" have come down to us (see Historicorum Romanorum relique. H. Peter (Ed.). Leipzig, 1906-1914 /1967/).
[3] Unknown citaroedus of that period (cf. Epitaph IX). [4] A Sicilian Greek.
[5] "Farewell, travellers!" (Latin).
*
Kiril Merjanski was born on 30 July 1955 in Sofia, Bulgaria. He is a Bulgarian poet, playwright and translator from English. He graduated in History from Saint Kliment Ohridski University of Sofia. He lives in the United States where he graduated with a Master's in History (2007) from Wright State University. He is considered to be one of the most influential postmodern Bulgarian poets. His works have been translated into English, Spanish, French, Bosnian, Croatian, German, and Swedish. His works include: Who Killed Pythagoras?, a play (Sofia, 1988); Night Tide, poems, (Sofia, 1990); Selected Epitaphs from the Decline of the Roman Empire, poetry (Sofia, Tipografika, 1992); A Cloudy Earth, poems (Sofia, Svobodno poetichesko obshtestvo, 1995); The Myth of Ulysses in the New Bucolic Poetry, poetry (Sofia, Agentsiia Ima, 1997); Tiresias the Blind, a play, which was staged in 1998-1999, at the Sfumato Theater in Sofia; Birds, Visions, Deserts, poems (Sofia, 2002); Antiquity after the Antiquity, poetry (Sofia, 2004); The Serbian-Bulgarian Treaties of 1904 and the Balkan Policy of Russia: Toward the Breakdown of Equilibrium in Eastern Europe Before the Bosnian Crisis. (Germany, VDM Verlag Dr. Müller, 2008); "Antigone" By Sophocles. Poetical translation into Bulgarian by Kiril Merjanski. (Sofia, Publisher: Prosveta, 2015).
Última actualización: 30/06/2023