Landscape without space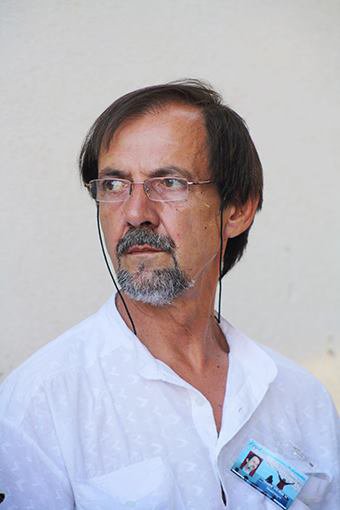 Por: Sreten Vujovic
The Vision
A hidden Thought
With the Illusion
Maybe
In the fear of pain
Seems like omnipotence
And wants to grasp
Fitful desire
Of conjoining before vulnerability
Among that
Delusion trembles
Asylum
Of bursting Vision
From Landscape without space (2016)
Former Me
And this morning
the sun has eyes
Which I foresee
Those
Which knows how to smile
And absorb Everything
They See ancient Dawns
Behind it
Which are placed in Former Me
And in the future one
Who Is waiting somewhere
Dazed
Of it's existence there
From Landscape without space (2016)
Sin II
Crystal Morning
has beaming eyes
And again they smile to me
That Look carries away
all the riots
slowly intoxicated by radius
glooming and scented
as whiff
of sleepy angel
sleepy
beyond transience
From Landscape without space (2016)
Carpe Diem
Evanished
In volcanic ashes
they are coming
searching
for vampirish misgivings
It's the same
as before
Indestructible
All the tears of Universe
didn't extinguished the flares
Which now and again
Are dreaming
About hellish darkness
From Order of chaos
(Landscape without space 2)- 2018.
Curtain Falls
We Cry voiceless
On the timeless stage
Just insanity and miquelet lock
which are being pressed on
For who
And which battles
when for so long
we are the slaves
In essence
which is not ours
From Order of chaos
(Landscape without space 2)- 2018.
Genesis
Between silence and the voice
of two separate inconsistencies
The Thought recedes
In space
so disembodied
eager for form
which after all
was given as the last Terminus
Since it's returning
To the Dawn

From Order of chaos
(Landscape without space 2)- 2018.
Not Of This World
Another place
Does it exist
Beyond waned Time
Descriptive senses
Self-consciousness in the
framework of chaos
lies in problem,
without him
Freed from
the fate of self-punishment
which are so needed by the Master
We are drowning
Into Eternal peace
and without It we persevere
if bad blood
replaces faith

From Order of chaos
(Landscape without space 2)- 2018.
---
Sreten Vujović was born in Cetinje, Montenegro, in 1957. He is a poet, essayist, translator, storyteller - even for children -, a primary and secondary teacher in his country and abroad, and a sculptor. In his production, he gives voice to life's experiences: love, fatherhood, exile and the commitment to freedom. In particular, his love poems compose an unprecedented journey that is still angelic while remaining carnal, a path with a wide horizon and high intonation, where the aerial breath of the impulse to good opens with paradoxical tenderness the door to the mystery of love.
He is the author of the poetry and prose books: The song of the forgetful bird, 1982-1983; Decapitated Round, 1983; Special Room (Room for Special People), 1986; The Book of Genesis, 1991; How the horizons sink, 1995; How to return (Memories of exile), 2001; Love Poem, 2006; Devilish round in front of the monastery, 2008; Big Brother, 2009; Leader, 2010; Prayer, 2010; Selected stories and Tommy, my friend-monodrama, 2011; and The Great Diabolic Cloak, Trilogy, 2015. His poems and prose have been translated into English, German, Italian, Polish, French, Galician, Romanian, Macedonian, Albanian, Slovenian, Ukrainian, and Belarusian. He is a member and one of the founders of the Association of Independent Writers of Montenegro and the Montenegrin Center of P.E.N.
Published at 08.04.2020
Última actualización: 10/08/2021