CHIRAG BANGDEL
CHIRAG BANGDEL
Nepal, 1971
EL DERRAME DE LA CARGA
Oscuridad
que todo lo unifica.
Fría oscuridad
pero justa.
Sin forma
tamaño,
o color.
De un negro parejo. ¡Vana belleza
existirás sólo para la luz!

SOLEDAD
Todo lo que queda
es una titilante
lámpara de aceite.
Una noche oscura
y un templo solitario.
No hay peregrinos,
ni sacerdotes,
ni devotos.
Finalmente la deidad descansa
rodeada de flores en fermentación.
POEMA
Blanca,
de un blanco perfecto.
Como el silencio de la noche,
expectante
y nerviosa.
Fría
como congelada.
Virgen e impecable.
La blanca hoja de papel.

¿Será mi poesía lo suficientemente buena para esto?

AMÁNDOTE
Un amor
que no es blanco ni frío
como el Taj Majal.
Un poco tibio
como una bolsa de agua caliente
bajo pies congelados.
Tan agradable
como las cosquillas
de tu cabello en mi rostro.
No me siento un vencedor
porque seas hermosa y perfecta.
El amor tiene sus fallas
y esto sí te hace perfecta.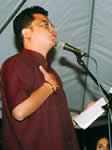 Chirag Bangdel nació en Nepal el 9 de julio de 1971. Poeta, escritor y artista plástico. Ha contribuido a diferentes publicaciones, revistas y periódicos internacionales, entre ellos el Nepal Travel Trade Reporter, The Mystic Magazine y ECS Magazine. Es autor de tres libros de poesía: But to Dream; After Midnight; y Fermenting Flowers. Pintor figurativo, también ha incursionado en el arte conceptual y en el arte abstracto. Su serie de instalaciones de arte llamada "Experience Red" en 2004, donde el mostró la futilidad de la violencia, fue muy bien recibida. También ha estado envuelto en la radio y la televisión y ha sido muy apreciado por "Voices in the Dark", un drama radial que escribió y dirigió en el 2003.
Última actualización: 28/06/2018