MERLE COLLINS
MERLE COLLINS
Granada, 1950
MÚSICA
tal vez tú tienes
suerte
cuando estás a
tono con la música que
están tocando
no así los
que quieren una canción
diferente

SUEÑO DE LUTO
Durante siete meses, y siete
días, cada noche penosamente
atravesaron el patio. Dime,
¿no viste el largo sudario blanco
de la muerte, del luto, de los finales
amargos, de más comienzos
pavorosos? Siete meses, siete larguísimos
días, del trece de marzo al diecinueve
de octubre, se desplazan de la montaña
a los sueños flotando en el
sueño drogado de días de incertidumbre.
Vienen con la forma de las cosas
para que recuerdes. Piqueta, azadón,
cuchillo de cacao, horca, azote, machete,
tallo de caña, canasto, sombrero de paja,
botas, morral, pala. ¿De qué otra
manera decirte? Bailan
sobre cobre, cacao pulido,
en círculo triturando piedras para
recordarte. Dime que no viste filas
andando penosas, redoblando el paso, noche
oscura tras profética noche.
Tal vez no querías ver
la ropa anudada, las cajas,
los atados, las rápidas miradas
sobre los hombros, y no te despertabas
pensando en qué y por qué pasaba eso. Dime
que no oíste ni un susurro
silbando en tus sueños, que no
viste gente llorando, con miedo y
a la deriva, botes en agua fangosa
zigzagueando y esperando. Dime
que no viste sombras
agazapadas en la orilla, que no
despertaste de un salto pensando
qué viejo dolor te estaba asediando
y por qué. Siete meses, siete días
de duelo, una revelación
que se abría ante ti y esperaba.
Pero las revelaciones de los sueños
son humo, no tu clase
de conocimiento. Luego viene la furia,
vienen las salpicaduras de sangre, vienen
los pasos pesados, viene el horror
del pasado convertido en futura crucifixión
de nuevo. Y ahora se han llevado
a los soñadores muertos de vuelta a la
montaña para alimentar la fuente de
los sueños de nuevo. ¿Qué quiere decir esto?
¿Que el hombre es más humano de lo que
cree? ¿Necesita esa mujer mostrar
su desconfianza? ¿Que los jóvenes
soñadores se emborrachan con la novedad
del conocimiento y se apartan de la
sabiduría de los viejos?

*
Un tributo (pasaje de Una carta)
Día cuatro
A ti, desconocido, a los que
caen y mueren marchando o mirando hacia delante,
a aquellos cuyos nombres permanecen escondidos para la multitud,
a los que fueron llorados por la madre, la hermana, el hermano, la
    amante,
lamentados por los que tienen miedo de hablar,
que temen llamar la atención sobre una pérdida.
A ustedes no celebrados en estatuas
o placas, o muros conmemorativos, o tumbas del soldado desconocido,
a ustedes que pueden haber gritado por amor al líder,
que pueden haber gritado por amor al país,
o que pueden sólo haber luchado por el amor,
a ustedes, que muertos en la cama,
pueden no haber conocido su participación hasta que despertaron
para preguntarse bajo otra luz.
Les damos gracias por su viaje hasta acá.
Día cinco
En el principio
fue la Palabra
y la Palabra que cada cual oye es la Palabra
de Olodumare, Jah, Alá, Dios,
Jehová, Yavé, Ciencia, suprema.
Un hombre está de pie sobre un cráter
donde antes estaba su casa,
mira en la oscuridad sin fondo,
llora y llama a su hijo, Mahoma.
Y alguien abre los brazos y dice,
Mahoma, no hay Mahoma,
Mahoma no está allí.
Y los profetas inclinan la cabeza y lloran.
La palabra que ha sido dicha antes,
tendrá que ser dicha de nuevo.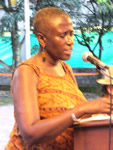 Merle Collins nació en Granada el 29 de septiembre de 1950. Ha sido profesora de inglés y Literatura Comparada de la Universidad de Maryland, donde también ha enseñado Escritura Creadora y Literatura Caribeña. Realizó además estudios universitarios de español y de historia. En 1985 integró The African Dawn, un grupo musical que incorporó poesía y musica africana. Obra poética: Because the Dawn Breaks, 1985; Rotten Pomerack, 1990y Lady in a Boat, 2003. Coeditó una colección de escritura inventiva llamado: Watchers and Seekers: Creative Writing by Black Women in Britain, 1987. Su trabajo ha sido publicado en varias antologías. Novelas: Angel, 1987, The Colour of Forgetting, 1995; e Invisible Streams. En 1990 publicó Rain Darling, una colección de relatos breves. En su obra ha expresado el sofocamiento a la que fue sometida la revolución granadina (1979-1983), posteriormente a la invasión norteamericana. Además del inevitable tema político en su obra confluye el canto a la infancia, el amor y los esplendores de la naturaleza caribeña.
Última actualización: 28/06/2018