SALAH HASSAN
VIDA BOMBA
… a los mártires de Babilonia e Irak
Con la sangre empiezo
Y con ella finalizo cada día.
Cada mañana bajo
            al almacén de las chatarras,
Quito mi cabeza y la vacío de las astillas
                      de las bombas de ayer.
Luego, lavo la sangre seca
                      de mi imaginación.
Tengo la sensación de que todo está minado.
Pulso el teclado del ordenador
y me escondo rápidamente tras la pared
                         antes de que explote.
No puedo encender un cigarrillo
                         Sin pensar en las explosiones.
Para mí, todo puede explotar.
El teléfono, la cafetera,                         el timbre de la puerta, las cartas.
Siento que mi cuerpo también es una bomba
                                    y puede explotar. Con la sangre empiezo
y con la sangre finalizo cada día.
Cada noche me voy a mi cama arrastrándome.
Deseando no despertar. No quiero seguir viviendo
            En esta vida bomba.

FIESTA DE RECEPCIÓN
Perpleja, maquillada a la antigua
como un personaje de Shakespeare
mi muerte me persigue.
A pesar de su dura apariencia
y su preocupación por los detalles
sus pasos, por alguna misteriosa razón,
parecen inciertos
-quizá sean los zapatos nuevos.
Es doloroso verla confundida
de esta manera.
Para que se relaje
voy a invitarla esta noche
a tomar un trago conmigo…
Cerraré los ojos
para que ella pueda poner el veneno
en mi copa…
Fingiré ir al baño
-no quiero ver
como tiembla su mano-
para que pueda terminar su labor...
Mi vida ha fracasado
no quiero que mi muerte
fracase también.

UN JARDÍN EN EL INFIERNO
Todo está negro en el jardín.
Las flores son de piedra,
Beben alquitrán y respiran ceniza.
     Tienen el olor del fuego.
¿De qué infierno habla Rimbaud?
Los árboles aquí tienen aspecto de incendio
Y las frutas negras de dolor,
Inclinadas hacia el abismo.
Cada rosa es un incendio que anuncia la resurrección
En el jardín del diablo.
Los pasillos son estrechos
               como una parcela entre dos nulidades,
Y cada paso es una equivocación
          que lleva a un infierno como el infierno.
La flor del paraíso, tal y como quería el diablo en su jardín…
Una piedra fundida
Tiene la forma de una pesadilla negra
Del tamaño de un desastre,
Y tiene el sabor del asfalto.
¿De qué infierno habla Rimbaud?
En las Islas Canarias
La gente vive en sus estatuas oscuras,
Y cuando se mueven
El mar da marcha atrás
Y se esconde detrás de su idea
En el jardín del diablo
(¿Sería en las Islas Canarias?)
La flor del carbono está en pie con sólo una pierna
                    y fumando la historia
Todo está negro en el jardín del diablo
                    y el humo es el idioma habitual
Las expresiones hierven
y las palabras se evaporarían cuando el aire las pronunciara
Cada paso es una equivocación
                    que lleva a un infierno como el infierno
No es fácil que alguien
          pueda salir del jardín del diablo
                         sin que se ennegrezca
y me estaba preguntando
     ¡si estaba negro
          antes de mi entrada al jardín!

ERRAR
Vestidos de harapos
Llegamos tarde a las limpias ciudades.
¿Ha salido el sol
cuando estábamos en el bosque?
Y estas manos blancas
Que nos llevan de la muñeca
¿Habrán pensado en la oscuridad?
¡Oh, Dios mío, qué tarde hemos llegado!
¿Estábamos desconcertados frente a la nieve,
con nuestras extrañas voces
y nuestros desérticos recuerdos?
¡Oh, Dios mío, ya hemos llegado
mas aún estamos errados!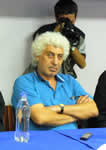 Salah Hassan nació en Babilonia, Irak, en 1960. Poeta, dramaturgo, periodista y crítico. Abandonó su país por razones políticas en 1992. En la actualidad, reside en Holanda. Es autor de varias obras de teatro y de poesía, entre ellas: Saliendo con averiada brújula e Inquietud babilónica. Sus críticas y artículos periodísticos han aparecido en periódicos y revistas en Irak, Siria y Jordania. Algunas de sus obras: A Rebel with a Broken Compass, 1997; Illusions, 1999; Love in Uruk, 2000; The Blow, 2001; Slapen in een vreemde taal, (Sleeping in a Foreign Language), 2002; Een oud liedje over de weiden (An Old Song about the Meadows), 2005; también publicó, para niños, tres libros de poesía y una obra dramatúrgica. Recibió el premio de poesía iraquí en 1992 y el premio Dunya de poesía holandesa en 1996. Participó en Poetry International Festival Rotterdam en 1997 y 1999. Sus poemas han sido traducidos al inglés, francés, alemán, español y farsi. De su obra se ha dicho, "es extremadamente innovadora y única dentro de la poesía árabe (Adonis); "su poesía es como entrar a un museo" (Abdil Ilah Al Saegh); y según Fadil Tamer, "para la generación de los 80's (que abandonó la forma tradicional y usó la forma para transmitir el contenido, haciendo libre uso de las mayúsculas y minúsculas, ritmo y sonoridad), Salah Hassan fue una fuente de inspiración". Y según H.J. de Roy van Zuydewijn, traductor al holandés de los sonetos de Shakespeare, La Odisea y la Iliada, "traducir cierta poesía de Salah Hassan es particularmente difícil debido a la misteriosa imaginería, la cual no es siempre reconocible, incluso para un iraquí. Esto es particularmente debido al hecho de que es imposible decir las cosas de una manera abierta bajo la dictadura…".
Última actualización: 28/06/2018