NAHID KABIRI
ÉSTA
Gota a gota
la rosa,
gota a gota,
la lluvia,
grupo a grupo
los amados, los amigos
en su sangre,
¡bajo el fuego!
Las negras nubes
suspendidas, densas
la ciudad muda, fría y tensa
las ramas quebradas,
el cielo sombrío,
¡Oh, qué tan indefenso!
¡Oh, qué tan insensible!
¡Nubes, viento, lluvia,
deseos abatidos,
agonía, dolor!
Llantos silenciosos
tumbas sin marcar
en una multitud –
como las hojas de otoño
¡Oh, nuestros amados!
¡Oh, nuestros queridos amigos!

VELAS ALZADAS
Rasgo la alborada,
es muy estrecha para mí
y el día es una falda corta
¡que ni siquiera me llega a las rodillas!
La avergonzada policía cívica
sopla su silbato
para advertirme
y recordarme el reglamento:
¡la desnudez en público,
está estrictamente prohibida!
Quiero buscar un refugio –
venir a ti –
pero al interior de la brecha temporal amorfa
que separa el día de la noche
¡soy incapaz de encontrar tu dirección!

Un viento recio,
se arremolina rabioso
y gira y gira
en nuestra morada tribal.
¡La velas están alzadas!
¡Tum! ¡Tum! ¡Los tambores de otoño!
Como si una poderosa fuerza en la oscuridad
agitara y torciera los árboles.
Me arrodillo
para recitar un poema en voz alta
como si fueran las solemnes palabras de una plegaria
¡Amén! ¡Amén!
¡Y despierto siendo una estrella durmiente
en el más alejado rincón del cielo!
¡Amén!

PETICIÓN AUTORIZADA
¿Me permite usted, señor?
¿Puedo abrir las ventanas de mi corazón
a las envolventes tentaciones de la luz?
¿Y, aunque sea desde la distancia,
mirar las bellezas de la vida?
¿Me permite usted, señor?
¿Me permite ser yo misma – una mujer…
de entre todos los trescientos sesenta y cinco días del año,
por sólo uno, liberarme
de sus órdenes y prohibiciones?
¿Me permite usted, señor?
¿Me permite tomarme la libertad natural
de recostarme sobre la hierba verde
y siendo aún más generosa que el sol
dar al suelo expectante
la tibieza de mi cuerpo y alma?
¿O, en los cultivos a lo lejos,
posarme sobre un árbol solitario
para cantar en el campo
buscando la comunión con los pájaros
y la armonía con los ríos,
en los cuales nadan extáticos cardúmenes de peces
y, en recuerdo
de todos mis susurros de amor a la lluvia,
rendirme a una libertad por mucho tiempo ansiada?
¿Me permite usted, señor?
¿Me permite tan sólo por un rato en su sociedad impuesta
ser eximida de las molestias de los
"¡Detente!"s
"¡No hagas!"
"¡No!"s
y "¡Nunca!"s?
¿Me es permitido, si usted cortésmente me concede el derecho,
soñar con el amor?
¿Y, fascinada por los audaces versos del amotinamiento,
el encanto envolvente de un beso,
y el cautivador brillo de la libertad,
evadirme
de la severidad de los oficios domésticos,
impuestos exclusivamente a la mujer?
¿Me lo permite, señor?
¿Me permite por unos momentos de alivio, dejar
la aguja y el hilo,
la ropa y la plancha,
la tetera y la estufa,
y bajo los cielos infinitos del romance,
fusionar mi ser
con esos adorables momentos de sentido común e inteligencia,
que su "CÓDIGO" me ha negado siempre?
¿Me lo permite, señor?
¿Me lo permite, señor?
¿Me permite saludar algún día a un vecino?
¿O tejer una bufanda para algún transeúnte
Con los hilos de mis lágrimas no derramadas?
¿Y puedo emigrar sin un "permiso"
al altar de rosas
allá a lo lejos – en los fragantes campos de la primavera? ¿Me lo permite, señor?
¿Me lo permite?
¿Me permite luego burlarme de cualquier cosa de acá? Sí, burlarme, ¡señor!
Y decírselo en su cara:
su "Yasa"[1] es una vergüenza
y la justicia en la que usted cree,
es, de hecho, una desgracia.

[1] Antiguo y estricto código mongol.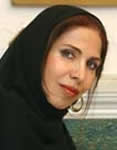 Nahid Kabiri nació el 24 de noviembre de 1948 en Irán. Graduada en Sociología en la Universidad de Teherán. Colaboradora permanente en publicaciones persas. Ha publicado 6 libros de poesía (Yalda; Moments in the Wind; Sunsets; Autumnal Aspirations; y In Praise of the Sun), también 3 libros de relatos breves, 2 novelas, además de diversas traducciones y artículos. Nacida en la tierra de grandes poetas como Rumi, Saadi, Hafiz y Ferdosi, su escritura tiende a adoptar el concepto moderno de la corriente poética principal en Irán, iniciada por Nima Toushij cincuenta años atrás. Sus poemas son expresivos, líricos y también calificados como socio-políticos. Su escritura, su fraseo, es sensitivo y brillante. Una manifestante natural por la justicia y la igualdad de derechos, ella extiende el brazo al lector en su poesía, su redacción honesta y sincera. El estudio y el amor por la literatura, el arte y la poesía han sido parte esencial de su vida.
Última actualización: 28/06/2018