GABRIEL ROSENSTOCK
GABRIEL ROSENSTOCK
Irlanda, 1949
AVIARIO
No sé si nací así
O simplemente nunca quise crecer.
¿Yo? Soy el enano en la corte de Moctezuma
Con la onerosa tarea de hacer reír a mi señor.
Es un arte. Conozco trucos del oficio
Como todos los demás: oficinista,
Hojalatero, sastre, soldado, filósofo.
Soy un jorobado; así que al menos
no me reclutarán.
'Por malo que sea el final que te toque,'
Me dice un día mi Señor,
'Tu corazón no te será arrancado del pecho.
Es un corazón de petirrojo lo que tienes' – riendo –
'¡Sería un insulto a los dioses!'
¡Los dioses! ¡Ellos tuvieron su momento!
Al menos eso es lo último que se dice por aquí
De los extranjeros...hombres dios.
Lo único que siempre quise
Fue estar a cargo del aviario-
El majestuoso águila, el quetzal multicolor, el pato sagaz.
En vez de ello debo darle a mi Señor un ataque de risa,
Distorsionar mi cara por Moctezuma,
Y agitar mis brazos en el aire
Como un pájaro herido.

A MI ESPOSO QUE TRABAJA EN LA GRAN MURALLA
Te envío saludos, oh Señor de mi alma y Soberano de mi corazón.
Hace siete largos meses que puse mis ojos en tus delicadas facciones
Y desde entonces cada estrella en el firmamento oscureció:
¡La misma luna esconde de nosotros su cara!
El viento trae horribles noticias desde el norte -
Que el arroz escasea entre vosotros y el millo más aún
Que la helada está adherida a vosotros como fango
Que el aire está negro de cuervos
Que los dardos de los Bárbaros llueven sobre vosotros
Que la Gran Muralla repta como dragón
Sobre el monte y el desierto.
Los tiempos recientes han visto aún más hombres de nuestra zona
Obligados al servicio. No mencionaré nombres.
Académicos y poetas. Sus pergaminos fueron quemados.
Fueron atados juntos
Y, con rostros de piedra, mudos, partieron hacia el norte.
Dos meses de camino, descalzos, les esperan... ¿y para qué?
Una muralla nos protege del Helado Norte.
¿Es verdad lo que cuentan acerca de los Hseung-noo?
¡Malditos sean!
¿Que se comen a sus propios niños
En tiempos de penuria?
¿Que las palmas de sus manos tienen vello rojo?
Si aunque sea esta noche brillara la luna
Y tú -brasa de mi corazón- la estuvieras mirando...
¿De verdad que piensan que durará para siempre?
¿Contra el viento, contra la lluvia,
Contra la helada, contra los bárbaros?
Esta campiña bajo la oleada del terror.
¡El otro día apenas
Nació un potro de dos cabezas!
El viento anuncia traición a través de los pinos
Un pez monje saltó desde el Río Amarillo
Se paró sobre la orilla y proclamó en extraño lenguaje
"Hacia el norte, los huesos de la noche
Brillan en el Río Plateado de la Vía Láctea."
Desde que te fuiste, una pared helada ha rodeado mi corazón.
Regresa y derrúmbala, o señor de mi corazón. Pero pronto.

RENSAKU (Secuencia de Haikus)
inscripción funeraria
    nada más que liquen
        un chorlito llama
oveja responde a oveja
    la niebla
        se dispersa Eglwys Llanfaglan
    sin lugar a donde ir
        lápidas soportando la lluvia

una vaca mira sobre
    Caernarfon Bay
        sin saber por qué

margarita en noviembre
        luces que aparecen
            entre las colinas

noche que cae
    sobre lápidas –
        fresca voz del avefría

el año sobre la lápida
    más ilegible aún
        tras el viento de hoy

valle de brumas
    árboles retoñando
        uno a la vez

el lamento de las vacas
    oscurece las aguas
        de Caernarfon Bay

masticando el universo
    oveja de montaña
        en la niebla

tan quieta
    sobresaliendo de un risco
        una oveja

de la niebla
    más niebla
        se alza

ofreciendo su rocío
    a un sol de invierno
        un centenar o más de cañas

ovejas desapareciendo
    estrellas brotando
        la voz de una cascada

la azul quietud
    de la mañana
        intocada por el canto de pájaros

un sol bajo …
    sombras que huyen
        a través de campos de batalla

setas
    inobservadas
        un bosque en Anglesey

un árbol que cayó
    y no cayó
        otro soportándolo

un cuervo sale de los bosques
        para mirar al mundo
            y regresa

súbitamente
         el universo se expande
             gansos resonando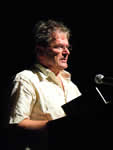 Gabriel Rosenstock nació en Kilfinane, Irlanda, el 29 de septiembre de 1949 y estudió en el University College Cork donde co-fundó la revista INNTI que dió nombre a una nueva generación de poetas en lengua irlandesa. Presidente, en el pasado, de Poetry Ireland, es miembro de varias asociaciones internacionales de haiku así como miembro honorario de la Sociedad Irlandesa de Traductores e Intérpretes. Es editor asistente en An Gúm, editorial en idioma irlandés y miembro de Aósdana, la academia irlandesa de artes y letras. Ha publicado los libros de poemas: Susanne sa seomra folctha, 1973; Méaram!, 1981; Om, 1983; Nihil Obstat, 1984; Migmars, 1985; Rún na gCaisleán, 1986; Portrait of the Artist as an Abominable Showman, 1989; Oráistí, 1991; Ní mian léi an fhilíocht níos mó, Indreabhán, 1993; Cold Moon. The Erotic Haiku of Gabriel Rosenstock, 1993; Syójó, 2001; Eachtraí Krishnamurphy, 2003; Krishnamurphy Ambaist, 2004; Rogha Dánta, Poemas selectos, 2005; Géaga Trí Thine, Haikus selectos, 2006; Tuairiscíonn Krishnamurphy ó Bhagdad, 2006; Bliain an Bhandé/ Year of the Goddess, 2007. De él ha dicho Peter van de Kamp, editor de Irish Literature: "Qué es lo que hace de Gabriel Rosenstock el más grande lírico irlandés? Es el mejor sastre del pueblo, un perfecto artífice que luce terriblemente bien en cualquier forma poética - del haiku al canto..." Y el galés Gwyneth Lewis ha concluído que "Rosenstock desafía las leyes de gravedad, saltando más allá de los confines del irlandés a través del vigor de su escritura y su indiferencia total por las limitaciones de tiempo y espacio."
Última actualización: 28/06/2018