AHARON SHABTAI
AHARON SHABTAI
Israel, 1939
MIENTRAS MARCHÁBAMOS
Hace dos días en Rafi'ah,
nueve árabes fueron asesinados,
ayer seis
fueron muertos en Hebron,
y hoy —sólo dos.
El año pasado
mientras marchábamos
desde la calle Shenkin,
un hombre en motocicleta
nos gritó:
"Muerte a los árabes!"
En la esquina de Labor
frente al mercado de Bezalel,
junto a la carnicería
de Braun,
y en la esquina de Bograshov:
"¡Muerte a los árabes!"
Durante un año entero
este poema estuvo tirado
sobre la acera
a lo largo de la calle King George,
y hoy
lo levanto y compongo
su línea final:
"¡Vida a los árabes!"

SOL, OH SOL
Sol, oh sol,
¿cómo es que brillas
y el país se oscurece?
Ni siquiera una hoja de luz
penetra las cabezas –
y no hay rayos
en las cámaras del corazón.
¿Cómo es que tu resplandor
se vierte en vano
para los soldados y ladrones de tierra
en Bidu, Budrus, y Bil'in?
Cómo ilumina
tu lámpara el camino
a aquellos que golpean ancianos
y envenenan pozos?
Sol, oh sol,
eres, parece, no un sol
sino apenas un trozo de excremento.

NO, SAFO
La cosa más bella, dijo Safo, es aquel que amas.
No Safo, digo yo. Aquel que amas no será bello
Mientras un contratista o corporación o compañía de personal chupe su sangre-
Con 15 siclos por hora no hay futuro para la belleza.
Déjame sacarte de la cabeza la basura con que te han alimentado.
Anaktoria no será bella si la obligan a trabajar como prostituta,
Attis no trenzará flores si cierran la fábrica y la trasladan a El Cairo.
Por lo tanto, lo más bello, la precondición de la belleza, es la lucha de clases.
Tenías razón. Ni jinetes ni fuerzas armadas, ni buques de guerra,
Pero cuando prevalecen la solidaridad de los trabajadores, la cooperación y la igualdad
Entonces los cielos y la tierra se besarán en los ojos de mi amada.
Por lo tanto, no es entre los escritores, ni entre los docentes ni en un concierto
Que encontrarás hoy la belleza, sino en los sindicatos:
Los basureros, los camiones de la basura, Safo, son la cosa más bella.

LA POLÍTICA
Para Tanya Reinhart
Tus brazos que beso donde se encuentran con el pecho,
tus piernas blancas que echan ramas como lianas, con el amuleto del sexo
la vasta llanura de tu vientre, tus ojos, tus labios y tu cuello—
son la benevolencia, la hermandad, la vibrante revelación de la verdad;
son la justicia, la igualdad, la libertad de querer y pensar;
son la donación de la oportunidad, el trabajo que es amor.
Cuando levantas tus rodillas avergüenzan la tiranía, la vulgaridad y el odio;
son la rectitud y la sinceridad, el orgullo que no rebaja nada;
son lo comunitario revelado en lo personal —el deseo de compartir;
son la revuelta contra toda la idiotez, contra toda la ignorancia y la mojigatería
son el placer de dar, de obtener, de tener suficiente;
son la belleza que no puede comprarse con dinero, sino sólo con alegría;
son lo que se opone a la opresión, a la ocupación, a la explotación
[—son la dicha de la moral;
son la afinidad, la fe, la devoción que no contiene temor;
la disponibilidad de las necesidades básicas, de la educación, del
               [reconocimiento de la dignidad mutua;
Son el derecho a la huelga, al ocio, a protestar, a oponerse.
Todo lo que es bueno y digno de la humanidad está aquí para verlo y tocarlo,
y ésta, ésta es mi política —de miembros suaves— echada en la cama frente a mí.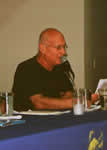 Aharon Shabtai nació en Israel en 1939. Es uno de los más destacados poetas en lengua hebrea, y un abierto opositor contra las políticas opresoras de Israel en los territorios palestinos ocupados, que violan continuamente los derechos humanos de los palestinos. También ha sido un reconocido traductor de dramas griegos al hebreo. Estudió griego y filosofía en Jerusalem, en la Sorbona y en Cambridge y ha sido profesor de Literatura en la Universidad de Tel Aviv. Ha publicado cerca de 20 libros de poesía. Traducciones al inglés de sus poemas han aparecido en numerosos periódicos, incluyendo the American Poetry Review y en the London Review of Books. Ha publicado los libros de poesía: Xadar ha-morim (Teachers' Room), 1966; Qibbutz (Kibbutz), 1973; Ha-po'ema ha-beytit (The Domestic Poem), 1976; Xara', mavet (Shit, Death), 1979; Xut (Thread), 1981; Ha-xamor (The Donkey), 1982; Sefer ha-klum (The Book of Nothing), 1982; Ha-hartza'a ha-rishona (The First Lecture), 1985; Begin (Begin), 1986; Ahava (Love), 1988; Ziva, 1990; Gerushin (Divorce), 1990; Metaziviqa (Metazivika), 1992; Ha-lev (The Heart), 1995; Be-xodesh May ha-nifla' (In the Wonderful Month of May), 1997; Politiqa (Politics), 1999; Artzenu (Our Land), 2002. Ha publicado en francés: Le Poème Domestique, 1987 y La Première Lecture, 1990. En inglés: Love and Other Poems, 1997 y J'accuse, 2003. En 2006 rechazó participar en the Eizenberg Shalom International Poetry Festival in Jerusalem, argumentando que él se oponía a "un festival internacional de poesía en una ciudad en la cual los árabes son oprimidos sistemáticamente, cruelmente atrapados entre muros, privados de sus derechos y espacios vitales, humillados en puestos de control en los que las leyes internacionales son violadas".
Última actualización: 28/06/2018