C. K. STEAD
C. K. STEAD
Nueva Zelanda, 1932
LO CORRECTO
"¿Has descifrado
los códigos de la nieve que cae
o los del lenguaje de la luz?"
"¿Cuánta miel
contienen las Pléyades?
¿En qué lugar
se libera Orión?
"¿Cuál es el peso
de la sombra sobre
un corazón endurecido?"
"¿En qué difieren del sueño
las diez órdenes vigentes
del cielo?"
"Soy detestable, Señor"
Contestó correctamente Job
"Yo no tengo respuestas."
Ovejas fueron
su recompensa, buenos pastos
y camellos y también hijas
y la derrota de sus enemigos-
Elifaz de Temán,
y Bildad y Sofar *

*Job (42.7-12)

PAULINA…
Paulina, fui tu primer
Pretendiente. Todavía me irrita
Recordar este mes con cuánta fuerza
Martillé el portal de tu jardín.
Una verdadera patricia
Mantuviste tus piernas cruzadas.
Te casaste con un fabricante
De enanos de plástico
Y bañaderas para pájaros enjaulados
Y le diste, así dicen
Una sucesión de rencillas.
Yo llevé mi semilla a otra parte.
Paulina aún soy tu poeta
Celebrando hoy
Ya sin cabello, tu portal cerrado
Y las telas de araña en tu tumba.

ATRAVESANDO EL SALÓN
La poesía: luego de lo primero
la mejor.
Ella representa. Ella habla.
Es verdad pura en una casa en ruinas.
Sólo el hombre completo
puede levantar su propio peso.
Brumel, atravesando el salón,
Nada representa.
Aquel singular, agudo ingenio
Se deshace por un instante de su gravedad
Y cae sobre la espuma.
Al final los poetas asumen la destreza.
Me comprometo a ese fin
Mi segundo mejor arte
me servirá para alabar al primero.
El primero sólo se sirvió a sí mismo.

EN ESE PAÍS
En ese país
el poeta habló por su pueblo
enfrentando al invasor.
Entre un bombardeo y otro
cuando las sirenas callaban
se transmitían poemas.
Cuando los periódicos mentían
la gente hacía cola pidiendo poemas
y los leían en los tranvías.
Oh que tremenda responsabilidad
escribir sólo la verdad,
incluso morir por ella -
esto es mucho mejor que ser
un empleado público de las convenciones,
del Decoro, ese, nuestro amo.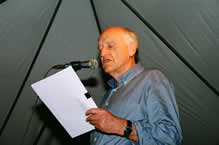 C. K. Stead nació en Auckland, Nueva Zelanda, en 1932. Es uno de los más famosos escritores de su país, ha publicado doce libros de poesía, nueve novelas, dos colecciones de relatos, seis libros de crítica literaria y ha editado otros textos numerosos. Su novela, Smith's Dream, fue adaptada para el guión de la película Sleeping Dogs. Ganó el New Zealand Book, tanto por su obra poética como por su obra en prosa. Bibliografía: Whether the Will is Free: Poems 1954-62, 1964; The New Poetic, 1964; Smith's Dream, 1971; Crossing the Bar, 1972; Quesada: Poems 1972-74, 1975; Walking Westward, 1979; Five for the Symbol, 1981; Geographies, 1982; In the Glass Case: Essays on New Zealand literature, 1982; Paris: A poem, 1984; Poems of a Decade, 1983; All Visitors Ashore, 1984; The Death of the Body, 1986; Pound, Yeats, Eliot and the Modernist Movement, 1986; Between, 1988; Sister Hollywood, 1989; Answering to the Language: Essays on modern writers, 1989; Voices, 1990; The End of the Century at the End of the World, 1992; The Singing Whakapapa, 1994; Villa Vittoria, 1997; Straw into Gold: New and selected poems, 1997; The Blind Blonde with Candles in Her Hair, 1998; Talking About O'Dwyer, 1999; The Right Thing, 2000; The Writer at Work: Essays, 2000; The Secret History of Modernism, 2001; Dog, 2002; Kin of Place: Essays on 20 New Zealand writers, 2002; Mansfield: a novel, 2004; My Name Was Judas, 2006.
Última actualización: 28/06/2018