The Dragon in the Valley of Poetry. Poetry International Meeting China-Colombia
Anthology of Poems
The Dragon in the Valley of Poetry
Poetry International Meeting China-Colombia

November 19, 20. 2013
Han Zuorong the former chief editor for People's Literature, is a renowned poet currently serving as an adviser for Wind Poetry. His Forest Fire of Greater Khingan, a documentary writing on the disaster, was awarded "Readers Favorite Works" from People's Literature in 1987. His Selected Poems of Han Zuorong was a winner for the First Lu Xun Literature Prize in Poetry. In 1966 graduated from the Heilongjiang School of agricultural mechanization. In 1983 he joined the Chinese writers association. The collection of poems The Ming, Six Mountains, the north corner of the Snow Lyric Poetry, quiet, white birch forest loves garland, girls and lilac, naked, glass vase, instant, Selected Poems of Han Zuorong, paper on the landscape. Poetry collection feeling, wisdom and poetry, poetic charm, Essays round temptation, another kind of prose. Reportage Secret, City and disaster etc.. Poetry Gaze won the 1993 People's Liberation Army Literature the prize of excellent works, The tunnel mouth, bee flew into a won the 1984 Beijing prize for literature, poetry Han Zuorong was the first selected poems of Lu Xun prize for literature, the other was the first camellia cup Ai Qing's Poetry Prize, Guangming Daily poem writing awards a variety of.
The tunnel mouth, bee flew into a, Dawn, wrote me off the engineering troops life works, won the 1985 Beijing Literature prize. Gaze balance scenery and tension write the inner world of the 1993, the people's Liberation Army Literature Prize for outstanding work. Forest fire Greater Khingan Range disaster documentary works, was named in 1987 the people's literature readers' favorite works. Han Zuorong zixuanji is optional for poetry, from 1990 to 1994 of the new results, was the first The Lu Xun prize in literature, poetry prize.

Oh, Love
 
Oh, love, I walk in your voice
Cannot but avoid the harms from your lips and tongue tip
Perhaps, a man may only love a woman beyond his six-foot manhood
And lift up her flimsy name with voice
Too much of familiarity is to build a jail
Love should be a fruit on the tree, half green and half red
When fingers round up the charm and glare
What left behind the glow is the shadow left by the hand
Pure love is to be quiet, calm and detached
Distance may bring sufferings but save the incisiveness and entangling
Oh love, you force me to enfold my heart in a shell
Even masters bemoan on the bugs around the skirt rim
But I hate the feeling of holding a live bird
Leaving room for breathing, and no room for fleeing
If I love you, I will never tie you up
With a rope, like that of guiding a blind person
Love, love is truly the best way of tormenting
I am scared of. I often prop up my forehead with hand
And softly sigh standing at the strand of love.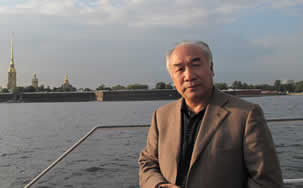 Lin Mang (1949- ), originally named Zhang Jianzhong, is a native of Xushui in Hebei Province and was a representative member of the "Baiyang Marsh Poets." He is a member of the Chinese Writers Association, and was 4th term board member of the Beijing Writers Association. In 1968 after graduating from middle school in Beijing, he went to work on a production brigade at Baiyangdian, and that year he began writing poetry. He has taught at  Beijing  #87 Middle School and Beijing Economics Institute. In 1992 he began working for the . 92 he went to work for the Zhonghua Literature Foundation under the Chinese Writers Association; in 1998 he went to work for Shikan (Poetry Magazine). He is now an editorial committeeman of Shikan, a board member of Chinese Poetry Association, and a board member of Beijing Writers Association. In 1993 he was admitted to the Chinese Writers Association. His collections include I Have Flowed across This Land; Poems of Lin Mang; Eternal Moment; Selected Short Poems of Lin Mang; and Selected Poems of Lin Mang. He also has poems in a group anthology—Rays That Pass through the Years. He also has a collection of essays—Instants of Bygone Time.
The Sound Of Dripping
The steady sound of dripping in the kitchen
And you are struck mercilessly
Outside the midnight dream
The girl who went astray in the grey streets
Pierced the time of street-end greens and vanished
Flowing water
And is no longer young
But one man's inner luster can illuminate her
Lighting up the years
And others' impartial judgment
You wrap up well and hurry through the mist
Of autumn rain blown down by cold wind
And its ceaseless traffic
And the family in the skyscraper
Stands still behind your back in the murky rain
Life may pinch now
But water drips ceaselessly through interstice of fate
And the ineffable conclusions
Keep up their torment
Which is perhaps why
People avoided you in the first days
And he understood under the open umbrella
The truth in the old man's poem
That the grace of God flows on to a metal skeleton
People differ
What did the umbrella keep off besides the rain
A dim ray of light
Through all that is familiar produces profound anguish
And you toss and turn as you dream
And then you often hear outside the midnight dream
The steady sound of dripping in the kitchen
Instants
Sometimes the neighbours' pigeons land on my window ledge
Cooing softly
Where the great poplar at the window has somehow
Grown beyond the floor roof
They skim round its crown and back
The sunlight on their fluffy feathers
Alive day by day
I keep coming indoors empty-handed
And throwing book and jacket on the bed
As the days hurry by
I can bring scarcely anything home
Even after days away
Only you remain and the little room
Living day by day
 
We have grown used
By an unspoken pact to the room's breadth
A pair of pigeons cooing softly on the windowledge
Which at many instants belong to us
Day by bay
Dust that falls on book spines gradually yellows
Perhaps it is otherwise
That life,if it does,provides
I know that the unwitting request is not excessive
And that summer turns to autumn
Perhaps fallen leaves will swirl after a night of rain
It does not mean a return to green shade deep in sunlight
A house-cleaning when leisure affords
Feelings may come on latent even as
Irrelevancies are spoken softly
The instant when a first trembling on the lips teaches
You happiness
Lasts till the end of life
A request always voiced unwittingly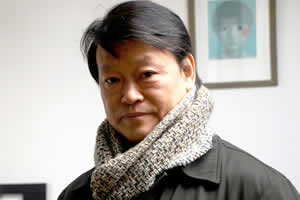 Tang Xiaodu, critic and poet, was born in 1954 in Yizheng, Jiangsu Province. After graduating from the Nanjing University in 1981, he first worked as an editor of the Poetry Monthly in Beijing and now a senior editor at The Writers Publishing House. He is a member of the Chinese Writers Association, a council member of the Chinese New Poetry Institute, a research fellow at the New Poetry Research Center, Beijing University, a concurrent professor at the Hainan University.
For over 20 years Tang has mainly devoted himself to researching, criticizing, and compiling the Chinese contemporary poetry, especially poetry of avant-garde. He has published four collections of essays, including Starting Points Anew Constantly (1989), Tang Xiaodu on Poetry: A Selection (1993), Close- readings on the Masterpieces of the World Modern Poetry (1998), Anthology of Tang Xiaodu's Essays on Poetry (2001). He translated and published The Art of Novel written by Milan Kundera (1993), and also translated many foreign poets works into Chinese, such as Sylvia Plath, Vaclaw Havel, Czeslaw Milosz, Zbigniew Herbert, Miroslav Holub, etc. He edited and co-edited numerous poetry anthologies and his own work is also anthologized both at home and abroad. He was the recipient of the Wenyi Zhengming Award for Criticism and the Shanhua Award for Literal theory in 1995 and was twicely awarded Modern Writers Review Prize for criticism in 2004 and 2005, etc. Author of five poetry collection, poetry and essays today is the day (Shandong literature and Art Publishing House, 2008).
The Thirteenth Floor Of This Building
1. The Warning
I move onto the thirteenth floor of this building
Not sure if I should be happy or sad
Of course I'm glad to be above it all
But also wonder if this number
Truly masks some type of ill luck
Somebody warns to install a doubly secure lock
Somebody markets a two-buck cat eye they'll fit in a trice
Solicitous guests spinning tops
None knowing my castle keep's a hundred yards high, has walls within walls
Only looking down off the balcony am I really anxious
A white carrier pigeon
Endlessly gliding in the murk beneath my feet
Where does this gentle bird actually come from
I turn to enter the room
But the door
Slams shut before me
2. A Rose Of Death
A nameless archer lies low in the skin
A painstakingly calculated madness rages like a fire
Red arrows, a cruel swarm of bees
The five fingers quiver, and the rose
Blooms on the flank of the tiger's mouth*
Emerging as an endless stream
Petal masks petal
As footprint pigeonholes footprint
A thorn, a forgotten cry for help
The throbbing gyrations of the borders of leaves
Expose a sweet-smelling secret
The roots of time sink ever deeper, until
They grip tight a piece of flesh rotten as mire. But
Dali's child is long gone
The ocean in a conch
Has long been unable to tell between the sky and a mottling corpse
The majestic mask of death is smothered in rouge
Rose rose, will your intensely toxic inflammation
Leave me to the ashes
Or the flames?
* The Chinese term for the flesh between the thumb and index finger of the hand.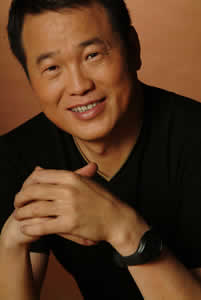 Luo Ying  A native of Lanzhou, China, has lived and work both in Beijing China, and Newport Beach, California U.S.A for many years. He is the Chairman of Zongkun Group, which specializes in both Real Estate Investment and Tourism Development. In 1981, Luo Ying earned his bachelor's degree in Chinese literature at Peking University, and in 1998, he earned his Executive MBA from the China Europe International Business School. He is a member of the Chinese Writers Association and the director of the Chinese Poetry Society. In his spare time, Luo Ying enjoys mountaineering and had climbed top of the Mt. McKinley in Alaska, top of the Mt. Winson in Antarctica, and ski to last degree of South Pole, in year of 2010 he completed climb Mt. Everest. He has published a number of poetry collections, such as  Love Me No More, No MoreMelancholy, Fallen Petals Collection, Wandering in the Metropolis, Bunnies, 7+2 Diary and The Ninth Night. His works have been translated into English, Japanese, French, Mongolian, Korean and Turkish successively.

Father
A shabby deerskin in the wilderness
I suspect it's father's hide
after three hundred years of meditation, he just got up and left
The deerskin's been weatherworn since then
And as there's no mother to sort out his life
he quite likely pulled down a handy black bearskin
and in the guise of a bear, hunted and fished
never answering any philosophical questions of history
In hiding, he'd knead rocks to pieces
At speed, he'd uproot whole forests
He brewed wine of a lake  300 years later, drunk down at one go
then drew his long sword and chopped out five great mountains
He slept a hundred years without batting an eye
and not once called my name
He says he forgot my childhood moniker
At the time   he'd made me from a wild boar
 from the Green Tara  Series
Snowscape and Death
             17:11, 16th May, 2011 at 6500M camp tent
On the radiant peak a young American went snow blind
Sunrise warmed him  but he knew that death was near
He missed his homeland  but lost his sense of direction
He descended hell-ward  because his oxygen was depleted
He fought to plant forward steps  wishing to rejoin his kind
He loved his dear ones  loved life  had just turned 25
Eagles looked up at him  mournful cries rang in the valley
Snowflakes swirled  coating his clothes with whiteness
The world was a blur  at each step he stumbled on rocks
He slowly sat down  listened to wind at 8600 meters
No more sounds of dear ones calling  buddies urging
He was quickly stiffening into a rock on the mountain
A sunbeam found him  he waved a bare hand at the world
Then resolutely freed his safety clasp from the trail rope
Slowly at first  that red flower bud flew or dropped from the edge
To bloom or vanish in the thick gloom of snow mist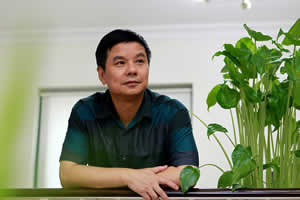 Yang Ke, a resident of Guangzhou, is a strong contender among China's "Third Generation" poets and a representative of the populist writing trend in poetry. Several dozens of his poems have been translated into English, Japanese, German and other languages. He has published over ten poetry collections including Unfamiliar Intersection and Selected Poems of Yang Ke. Has edited anthologies including Significant Poets of the Nineties, Misty Poetry (Vol.4 of Zhongguo wenku), and China New Poetry Almanac (Years 1998 through 2012). He has won sixteen significant prizes including the First Guangxi Province Bronze Drum Award, Shanhua Magazine Award, People's Literature Contest Award, and First Place in Taiwan's New Poetry Awards (Second Year).
The Summer Time Change
Ahead of time trains depart
Girls mature
Ahead of time their birthday 
Candles are put out
And in a well-schemed murder
A gleamy knife goes in clean
And comes out stained with blood
Ahead of time
Yet chicks refuse to crack their shell
The moon fails to be full bright
As usual at midnight
Yet a realist writer running in the morning street
Has been killed by the first bus
Which should not have run at that time
So Black Humor and the Absurd School
Have been at last understood
And the guy who goes for a date in the old place
At the old time has met another girl
The dead cremated
Have got a wrong age report
And having had one hour of sun and air
Stolen unknown, men stand stupefied
Is time fair
1989                
                      Translated  by Chao
                      Checked  by David B. Axelrod
The Chinese People
The workers who have to beg for wages. 148 pairs of injured hands
waving from the Daqing coal mine.
Li Aiye, who caught AIDS after giving blood.
The shepherd bachelors of the loess slopes.
Gossipy women, mouths slick with spit as they count their cash.
Hair salon girls: unlicensed sex-workers.
Peddlers engaged in a running battle warfare with city authorities.
Old bosses
in need of a sauna.
The 9 to 5 tribe off to work on their bicycles.
Good-for-nothings with nowhere to go and nothing to do.
The bar-room wasters. Old men
sipping tea as they pet songbirds.
Scholars who fill the heads of their listeners with fog.
Derros, punters, porters stinking to high heaven;
dandies, beggars, doctors, secretaries (and secret mistresses into the bargain);
workplace clowns
and other supporting actors.
From the Avenue of Heavenly Peace to the Guangzhou Dadao
I am yet to see 'the Chinese people' this winter;
I've seen ordinary, speaking bodies
which keep each other warm
on buses day after day.
They're like grimy coins:
those who use them hand them over frowning
to society.
                                          
                             Translated by Simon Patton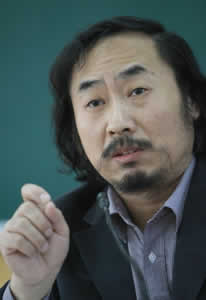 Zhang Qinghua was born in October, 1963 in Boxing County, Shandong. He received his Ph.D. in Literature, and is currently a professor at Beijing Normal University's Institute of Literature. He is the Director of Beijing Normal University's Research Center for Contemporary Literary Composition and Criticism, and is the Managing Director of the Academy of Contemporary Chinese Literature. His work mainly focuses on contemporary Chinese literature, and on poetry theory and criticism. His publications include, among others, Trends in Contemporary Chinese Avant-garde Literature, and The Maze of the Mind, Historical Narrative in Contemporary Chinese Literature, Elegies of Heaven, Methods of Subtraction of Literature, Passing Through Ice and Snow: Notes on Contemporary Poetry. He's published ten critical volumes.  His essay collections include Notes on Heidegger and Secret Merriment. His poetry collection is entitled I Don't Know Which Side Spring Thunder is On.  He's published over 300 critical essays.  He won the Outstanding Doctoral Dissertation Award from Nanjing University, and a 2010 Chinese Language Media Award for Criticism.  Many of his essays have been translated into English, Japanese, Korean, and other languages.  He's given guest lectures at Heidelberg University in Germany (2000-2001), Zurich University in Switzerland (2006), and SIM University in Singapore (207).  
A Shore Of Egrets
A serenity that's been startled rises in the horizon, suddenly.
They elegantly fall from one dynasty into
Another. A sky of white flashes, suddenly.
Scattered volumes gather away past legends
             
In the South Sea's redwood forest, in the horizon, suddenly—
At the end of the marshes, in the places where greenwood
Heroes hide, in the place where righteous poets live in exile 
I see them soaring swiftly like lightning over the soil of this world
With the crude applaud of the masses, suddenly…
A sky of indolent and blank loneliness, a sky
Of pearls, scattered by wind then gathered away
A performance of flowing sleeves and long swords, A fisherman's ballad
that seems to be there and not, An earth covered in astonishing broken silver,
like a star cluster vanishing, Sinking into the mire of sunset's light, suddenly!
When my blind sky gradually becomes clear
I see them soar high into the sky
Passing through a silent picture and post-industrial era glass
A Narrative
The story begins with a beautiful river
On the riverbank, some neighbor girls are chit-chatting
A young man rides over on his bike. Snow-white reeds block
His way.  He hears the sound of that girl´s laughter. 
Instantly flustered, he frantically falls into the ravine.
The river begins in Boshan, flowing past Pu Songlin´s former residence.
At the beginning, it´s a hot spring, its water gurgling forth from Niu Mountain.
Upstream, it´s called Willow Creek, midstream, it´s known as Filial Wife River,
And downstream its name changes to Crow River--the water silently flows
to the turn in the distance, where it has no name. 
The water emits heat. Legends and carp run in the river.
A boy of fourteen came from the south, passing through Banqiao, heading west,
Where he encountered this embarrassing scene. A girl reaches out,
her hand gesturing this way and that, as if the poplar blossoms 
and willow catkins brushing against her face instantly cause him lose his balance
and memory.  Years later, that small river is buried beneath time
and foul-smelling smudge.  That flipped over bicycle,
the bruised forehead, the rabbit hopping like crazy in the chest
Along with the peach blossom face and the collapsing walls
have entered the north wind´s whistles and turned into pitch black bubbles.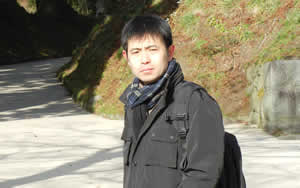 Jiang Tao was born in 1970, Jiang Tao studied biomedical engineering at Tsinghua University and Modern Chinese Literature at Peking University. He currently teaches in the Department of Chinese Language and Literature of Peking University. In 1990, he began writing poetry, and devoted himself to poetry criticism and to researching the history of poetry in the Twentieth Century. His publications include, the poetry collection, Book of Birds, the poetry critical volume, Bakunin's Hands, and the scholarly work, Modern Poetry Anthologies and the Emergence of Modern Chinese Poetry.
Tribe of Palaeopithecus
the forest was filled with fallen fruit, a scarlet carpet
whose origin lay in geological change
the waters had receded, the tiger's sabre tooth was rotten
around the empty ground we discussed the future
the old ones had just crawled out from evolution, waving their old fists
the young ones could no longer hold their tongues, they'd got to be the first
to eat the sika deer: ambition to move a mountain lacking
though they could ford the river, north and south
the fields were just a dining table
the so-called republic too rumbustious
nevertheless autumn's despotism drove off mosquitoes and flies
fortunately we were all standing upright
able to watch the stars, fight empty-handed to free ourselves from the food chain
but the October work force
still inclined towards surplus: no need to paint our skin, or to cook
with flesh for firewood, only the males kept on
up-ending the females, chanting the beauty of it
until, at least with spring flowers and autumn moons,
to say 'I love you' out loud still took two million years
      Translation by Brian Holton
A Homebound Guy
Somehow I've picked up a not disastrous habit
of walking along a small railway and saying hullo in Esperanto
when I meet a yellow dog.
Occasionally a tram passes by through whose windows
I glimpse white-collar beauties
and guess which have been harassed for years.
Well-tended flowers and plants by the roadside
and convenient public toilets built with local taxes,
but on either side two parties stand
sweating and swearing, giving an old partyless bully
a chance to drive the future of this humming city.
I haven't lived here long, not interested in having a share
in the future either — what can I leave behind
with my small casual lifestyle?
So I dream of running into a big fire, a burglar,
a hideous murder; now the police break in
wearing bullet-proof vests and order me to surrender,
but I gasp for air
speaking in a hoarse voice with a foreign accent.
So I'm arrested, humiliated,
kept hooded, made to appear on television,
prosecuted with great fanfare, then quietly withdrawn,
sent on an airplane, extradited to a foreign land of tyranny
where people walk and sleep smugly and triumphantly.
A few exiles have grown gray early —
they are fond of singing "A Drifting Soul"
after a few drinks.
(2010)
October 23rd, 2013
Última actualización: 28/06/2018