Colombia, long road to lasting peace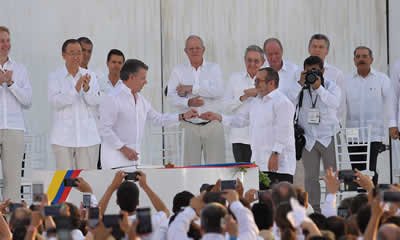 Colombia Peace Deal "great choice" for Nobel Peace Prize, but a long road to lasting peace still lies ahead
The Norwegian Nobel Committee has announced that Colombian President Juan Manuel Santos will receive this year's Nobel Peace Prize. The news comes just days after Colombian Laureates of the Right Livelihood Award, widely known as the 'Alternative Nobel Prize', called for a 'Yes' vote at the failed referendum on the peace deal held on 2 October.
Ole von Uexkull, Executive Director of the Right Livelihood Award Foundation, welcomes the Nobel Committee's decision: "This is a great choice by the Nobel Committee. We all know that the recognition is not the end but rather a starting point on the journey towards lasting peace in Colombia. Civil society—including Laureates of the Right Livelihood Award—must play a key part in this process."
Right Livelihood Award Laureates from Colombia and around the world have supported the peace deal and reacted to the news:
The Colombian government headed by President Santos has made a great effort to stabilise the nation and to put it on a path towards coexistence. The Nobel Peace Prize received today urges Colombia not to give up. It is also a clear message to the opposition: do not stand in the way of this opportunity for peace, and to FARC: there is no going back," says Cristina Serna from the Asociación de Trabajadores Campesinos del Carare (ATCC), established in the guerrilla-controlled rural region of Carare in 1987. ATCC has championed non-violent opposition to the armed conflict in Colombia, and received the Right Livelihood Award in 1990 "for its outstanding commitment to peace, family and community in the midst of the most senseless violence".
"Today we all rejoice – except warmongers – that the Nobel Peace Prize has been awarded to President Santos. We would have rejoiced even more if the award were shared with Timochenko, his counterpart in signing the peace deal. This Nobel gives oxygen to our wish for peace and is a breath of fresh air for all peace supporters. It also gives President Santos a legal basis to hold a new referendum on the peace deal in which ALL Colombians should vote – but in a different setting: without hurricanes, intimidation, deceit or manipulation. We won't lose peace. And to President Santos: this Nobel is to secure peace. You put your political career at risk by signing the peace deal with FARC. Now you and us will do our utmost for a lasting, democratic, just and absolute peace," says Fernando Rendón, co-founder and director of Festival Internacional de Poesía de Medellín, created in 1991 to reclaim the streets of one of the most dangerous and violent cities in Colombia through public poetry readings.
Published at October 7th, 2016
Última actualización: 06/08/2019