22nd International Poetry Festival of Medellin Tribute to the spirit of the Aboriginal Peoples of the World
22nd International Poetry Festival of Medellin
Tribute to the spirit of the Aboriginal Peoples of the World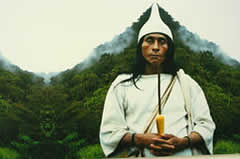 "The Festival is a space of convergence of the Word
                                decanted and navigating, red beats of praying-languages
                                of more than 150 countries worldwide.
                                Believe in its creative permanence is to believe
                                in the light-smile of man amid the darkness".
                                           Vito Apüshana (Poet of the Wayuu indigenous ethnic minority, Colombia)
To be held from 23 to 30 June 2012 in hundred and fifty venues in the city of Medellin and its five townships and in the six municipalities of the metropolitan area, in ten municipalities of Antioquia and in ten cities of Colombia, the 22nd International Poetry Festival, true to its origins, is consolidating its continuity as a message and as a collective exercise generator of the dignity that lights the resistance, from poetry, singing and celebration, to face the adversities of our fratricide history.
With the participation of 70 poets from 40 countries on five continents, there will be 150 poetry readings and 35 educational activities in the framework of the XVI Poetry School of Medellín, divided into courses, workshops, panels and conferences. There will also be an alternative program consisting on interventions of the various artistic expressions having poetry as its axis.
On this occasion, the Festival will perform a tribute to the spirit of Aboriginal peoples, which aims to reclaim his memory and culture through its poetic expression. This gesture is also a message to the planetary population in the sense that now more than ever the word and the message of Aboriginal people acquire validity, truth and wisdom that reaffirm the love for the living, through the singing, the ritual and the sacredness of life and its creatures and the dignified defense of a Living Earth.
Of the 70 poets who will participate, we have invited 12 Aboriginal poets around the world to make their message be heard, read and taken into account as a contribution to the spiritual growth that requires our human condition in this historic moment.
The 22nd International Poetry Festival of Medellin will be again, a forum for poets of indigenous peoples express their perception of the world, their cosmology, their complaints and suggestions as spiritual and cultural traditions that have a knowledge very respectable and necessary in our time. These cultures will continue giving us the treasure of their language, their myths, their rituals. It is the wonder of knowing that still the gods inhabit their songs, aimed at the crowd.
From its inception it has been important for the International Poetry Festival of Medellin, the essential and indispensable contribution made by poets representative of ethnic minorities, both domestic and from other countries and continents.
This constant and consecutive participation of indigenous and foundational cultures has allowed attendees to have a just and comprehensive notion of what the poetic experience means in our time.
In this way, the Festival is shaping up as an event that experiences the resurgence of myth as the essence of poetry. To prepare oneself to get connected with the voice of the ancestors through the singing of an indigenous poet is a gesture that opens doors to new advent of the myth as essential language.
World Poetry Movement (WPM)
Consequently to this meeting of poets of Aboriginal peoples around the world, it is expected that, this time, a document arises and that a set of poetic actions, from the Aboriginal perspective, could be developed in articulation with the World Poetry Movement -WPM- (www.wpm2011.org) which is alive, acting and growing in its global dimension and whose headquarters has been given to Medellin. It should be recalled that the World Poetry Movement (WPM) is the result of the meeting of directors of international poetry festival held in Medellín alongside the past International Poetry Festival of Medellín (2 to 9 July 2011).
In the 22nd International Poetry Festival of Medellin held musical concerts, theatrical monologues or, film, sketch, performances and exhibitions will be held. This alternative program will include a series of events whose subject is the poetry of Aboriginal peoples. The venues for this programming to be taken would be universities, schools, museums and libraries.
Each year, the poetry has been made by we all and that combination is its true meaning. In this way the actions of the International Poetry Festival of Medellín have contributed and will continue to contribute to the creation of a genuine field of coexistence.
Now in this new cycle of its history, the Festival reaffirms its status as multicultural epicenter of poetry worldwide. There has been a positive development in order to create an atmosphere that favors the building of a vast poetic energy in human society, through global poetic actions as an expression of a new attitude in front of the problems of our time.
Starting the second decade of the twenty-first century, with a collective spirit full of poetry, open to life and the rise of the spirit, it is kept alive this celebration that is a true symbol of spiritual entanglement between the inhabitants of a city affected by the disintegration and distrust that induce violence, inequality and exclusion.
What emerged, twenty-one years ago, as a symbolic act of assembly and sorcery remains as reaffirmation and consolidation of a growing field of cognitive, sensory, spiritual and cultural where it does converge all the legends and traditions of the peoples of the world through the essential language poetry.
The following invited poets have confirmed their attendance: Boudjedra Rachid (Algeria), Philip Hammial (Australia), Geert van Istendael (Belgium), Dostena Lavergne (Bulgaria), Joyce Ashuntantang (Cameroon), Rita Mestokosho (Canada, Innu Nation), Maria Teresa Panchillo (Chile, Mapuche Nation), Nicolás Suescún, Jotamario Arbeláez, Jorge Torres, Gonzalo Márquez Cristo, Carlos Vásquez, Carlos Bedoya, Mauricio Contreras, Fadir Delgado, Luis Eduardo Rendón, Angye Gaona, Carlos Framb, Fernando García Cuéncar, Carlos Ciro, Surlay Farlay, Catalina Garcés, Jhonattan Arango, Edwin Rendón, Larry Mejía, Emerson Tabares, Luz Adriana Henao, Héctor Zapata (Colombia), Vito Apüshana (Wayuu Nation, Colombia), Hugo Jamioy (Kamsa Nation, Colombia), Gladys Yagari (Colombia, Embera Nation), Eulalia Yagari (Colombia, Embera Nation), Leymen Pérez (Cuba, Winner of Prize Magazines Gaceta and Prometeo 2012), Maria Clara Sharupi (Ecuador, Shuar Nation), Saba Kidane (Eritrea), Francis Combes, Richard Bohringer (France), Nora Gomringer (Germany/Switzerland), Dino Siotis (Greece), Rodney Saint-Éloi (Haiti), Subhro Bandopadhyay (India), Dorothea Rosa Herliany (Indonesia), Dunya Mikhail (Iraq), Dacia Maraini (Italy), Malachi Smith (Jamaica), Fathieh Saudi (Jordan/UK), Ulugbek Esdauletov (Kazakhstan), Juan Hernandez Ramirez (Mexico, Nahuatl Nation), Chris Abani (Nigeria), Sigbjørn Skoden (Sami Nation, Norway), Apirana Taylor (Maori Nation, New Zealand), Mata-Uiroa Manuel Atan (Pascua Island, Rapa Nui Nation), Javier Alvarado (Panama), Jacobo Rauskin (Paraguay), Arturo Corcuera, Dida Aguirre (Peru, Quechua Nation), Mookie Katigbak Lacuesta (Philippines), Mindy Zhang (Popular Republic of China), Ion Deaconescu (Romany), John Robert Lee, Jane King (Santa Lucia), Didier Awadi (Senegal), Keorapetse Kgotitsile, David wa Maahlamela (South Africa), José Luis Reina Palazón, José Fernández de la Sota, Kepa Murua, Raquel Lanseros, Fernando Valverde (Spain), Karenne Wood (United States, Monacan Nation), Martha Canfield (Uruguay/Italy), Andriy Bondar (Ukraine), Gonzalo Fraguí, José Javier Sánchez (Venezuela), Atala Uriana (Venezuela, Wayuu Nation), Andreas Neeser (Switzerland), Alfred Tembo (Zambia). Musicians: Tibassi Kangu (Democratic Republic of Congo), Grigorios Falireas (Greece), Fly So High (Colombia).
Up dated on April 26th, 2012.
Última actualización: 28/06/2018