22nd International Poetry Festival of Medellín arrives
22nd International Poetry Festival of Medellín Arrives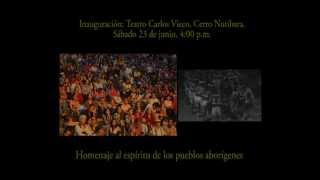 Promotional video for local and national television
Irradiation center for poetic actions towards a cultural and spiritual transformation, in order to move into a new humanism, the International Poetry Festival of Medellin will held its twenty-second version from thenext June the 23 to 30.
Seventy poets from forty-five countries on five continents will populate the spiritual atmosphere of the citywith their poetic expression as well as the one of the municipalities of the metropolitan area, twenty-five municipalities in Antioquia, and other five Colombian cities.
This combination will be a chorus of voices representing the human essence in its celebratory scale and their poems will join together to make a tribute to the spirit of Aboriginal people.
The process of socio-cultural and spiritual renewal started in 1991 for civil disobedience, for the qualification of mind and consciousness through poetry and art that congregate and create coexistence in face to the insults of a history marked by the attacks to life and spirit, will be reaffirmed.
The International Poetry Festival of Medellín is an emblem of intercultural environment that fosters social renewal, through the vivifying spirit of poetry and the deployment of the poets of the world by his presence, his gesture of renewal and works in harmony with the love of a people that has given meaning and life and permanence to this event.
Year after year there have been struggle to reach this area of freedom of expression through poetry, in which the cohesive life is called that illuminates the dignity necessary to avoid succumbing to barbarism and banalityis called.
This operation symbolic, poetic, spiritual and cultural has an ascendant of renewal and an influence on the soul of a country that has had to resist a story torn apart by fratricide, exclusion and poverty.
Homage to spirit of Aboriginal peoples
That humanism that has justified the excesses of the techno-scientific and industrial attack to earth, based on a notion of progress measured by the pain inflicted on the living; that humanism which justified segregation, colonization, over-exploitation and devastation of the aboriginal peoples, peoples led by a mythical thought and whose gods were mortally wounded, the humanism that justified his delusions of grandeur by the abuse of his self-consciousness, that humanism is not feasible, it lost its glory after it is all covered with nebulae toxic.
The new humanism is based on the construction of an awakening consciousness to the bio-centrism, instead of the erratic and excessive anthropocentrism. The new humanism will advance in the construction of the natural contract that allows free nature of its present condition, which places it among the oppressed and harmed of the planet and will be recognized as subjects of rights. The new humanism is based on a reinterpretation of the human, in a re-signification of our presence in the world.
In this perspective, Aboriginal peoples, who still survive, are an invaluable source of wisdom that will feed the new consciousness necessary to all mankind. The real tribute to them that we can do is open up to their visions and concepts, be available to listen to their songs, their code word in an ancient wisdom that allows nature to give back to their archetypal dimension of supreme instance of life.
What it is for us a new humanism, for the aboriginal peoples is their natural state, their human condition since remote times.
Every year, spoken languages by the latest survivors from some tribes gone dead, are forgotten. To hear their voice is to assist to gods splendor still living in their minds, in their ordinary lives. It is to hear a word where the sun of brotherhood with all earthy beings still shines.
Among the seventy poets that will take part on this year's festival, twelve come in representing their respective ethnicities. The will bring us the poetry of their cultures, the luxurious sing that is the legacy of the human species. It will be a sovereign conjunction of aboriginal poets sharing their expression with poets from the five continents.
This new encounter with the spirit of the aboriginal peoples (in which they are heard and recognized as fundamental beings for the big transformations of our attitude towards life and where we can show our deep respect for them) is an event that will reflect their lights, projected into the crowds that do assist with decision and compromise and give a real sense of renovation and cultural transformation with the hearing attitude, their lucidity and their sense for the poetic as an exercise of coexistence and celebration that dignifies and values life.
The poets from aboriginal peoples coming to the 22nd International Poetry Festival of Medellín are:
Rita Mestokosho (Canadá, Nación Innu), Vito Apushana (Nación Wayuu, Colombia), Jamioy Juagibioy (Colombia, Nación Kamsá), Gladys Yagari (Colombia, Nación Embera), Eulalia Yagari (Colombia, Nación Embera), María Teresa Panchillo (Chile, Nación Mapuche), María Clara Sharupi (Ecuador, Nación Shuar), Karenne Wood (Estados Unidos, Nación Monacan), Mata-Uiroa Manuel Atan (Isla de Pascua, Nación Rapa Nui), Juan Hernández Ramírez (México, Nación Náhuatl), Dida Aguirre (Perú, Nación Quechua), Atala Uriana (República Bolivariana de Venezuela, Nación Wayuu), MagssanguaqQujaukitsoq (Groenlandia, Nación Inuit Kalaallit), Sigbjørn Skoden (Noruega, Nación Sami),  Apirana Taylor (Nueva Zelanda, Nación Maori).
They have also confirmed their presence the following African poets:
Rachid Boudjedra (Argelia), Joyce Ashuntantang (Camerún), Saba Kidane (Eritrea), Chris Abani (Nigeria), Tibass Kangu ZengaMambu (República Democrática del Congo), Didier Awadi (Senegal), Keorapetse Kgositsile, David wa Maahlamela (Suráfrica).
From America, the next poets will take part: Nicolás Suescún, Jotamario Arbeláez, Mauricio Contreras, Jorge Torres, Gonzalo Márquez Cristo, Pedro Arturo Estrada, Fadir Delgado, Carlos Bedoya, Luis Eduardo Rendón, Angye Gaona, Carlos Framb, Fernando García Cuéncar, Carlos Ciro, Surlay Farlay, Catalina Garcés, Jhonattan Arango, Edwin Rendón, Larry Mejía, Emerson Tabares, Luz Adriana Henao, Héctor Zapata, Fly So High (Colombia), Hugo JamioyJuagibioy (Colombia, Nación Kamsá), Leymen Pérez (Cuba), María Clara Sharupi (Ecuador, Nación Shuar), Nación Monacan), Rodney Saint-Éloi (Haití), Malachi Smith (Jamaica), Javier Alvarado (Panamá), Jacobo Rauskin (Paraguay), Arturo Corcuera (Perú),  John Robert Lee (Santa Lucía), Martha Canfield (Uruguay-Italia), Gonzalo Fragui, José Javier Sánchez (República Bolivariana de Venezuela).
From Asia: Mindy Zhan (China), Mookie Katigbak Lacuesta (Filipinas), Subhro Bandopadhyay (India), Dunya Mikhail (Irak), Fatieh Saudi (Jordania/Reino Unido), Esdauletov Ulugbek (Kazajstán).
From Europe: Nora Gomringer (Alemania/Suiza), Geert van Istendael (Bélgica), Dostena Lavergne (Bulgaria), José Luis Reina Palazón, Carlos Pardo (España), Kepa Murua, José Fernández de la Sota (País Vasco, España), Francis Combes (Francia), Dinos Siotis, Grigorios Falireas (Grecia), Dacia Maraini (Italia), SigbjørnSkoden (Noruega, Nación Sami), Ion Deaconescu (Rumania), Andreas Neeser (Suiza), Andriy Bondar  (Ucrania).
From Oceania: Philip Hammial (Australia), Apirana Taylor (New Zealand, Maori Nation).
It's glad to know that every human effort, through the realization of poetic actions, its applied in the best of its existence, in the splendor that our consciousness do need in its transit to a new stage of the human condition, intertwined with nature and in brotherhood with itself as a way to overcome war and devastation.
As it was expressed by the Seattle great chief: "We know that: earth does not belongs to man, but the men belongs to earth. The man hasn't woven the web of life, is only a strand in it. Anything he does to the web, he will do to himself. What happens to earth will happen to the sons of the earth. We know it. Everything is related as the blood that joins a family."
Let the 22nd International Poetry Festival of Medellin be the appropriate place to declare to the world the urgent need to take an existential turn that do eludes the abyss and takes the great leap, the big step into a new existence reconciled with life.

Medellin, June the 7th, 2012.
Direction Board from the 22nd International Poetry Festival of Medellin
Última actualización: 28/06/2018