22nd International Poetry Festival of Medellin Tribute to the spirit of the Aboriginal Peoples of the World
International Black Literary Figures From Africa
and America - Keorapetse William Kgositsile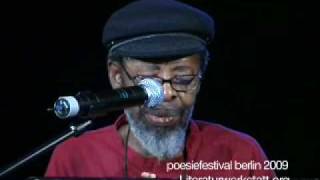 By Arthur Smith
From ezinearticles.com
Keorapetse William Kgositsile, because of his integrating African and African-American literary and artistic traditions has easily become one of the most recognisable names in international literary circles.
Keorapetse Kgositsile was born in September. 19, 1938, in Johannesburg, South Africa. He has established an enviable reputation as a South African poet, essayist and political activist whose writings focus on Pan-African liberation as the product of enlightened heroism and humanism.
Born in humble circumstances, he grew up in a small backyard shack in a white neighborhood. His schooling was therefore outside of his locality. One of his first experiences of apartheid, other than that, was a conflict that erupted with a local white family. This resulted from a fight he had had with a white friend who had hesitated in joining other friends in boycotting a boxing club that had denied him, Kgositsile, membership. He had Increasing experiences of exclusion throughout his teenage years. These were vital aspects of the formation of his artistic sensibility and his political and social consciousness.
He was one day at the Kimberly train station as a child walking on a steep, steel stairway which was to be crossed from one side to the other with his frail grandmother who was holding a vase someone had given her. Unfortunately, just a few steps before the last step she faltered and fell breaking the vase. Seeing this made him start questioning the state of affairs in his country. How should such an old woman be forced to walk on those rickety steel stairs when more suitable and stable walkways which were available were reserved for only whites?
Kgositsile attended amongst others, elsewhere in the country, Matbane High School in Johannesburg where he discovered and started reading black writers like Langston Hughes and Richard Wright. He thus developed a passion for reading African-American as well as European writers such as Charles Dickens and D. H. Lawrence. With that induction into the literary world he then started writing little sketches, and stories mainly to entertain his friends.
After finishing high school, within the space of a few months, Kgositsile had worked at three different jobs. He quit his third job intending to start masterminding payroll robberies which had become quite popular then. His former high school English teacher who went to dissuade him out of such an anti-social proposition, suggested his considering writing professionally instead which he believed he had much talent in.
Kgositsile, however, worked at a series of odd jobs, before he took to more serious writing. He got engaged at the politically charged newspaper New Age contributing both reports and poetry to it. From this point he started directing the sheer urgency of his expression principally through the more direct means of poetry, thus. drowning his earlier interest in fiction.
In 1961,Kgositsile started fearing for his life. Urged by the African National Congress to do so, so as to ensure his safety, he left the country. He was thus one of the first active young ANC members to do so. He traveled through Botswana to what was then Tanganyika. He then began a self-imposed exile in 1961 in Dar es Salaam, Tanzania. There he got engaged in the external mission of the ANC under Oliver Tambo. Fortunately as well for him he soon found employment, writing for the Spearhead magazine.
The following year he immigrated to the United States. At first as a graduate student on scholarship, he studied successively at Lincoln University in Pennsylvania, the University of New Hampshire and The New School for Social Research. He then enrolled in the Masters program in creative writing at Columbia University. Whilst here he studied African-American literature and culture extensively. He became so engrossed with it that he would spend long hours every day in the library reading as much black literature as he could lay his hands on.
By the 1970s Kgositsile had emerged as an important African-American poet, one of the most significant in the Pan-African movement. He was actively engaged in encouraging interest in Africa. He thus brought African and Black American poetry closer together in the United States. He also took a lead in encouraging and promoting the art of poetry performance. He conducted regular dynamic readings in New York City jazz clubs. His first collection of poems published, Spirits Unchained, was well received, earning him a Harlem Cultural Council Poetry Award and a National Endowment for the Arts Poetry Award. So absorbed was he now in his new calling that even after graduating from Columbia in 1971, he remained in New York, teaching and giving readings. His most influential collection, My Name is Afrika, was published in that year. The response to it, including an introduction by Gwendolyn Brooks, was tremendous thus establishing him as a leading African-American poet. He even later became accepted as a part of the Uptown Black Arts Movement. His literary career eventually blossomed into that of a world-renowned poet.
Kgositsile had become particularly interested in jazz. For it was particularly important to his emerging sense of black American culture and in defining his own place in it. Jazz was crucial to his sense of a worldwide African Diaspora centering on a certain quintessentially black sound. He wrote to African-American musicians he met in the jazz clubs of New York. He also wrote of them in his poems. He wrote of the black aesthetic he pursued and celebrated. He strove equally to be freed from a constricting white aesthetic sensibility and for discovering all black people's rhythmic experience.
Also in pursuit of the latter aim, while in New York, Kgositsile became active in theater. Seeing black theater as a fundamentally revolutionary activity, whose aim must be to destroy the ingrained habits of thought that have been responsible for widely held negative perceptions of black people, he founded the Black Arts Theater in Harlem.This was part of a larger project aimed at creating a literary and boldly militant black voice. He therefore resolved: to destroy the symbols which had facilitated the captivity of blacks and to create and establish symbols to facilitate their mental liberation.
He lived in the U.S.A. on to 1975 when he returned to Africa. He started teaching at the University of Dar es Salaam, in Tanzania. In 1978, he married Baleka Mbete, another ANC exile living in Tanzania. Resuming his work with the ANC, he founded its Department of Education in 1977 and its Department of Arts and Culture in 1983. He became its Deputy Secretary in 1987. He lectured in different parts of Africa: Kenya, Botswana, and Zambia. Meanwhile, he remained banned in South Africa, until in 1990, when the Congress of South African Writers (COSAW), with which he was already associated, decided to publish his work there. The successful result was When the Clouds Clear (1990), a collection of poems from other volumes, which was his first book to be made available in his native land.
In July, 1990, after 29 years in exile, Kgositsile returned to South Africa. He soon enough discovered that he had returned to a country wholly different from the one he had left. It had been transformed by the end of apartheid and Nelson Mandela's release, his political triumph and his later election as President. But it was still characterized by great confusion, particularly for the many returning black writers, artists, and intellectuals like himself.
In his essay,"Crossing Borders Without Leaving," Kgositsile describes the contradictions inherent in this first trip back home. Those receiving him were rather paradoxically both his colleagues and his hosts. He mused at such contradiction: being hosted in his own country which amazingly no longer seemed his any more. All the connections and memories of home seemed lost. Despite feeling distanced from it, he delved immediately into political and cultural activism.
He traveled to various places from Mongolia to Havana, Cuba which greatly inspired all of his works since he had become in the process hugely impressed by the Cuban people's hard work.
Kgositsile's poetry ranges from the political and public to the lyrical and confessional. It melds indigenous South African with black American structural and rhetorical traditions. Through it he recognizes and celebrates his influences, his friendships with other artists and his deep love of black musical forms such as blues and jazz. In spite of its infusion with quotations from songs, references to music and to Black musicians, his poems remain easily accessible. His yearning to be a musician which ironically suggests the subtle musicality of his verse is evident in the title of his collection If I Could Sing. His most recent poems, have however been moving away from his once-fiery nationalism, thus becoming less lyrical, more conversational, subtle and skeptical.
A gifted teacher, he has written and published an excellent book on teaching the craft of poetry.For poetry, he believes, is a contribution to the intellectual, psychological, emotional, and spiritual aspects of life - part of a people's memories. Amongst the awards he has received are the Gwendolyn Brooks Award for Poetry and a visiting professorship at the New School. He was also a part of the editorial board of This Day a newspaper in Johannesburg. Since 8 December 2006, he has had the distinction of being the second National Poet Laureate in South Africa.
Whilst serving as vice president of COSAW in the early 1990s he hosted THE FIRST ANNUAL PAN AFRICAN LITERARY Forum in Ghana which brought more than 200 writers, publishers and filmmakers from all over the world. By bringing together aspiring writers, he hoped, talent could be developed and mentoring relationships built, leading to a wider worldwide distribution of books by black authors. Through his reflections on South Africa, Africa and his life experiences, Kgositsile has excelled in the artistic and literary world, inspiring aspiring and established artists and intellectuals as well as fostering the careers of young writers.
Besides editing The Word Is Here: Poetry from Modern Africa (1973), Kgositsile 'has published several volumes of his poetry which includes For Melba (1970), The Present Is a Dangerous Place to Live (1974), Places and Bloodstains (1975), If I Could Sing (2002), and This Way I Salute You (2004).
Kgositsile will remain for long a vital name in Black literature of Africa and America in both continents.
Born and schooled in Freetown, Sierra Leone, Arthur Smith has been teaching English for over thirty years. He is now a Senior Lecturer of English at Fourah Bay College where he has been lecturing for the past nine years.
Mr Smith's writings have been in various media. He participated in a seminar on contemporary American Literature in the U.S. in 2006. He has attended various conferences in Accra, Ghana, Conakry, Guinea, Dakar, Senegal and Corvilha, Portugal in some of which he has presented papers.
Up dated on November 21st, 2011.
Última actualización: 28/06/2018