The Importance Of Realıty In Turkısh Poetry. By Metin Cengiz /Turkey/
The Importance Of Realıty In Turkısh Poetry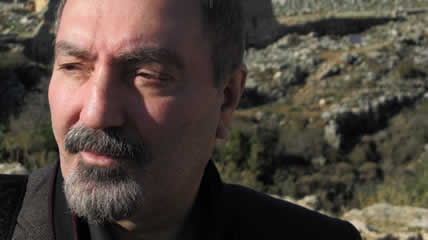 By Metin Cengiz
Translated by Övünç CENGİZ
It would not be a grave mistake to argue that that which is real occupy a great place both in modern Turkish poetry and in Divan 1 and Folk 2 poetry. As a matter of fact, when reading Divan poetry one can even come to an understanding of the concept of life prevailed at that era. At this point we should hear Sabri Ülgener:3
For a long time Divan Literature considered to be limited with blindly repeating stereotypical and ascetic symbols and expressions or images familiar from Persian literature which have nothing to do with the daily life of society; yet with this study we will find that Divan Literature has a quite different face: It is a genuine and invaluable source of information! After setting aside rote and stereotypical symbolism, a careful eye which is accustomed to scan documentary with caution would definitely notice many invaluable information within the pages of the Divan Literature. Concerns on various economical problems of the era (inflation, for example) or on the gradual retreat of the trade with the eastern lands are sometimes hidden as dim remarks within Divans and Masnavis and sometimes are right there as straight expressions.4
Ülgener goes on to giving information about the economical and social life of the era through long quotations. These quotations range from complaints about corruption, exploitation, and farmer's poor life conditions to advices on how to maintain order through a moderate suppression. As a matter of fact, nowadays one can also encounter with such verses which mainly lost their poetic and aesthetical value.
It is also possible to acquire knowledge about individual daily events through surveying the Folk Poetry. Rıza Zelyut's Halk Şiirinde Başkaldırı5 proved to be an invaluable source on this topic. One can also perform such a reading on modern Turkish poetry, starting from Yahya Kemal, and find invaluable information about daily life. Moreover such knowledge is to be found not only in Yahya Kemal (1884 Skopje – 1958 İstanbul) but also in Nazım Hikmet (1902 Thessalonica – 1963 Moscow), the Generation of 1940,6 1970 circle,7 and even in all poets. I must also add that such poetry is not only informative, but they also help us to understand their own time's psychological, social, legal atmosphere. Yet at this very point we must admit that poems that aim to offer such practical information loose much of their poetic value. Indeed a poem loses its aesthetical and poetic value as much as it aims to reflect mundane reality. Although this fact is discussed numerous times those who argue that poetry is a tool for creating a better world still advocate the idea that the aim of poetry should be reflecting the reality as it is. This camp disregards the fact that poetry in a sense re-invents the reality and thus transcends the mundane reality, and as such it is an exclusive human activity. We can still witness that primarily Islamist and militant revolutionists see poetry as a mere tool for their own agenda. And as we mentioned before the main motivation behind this view is the idea that aim of any artistic activity should be conveying an ideology rather then aesthetical and, in this case, poetical concerns. However, in such a context poetry suffers from aesthetical corruption.                                       
Notes:
1. An Islamic, mythical, and mystical poetry written in Ottoman era written in prosodic meter. This poetry mainly shaped by the aesthetical taste of the Ottoman court.
2. A kind of poetry which addresses to common folk, unlike Divan poetry, and which is writing in syllabic meter rather than prosodic meter, love and uprising being the main themes.
3. Sabri Ülgener, İktisadi Çözülmenin Ahlak ve Zihniyet Dünyası, İstanbul, 1981.
4., pp. 17-8.
5. Rıza Zelyut, Halk Şiirinde Başkaldırı, Sosyal Yayınlar, İstanbul, 1989.
6. A group of socialist poets.
7. A group of socialist poets who are mainly influenced by the socialist uprising in Turkey in 1970s. Their poetry is of a propagandist character.

*
Metin Cengiz is invited to 2014 Medellin Poetry Festival. He is a poet and writer (born 3 May 1953, Göle). He established the Digraf Publishing House in 2005, in collaboration with his friends, to publish poems and essays concerning poetry theory.
He won the Behçet Necatigil Poetry Award in 1966 with his book Şarkılar Kitabı (The Book of Songs), Melih Cevdet Anday Poetry Award in 2010 with his book Bütün Şiirleri 1 (Collected poems 1), Bütün Şiirleri 2 (collected poems 2) and Tudor Arghezi İnternational Poetry Award  in 2011 (Romanya). He is a member of Writers Syndicate of Turkey, the Association of Turkish PEN Writers and the Turkish Authors Association.
His poems are translated into several languages such as French, English, German, Spanish, Italian, Bosnian, Russian, Romanian, Arabic, Hebrew, Azerbaijani, Serbian, Hindi, Greek and Kurdish. His selected poems are published in French with the title Apres le Tempete et Autres Poemes (2006, Harmattan) and his celected poems are published are published in Spanish entitled Selected Poems (2013).
Poetry: Bir Tufan Sonrası (After A Deluge, 1988), Büyük Sevişme (The Great Love, 1980), Zehirinde Açan Zambak (The Lilly that Bloom in its Poison, 1991), İpek'a (To İpek, 1993), Şarkılar Kitabı (The Books of Songs, 1995), Gençlik Çağı (Juvenille Years, 1998), Aşk İlahileri&Günümüze Hüzzamlar (Hymnes Of Love &The Hüzzam Compositions Today, 2005), Özgürlük Şiirleri (poems of freedom), Bütün Şiirleri 1 (Collected poems 1), Bütün Şiirleri 2 (Collected poems 2), İmgeler Benim Yurdum (2011) (Images are my home). He has published severas  Essay-Criticism-Study.
Published at February 22nd, 2014.
Última actualización: 04/07/2018