Ars Poetica
Por: Synnøve Persen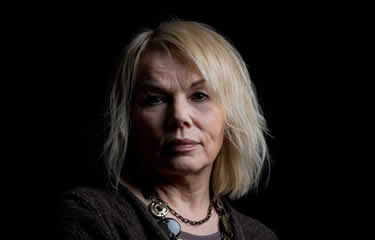 My Home is in my Heart
(Nils Aslak Valkeapää)
The Sami language is one of the small languages in the world. It belongs to the Finno-Ugric family, related to Finn, Hungarian, Estonian and some smaller languages in Russia.
Sami has four distinct language groupings - the biggest one is the Northern Sami to which I belong, then the Southern, the Anar and the Skolt dialect. It is estimated to be spoken by up to 20,000 people, but written and read by considerably fewer, due to the politics from the nordic states throughout long time, until 1950, Sami language and culture were virtually ignored by the Scandinavian educational systems. Language teaching was not introduced into schools until 1960 and then upon an experimental basis.
I have had a long way back to my own language. Thanks to Nils Aslak Valkeapää, the great Sami writer, who encourage me to write poetry, I found the path back to my childhood and the origin of myself.
I write poetry in my mother tongue first and foremost because it is the language closest to my heart; the Sami language has all the words I need, it gives me opportunity to constantly explore the language because of its rich grammar with endless possibilities, the writing becomes an exciting process.
We are maybe between 50-100 active writers, fiction writers, poets, prose writers and other categories. As long as we write we have a living language, many of us are products of the revitalisation of Sami culture in 1970'is. In this decade the first Sami publishing house was established and the authorities, especially the
Norwegians, began their efforts to better the conditions for Sami language. We write to keep our beloved language a living language, a Sami writer will never obtain big editions, the greater part of those who speak Sami today never learned to read or write. A writer needs a reader, while we are writing the Sami language more or less for ideal reasons, hoping there will be more readers in the future, hoping for our language to survive.
---
Synnøve Persen is invited to 24International Poetry Festival of Medellin. She was born in Porsanger, Norway, on February 22, 1950. She is a poet, visual artist, organizer, critic, translator, lecturer, debater, art consultant, cultural and political activist, living in Finnmark, the northernmost county of Norway, with borders to Russia and Finland. Writing poetry in Northern Sami, has published four poetry books in Sami, all translated into Norwegian, one of them into Icelandic, alit lottit girdilit (blue birds fly), biekkakeahtes bálggis (windless path), ábiid eadni (the ocean's mother), meahci šuvas bohciidit ságat (tales spring up from the nature's rush) and one biography muora ii galgga sojahit eambbo go gierdá. Nominated to the Nordic Council Literature Prize in 1993 and 2008, received the Sami Council Literature Prize in 2006 and the Biret Elle Memorial Prize in 2000. Writing critical articles on Sami issues.
Represented in various anthologies in several languages, has published two sound books and been in many festivals performing poetry, alone, together with musicians and even with symphonic orchestra.
Educated as visual artist at the Academy of Fine Arts in Oslo, has participated in numerous exhibitions, in the nordic countries, in some european countries and in exhibitions with indigenous artists in Venezuela and Canada, beside numerous solo exhibitons. From 2004 granted the Revenue Garantee by the Norwegian State as visual artist.
Worked with the organizing of Sami artists, as founder of both the Sami Artists Union and the Sami Writers Union. Has been a member of the Arts Council Norway and has had numerous leading and other positions of trust in Sami and Norwegian artists organizations. Has worked for the establishing of institutions for Sami Art, as an Art School, Center for Contemporary Art and a Sami Art Museum.
Published at February 22nd, 2014.
Última actualización: 21/01/2022