David McKirdy to young poets: 'Don't look too far from home'
David McKirdy to young poets: 'Don't look too far from home'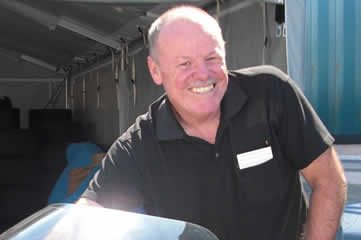 By Amanda Lago
GMA News November 22, 2012
While there is no limit to what young Filipino poets can write about or where they can get their inspiration from, Hong Kong-based poet David McKirdy said that they needn't look very far for poetic material.
 
"Don't look too far from home. There are so many good things going on here, so many fine poets in your own country, so much fine literature here," McKirdy, author of "Accidental Occidental," said at the "Read Lit District", the third Philippine International Literary Festival (PILF) held at the Ayala Museum last November 14 to 16.
Hong Kong based poet David McKirdy and Filipino writer J. Neil Garcia discuss the current poetry scene at the third Philippine International Literary Festival.
McKirdy, who himself is a former director of the Hong Kong International Literary Festival, spoke at a panel discussion about the current poetry scene alongside renowned Filipino professor and author of "Misterios and Other Poems" J. Neil Garcia. The panel was moderated by Palanca Award-winner Vincenz Serrano.
 
At the talk, McKirdy said that he finds a dynamism in Asian poetry that is lacking in its Western counterparts.
 
"In Asia we have such vibrant stories to tell, compared to America, the Western world where really, they've had a pretty easy life since the Second World War, and I believe that breeds complacency in creation," he said.
 
During the discussion, McKirdy read "Amsterdam Canal," a poem by New York-based Filipino poet Bino A. Realuyo, a work which he said was "a lovely evocative poem which brings to us the sense of somebody's fondness for a land that they are only tied to now by letters home."
 
He also did a comparison of British poet Rupert Brooke's war sonnet "The Soldier" and Vietnamese poet Nguyen Phan Que Mai's "The Poem I Can't Yet Name," which have similar themes that discuss the aftermaths of war or famine. The former was, he felt, an intellectual exercise, while the latter, he said was more evocative and emotional.
 
"I think that well illustrates the difference between what we can do in Asia and what people are doing in the rest of the world," he said. "When I read poems from the UK, people are always writing about green fields with sheep on it, and what's going on in the latest soap opera, and you know, their boyfriends left them…there really is not much depth or heart to it."
 
"I think, to my mind, we have so many things that we can discuss in poetry, so many stories that we can take on board…by all means, take the influence, take the inspiration from others and from other countries and dip in to that experience but don't devalue the experience of your own country," he added.
 
Motherland as muse
 
McKirdy's opinions echoed those of celebrated Filipino poet and critic, Gemino Abad who gave the keynote address on the first day of the festival.
 
In his speech, Abad said that the motherland has served as muse to many of our writers, including Balagtas, and Jose Rizal.
 
"Our early poetry in English shows that Inang Bayan, motherland, is our writer's first muse," Abad said, citing Fernando Ma. Guerrero's "Where Is My May?" and Justo Juliano's "Sursum Corda!" as examples.
 
He added, "The reality of a new power at the turn of the last century was for Filipino writers chiefly that which tested his mettle and proved his nativity. The loss of our own country in the Philippine American war was fecund subject for poetry and oratory because the Philippine revolution had aroused the indio's conscience and sharpened their realization that they were one people."
 
An 'open clearing'
 
In his speech, Abad also detailed the history of Philippine poetry in English beginning from its inception during the American colonization, all the way to the present day.
 
The acclaimed poet said that our poetry in English first began with a Romantic period, then a New Critical phase, until it evolved in the last decade to what Abad now calls an "open clearing in print and cyberspace."
 
This open clearing, Abad said, is characterized by more women writing, and poetry taking on new forms, including spoken or performed poetry, and even rap.
 
"Craftsmanship in the literary arts, as in any other art, is beyond formula or intellectual fashion of the times. It is intrinsically a writer's own struggle with his medium, a matter of pushing the envelope or raising the stakes," Abad said.
 
'Still the page'
 
Garcia, however, believes that poetry still belongs on the page.
 
When asked about whether he considers rap as poetry, Garcia revealed a somewhat conservative opinion.
 
"Poetry is etymologically—I'm gonna use the Jimmy Abad approach—any made thing is poetry. So in that sense, [rap] is poetry," he shared.
 
However, he explained that while he will teach his students to read well-written song lyrics, he can't say the same for rap.
 
"It has to be performed, eh. I'm very conservative pa rin, it's still the page, rather than the iPod," he explained.
 
"I think Filipino hip-hop like Gloc 9, magaganda 'yung mga songs niya that they can be taught in the classroom. But for Eminem, 'yung mga American, sorry, it's all vulgar. Grabe 'yung mga words," he added.
 
McKirdy shared Garcia's opinion that the quality of the lyrics of many rap songs hardly qualify as poetry, though he did note that it harks back to the oral literary tradition.
 
"I think [rap] carries on the tradition of poetry as being an oral art form, and I think that's very important to some degree. Poetry has become something of the page and certainly was for many many years, though I think we're coming out of that a bit more, with slam poetry, and it seems a bit cool now to perform your poetry," he said.
 
Of course, whether it's rap or traditional written poetry, McKirdy said that it all depends on the quality of the words. "I think poetry is about communication first and foremost," he stated. "And I think rap music, I agree with [Garcia], the quality of the lyric is not necessarily good. But I think if one looks at hip-hop and rap as being part of popular music, of which there are some good lyric writers there, I think it is a valid addition to the poetic mode." –KDM, GMA News
Took from: http://www.gmanetwork.com/news/story/283383/lifestyle/literature/mckirdy-to-young-poets-don-t-look-too-far-from-home
Published at April 6st, 2014.
Última actualización: 04/07/2018