World poetry meeting in Medellín: 146 acts for orbital peace and for Earth
World poetry meeting in Medellín:
146 acts for orbital peace and for Earth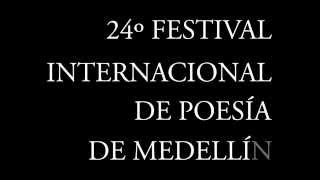 A vigorous and multitudinous celebration of existence and of Earth, with aboriginal poets from the ancient Innu, Nahuatl, Mazatec, Muscogee, Quechua, Mapuche, Yanacona, Wayuu, Kamsá, Maya and Sami nations, accompanied by the Celebration of Earth with the Native Peoples forum; the Colombian Poetry, Art and Culture for Peace Forum; the performance of 146 acts for world peace; the performance of the 18th issue of the International Poetry School, and several sessions of the Coordinating Committee of the World Poetry Movement, are some of the main activities of the 24th Medellín International Poetry Festival, to be held in this town between July 19th and 27th next, with the participation of 70 poets from 39 countries, in numerous cultural and popular scenes of the city and of various municipalities of Antioquia.
The Medellín International Poetry Festival returns to the city at a difficult time of our urban history, full of conflicts and social injustice, but also full of hope in the dimension of a fair and possible peace, of Colombian reconciliation, and of the possible dream of the collective and ardent construction of a country for poetry and for life.
Called and organized by Prometeo Magazine, the Festival is sponsored by the Municipality of Medellín, the Council of Medellín, the Colombian Ministry of Culture, Zhongkun Poetry Development Fund (China), the Government of Norway, International Fund for Promotion of Culture of UNESCO, UNDP, Confiar Caja Cooperativa, the Government of Switzerland, Coofinep, Cultures of Resistance Network and the Alta Mane Foundation (Italy and Genève).
Native peoples' contribution to the defense of life on Earth
Ceremonies, manifestations of the ancient native thought, and readings of native poets' poems shall be a part of the native peoples' participation in the Medellín International Poetry Festival. The purpose of the Celebration of Earth with the Native Peoples forum is to contribute, through the participation of native poets and ecology experts, to the construction of a new planetary awareness that shall promote urgent changes in the attitude of contemporary society in the face of the world ecology crisis.
The purposes of this Celebration are connected to the ancestral thought of Mayan poet Rosa Chávez, when she wrote: "We need to rethink ourselves and rethink anthropocentrism – to return to Weltanschauung. We are united in the fight for the defense of Mother Earth. We assume the power of poetry for change and urgent transformations. As poets, we are committed to creating de-colonized knowledge; it is a matter of returning to the roots. We need a de-colonization of the spiritual. To return to Weltanschauung, to resume the spirit's energy. The survival of our culture, thanks to the vitality of our spirituality. It is also urgent to de-colonize actions on the basis of what each one of us does. Each and every one of us has a lot to contribute".
Information on the Forum and its full schedule can be found on the Web: http://www.festivaldepoesiademedellin.org/es/Festival/24/News/38.html
A global poetry action
To encourage the development of peace dialogues in Colombia and the peaceful and political resolution of the world's conflicts, the World Poetry Movement has organized for the month of July poetry readings, concerts and poetry interventions throughout the world. The Medellín International Poetry Festival, which is a part of the coordination of this poetry force, has registered 154 activities of 2014 within the framework of this global poetry action, which includes, to this date, the holding of 451 readings in 46 countries, with 29 activities in Asia, 11 in Africa, 30 in Europe, 16 in North America and 365 in Latin America.
The countries where the World Poetry Movement will hold poetry readings are India, China, Turkey, Israel, Philippines, Pakistan, Armenia, Azerbaijan, Algeria, Mauritius, Zimbabwe, Central Sahara, Uganda, Kenya, Ghana, South Africa, Nigeria, Cuba, Colombia, Venezuela, Costa Rica, El Salvador, Argentina, Mexico, Ecuador, Bolivia, Chile, Uruguay, Peru, United States, Canada, Greece, Italy, Sweden, Norway, Switzerland, Cyprus, England, France, Ukraine, Romania, Spain, Uzbekistan, Slovenia, and Ireland.
One of the central acts of this global activity shall be the Poetry, Art and Culture for Peace Forum. More detailed information on the Forum's schedule may be found -in Spanish- here.
The World Poetry Movement's Coordinating Committee is in session
Nine poets who are a part of the World Poetry Movement's Coordination Committee will for three days develop a valuable internal schedule, in order to delve deeper into the practical application of the organization's strategic planning. They shall also take part in the Festival. There will be attending the sessions Jack Hirschman, director of the San Francisco International Poetry Festival (United States); Alex Pausides, director of the Havana International Poetry Festival; Rati Saxena, director of the Krytia International Poetry Festival (India); Luo Ying, director of the Chinese Poetry Society (China); Lello Voce, in representation of the Rome International Poetry Festival – Rome Poetry – (Italy); Yuri Zambrano, coordinator of the World Poetry Festival (Mexico); Zolani Mkiva, director of The Royal Heritage International Poetry Festival (South Africa); Renato Sandoval, director of the Lima International Poetry Festival (Peru); and Fernando Rendón, director of the Medellín International Poetry Festival.
41 academic activities at the Medellín Poetry School
In the 18th International Poetry School there shall participate 35 international and national poets in courses, workshops, lectures and individual readings with conversations. The invitation is addressed to students, teachers, poets, cultural enablers, poetry creation workshop organizers, self-taught persons and people really interested in poetry and the activities proposed.
Forty-one activities have been scheduled, distributed into five courses, eight workshops, six conferences and seventeen individual readings with conversations, free and without cost, where the poets shall expound on their creative process and the Festival's theme axis. Registrations may be made via email to: [email protected]
The full schedule of the Poetry School can be seen -in Spanish- on our website by following this link
Poets participating of the 2014 Festival
The participation of the following poets has been definitely confirmed: Amin Khan (Algeria), Roberto Alifano (Argentina), Liliana Ancalao (Argentina, Mapuche nation), Hrant Alexanyan (Armenia), Ali Al Jalawi (Bahrain), William Cliff (Belgium), Barnabé Laye (Benin), Vilma Tapia Anaya (Bolivia), Josephine Bacon (Canada, Innu nation), Jorge Montealegre (Chile), Luo Ying, Shu Ting, Yu Jian (China), Juan Manuel Roca, Guillermo Martínez, Horacio Benavides, Rómulo Bustos, Rafael Patiño, Jotamario Arbeláez, Jorge Iván Grisales, Omar García Ramírez, Patricia Ariza, Selnich Vivas, Iván Graciano Morelo, Cindy Martínez, Fernando Vargas, Bibiana Bernal (Colombia), Vito Apüshana -Miguel Angel López- (Wayuu nation, Colombia), Hugo Jamioy Juagibioy (Kamsá nation, Colombia), Freddy Chicangana (Yanacona nation, Colombia), Alex Pausides, Legna Rodriguez (Cuba), Attila Balazs (Slovakia), Olvido García Valdés (Spain), Joy Harjo (United States, Muskogee nation), Patti Smith, Jack Hirschman (United States), Laure Morali (France), Tzutu Baktun Kan (Guatemala, Maya Tz'utujil nation), David Mckirdy (Hong Kong), Isztván Turczi (Hungary), Rati Saxena (India), Manal al Shaikh (Iraq), Dacia Maraini, Lello Voce, Paolo Agrati (Italia), Phiulavanh Luangvanna, Kongdeuane Nettavong (Laos), Natalio Hernández (Mexico, Nahuatl nation), Juan Gregorio Regino (Mexico, Mazatec nation), Yuri Zambrano (Mexico), Synnøve Persen (Norway, Sami nation), Maria Barnas (Netherlands), Moisés Pascual (Panama), Odi Gonzales (Quechua nation, Peru), Renato Sandoval (Peru), Ion Deaconescu (Romania), Oumar Farouk Sesay (Sierra Leone), Markus Hediger (Switzerland), Gcina Mhlope (South Africa), Metin Cengiz, Müesser Yeniay, Ataol Behramoglu (Turkey), Elbio Chitaro (Uruguay), Luis Enrique Belmonte (Bolivarian Republic of Venezuela), Hilario Chacin (Bolivarian Republic of Venezuela, Wayuu nation), Outspoken (Tongai Leslie Makawa - Zimbabwe).
There shall also take part, with a special meaning, the poets Mario Eraso and Hellman Pardo (Colombia, winners of the National Poetry Prize awarded by the Festival in 2014), Luis Ángel Zola, David Marín-Hincapié (Colombia, winners of the Medellín Poetry Prize awarded by Prometeo Magazine in 2014); and Sergio García Zamora (winner of the 2014 Gaceta Magazine Prize, Cuba).
Published at July 10, 2014.
Última actualización: 04/07/2018