Biographical information about invited poets to 24º International Poetry Festival of Medellín
Biographical information about invited poets
to 24º International Poetry Festival of Medellín
AFRICA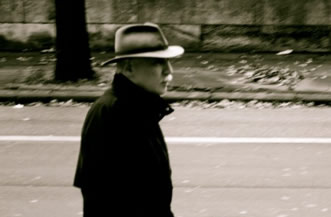 Amin Khan  was born in Algiers during the Algerian War of Independence in 1956. He grew up in a revolutionary family, writing poetry, and nurturing interests in philosophy and politics. Studies at the University of Algiers, the University of Oxford and the Institut d'Études Politiques in Paris followed. As a diplomat and international civil servant, he held positions at the United Nations (New York), The World Bank (Washington, D.C.) and UNESCO in Paris, where he now lives with his family. His books include Colporteur, 1980; Les Mains de Fatma, 1982; Archipel Cobalt, 2010, and Vision of the Return, 2012.
His most recent collection of poems, "Arabian Blues", foreword by René Depestre, won the "Nikos Gatsos Méditerranée" award and the "François Coppée" award from the French Academy. His poetic work has been influenced by Federico García Lorca, Pablo Neruda, Kateb Yacine, among other great poets.
*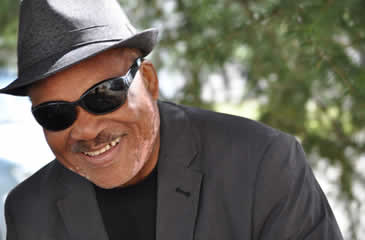 Photo by the author
Barnabé LAYE   poet and novelist, is born in Porto-Novo (Benin, 1941). He studied at the Père Aupiais College of Cotonou then at the University in France in the Faculty of Medicine of Bordeaux and Paris. Doctor at the Pitié-Salpêtrière Hospital in Paris, he succeeds in juggling his literary and medical vocations. "For a long time I've been doctor by day and writer by night". 
He published books of poems with evocative titles : « Nostalgie des jours qui passent, Les sentiers de liberté, Comme un signe dans la nuit, Requiem pour un pays assassiné), Poèmes à l'Absente, Une si longue attente, Par temps de doute et d'immobile silence (Nominated Fetkann Prize 2013) ».
In 2010, he received the Emile Nelligan prize for all his poetic work.
The novels of Barnabé Laye tell stories like the African griots: novel about origins, novel about the changes in society, novel about nostalgia and memory. His first two novels were published in Editions Seghers: Une femme dans la lumière de l'aube (A woman in the light of dawn), translated into Portuguese (Brazil); Mangalor (Literature Prize of Paris Hospitals) and L'adieu au Père (Goodbye Father). His latest manuscript   Les champs de cane à sucre (The sugar cane fields), a love story during the slavery's period, is awaiting publication.
There is a singular music through these books. This is an invitation to share, an invitation to taste the flavor of words and the magnificence of the language.
 Barnabé Laye's books are subject of academic works.
*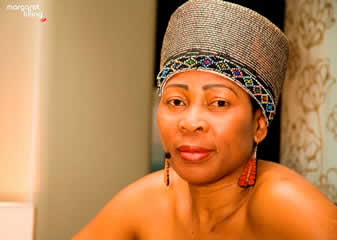 >
Fotografía de Margaret Tilling
Gcina Mhlope  (Nokugcina Elsie Hlophe), was born in Hammarsdale, South Africa on October 24, 1959. She is a poet, activist, fighter for freedom, playwright, actress and story teller. She is one of the few woman storytellers in her country. Her action is dedicated to preserve storytelling as a means of keeping history alive and inviting South African children to keep the cultural tradition through the reading. She tells her stories in English,  Afrikaans,  Zulu and Xhosa.
As Njabulo S. Ndebelesaid «Rooted as it is in contemporary cultural practice, her poetry taps deeply into a resilient past. She uses the time-tested repertoire of mnemonics that are a definitive feature of oral poetry, and makes use of salutations, injunctions to the audience, changing meanings, repetition, alliteration, onomatopoeia, allusion, parallelism, play with noun class prefixes, and many other verbal techniques mostly recognised and admired by audiences as a mark of compositional dexterity.» Her works have been translated into German, French, Italian, Japanese and swahili. She has traveled around the world giving workshops on storytelling, publishing books of poetry and fiction and performing in plays and movies.
Among her published books are: The Snake with Seven Heads, 1989; The Singing Dog, 1992; Queen of Tortoises, 1995; Nalohima, the Deaf Tortoise, 1999; Fudukazi's Magic (CD: lyrics and music), 1999; Love Child, 2001; Nozincwadi, Mother of Books, 2001; Have You Seen Zandile?, 2002; An African Mother Christmas, 2002; Hi, Zoleka! 2003; Stories of Africa, 2006; Our Story Magic, 2006; Ithemba Means Hope, 2006; Golden Windows, 2007; The Singing Chameleon, 2008; The Barefoot Book of African Tales, 2009; The Magic Horns, 2009.
*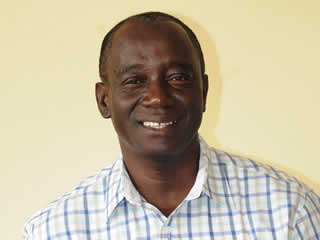 Oumar Farouk Sesay    was born in Port Loko, Sierra Leone, on July 19, 1960. He studied political science and philosophy at Fourah Bay College, University of Sierra Leone, he was resident playwright of Bai Bureh Theatre in the '80s. He has written several plays and serves as a columnist for several newspapers. He has been published in many anthologies of Sierra Leonean poets, including Lice in the Lion's Mane, Songs That Pour the Heart and Kalashnikov In The Sun. His first volume of poems, Salute To The Remains of a Peasant was published in 2007 in America.
 
He was Cadbury Visiting Fellow in 2009 at the Centre for West African Studies in the University of Birmingham. He is currently working in the private sector. He has been recently appointed by his Excellency President Ernest Bai Koroma as chairman of the newly established board of the National Youth Commission. His first novel Portrait on a Rock will soon be published. He is married with two daughters.
*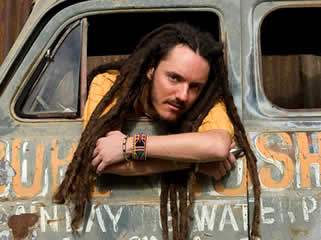 Comrade Fatso   (Samm Farai Monro) is one of Zimbabwe's most pioneering spoken word artists. His poetry is street, urban, hip hop and African and is studied at universities all over the world including the USA, the UK, South Africa, Germany, Denmark and France. His poetry has been published in Barbados, Germany and Holland. A powerful performer, he is also in high demand as a host due to his quick wit and ease on stage.
Comrade Fatso and his band Chabvondoka are an explosive, genre-busting, insurgent act that defies musical boxes. This multi-racial African band seamlessly blends sounds as diverse as rock, hip hop, chimurenga, jiti, kwaito and reggae.
The band's debut album House of Hunger was praised internationally but banned in Zimbabwe due to its 'political content'. They have performed extensively throughout Europe, USA, Caribbean and Africa and in 2010 performed at one of Europe's biggest Festivals, the prestigious Exit Festival. The year ended on a high note with their inclusion in Discograph's Africa 50 Years Of Music, a compilation of the best African music from the last 50 years.
In 2011 Comrade Fatso & Chabvondoka toured Europe once again with the highlights being headlining the Uppsala International Poetry Festival, Sweden, alongside Saul Williams and a month long tour of Denmark. December saw the release of the bands latest single Korokoza, which received this review from US radio station WRIR "This is socially conscious, musically sophisticated rap at its finest, the kind of thing you just don't hear enough of these days."
*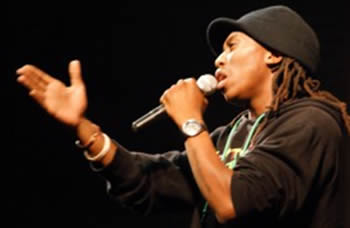 Photo from www.diasporamixtape.com
Tongai Leslie Makawa aka Outspoken is an underground emcee and spoken-word artist from Zimbabwe. One half of the hip-hop duo Dialectric Blue with rhyme partner Upmost a.k.a my bruthaz keepa. Known as outspoken alpha intellect (pronounced eye-ntellect), he is an activist in social movements advocating for the empowerment of the masses. As the front runner to his band– 'Outspoken and The Essence' — he busts socially relevant issues in a positive-projected mind state.
Outspoken is a projects' facilitator for MAGAMBA! THE CULTURAL ACTIVIST NETWORK, an organization realised to fight social and political injustice through the avenues provided in the spoken-word events they organize. He has held skillz sharing workshops in schools as well as being a mentor for the British council program POWER IN THE VOICE as the hip-hop mentor for HARARE.
Outspoken has done a month long South Afrikkan tour; from The Darlin Festival in cape town to Highway Africa in Grahamstown, toArts alive in Joburg to SPEAK THE MIND in Cape town. He has blessed such venues as ARTSCAPE, HOUSE OF NSAKO, THE BASSLINE, CAPELLOS. He has touched base with the Power In the Voice festival in Botswana. He has shared stages with greats such as Pops Mohammed, Kwani Experiance, Likwid Flo, Tamika Harper (Georgia me), Imani Woomera, Comrade Fatso and Chabvondoka, Cajus, Bianca Williams, Kabomo, Soul Dada, and others. Outspoken has toured the east coast of america with his band 'Outspoken and The Essence'. From Boston, Connecticut, New Jersey, Washington D.C to Cape Cod. Doing a combination of performances, discussions, interviews and workshops, he has moved from The Peace Abbey, Harvard, Princeton, Wellesley, and Berkley College of Music to performing at the Trinity International Hip-Hop festival with K'NAAN, POETIC PILGRIMAGE, WAGABLE, MOHAMMED YAHYA, SELF SUFICE, BAAY MUSA, NOMADIC WAX AFRICAN UNDERGROUND ALL STARS. 2009 also saw him and his band traveling to Swaziland to perform at The Bush Fire Festival and most recently to Durban as the closing act of The Poetry Africa festival finale after spending a week workshopping and performing.
*
AMÉRICA
Jack Hirschman    was born in New York City in 1933 and has lived since 1973 in San Francisco. He is a poet, editor and translator. He has published more than 25 translations of poetry from eight languages. Since leaving a university teaching career in the '60s, Hirschman has taken the free exchange of poetry and politics into the streets and has been called by Luke Breit, "American's most important living poet." He currently assists in the editing of Left Curve and is a correspondent for The People's Tribune.
Among his many volumes of poetry are
A Correspondence of Americans
(Indiana U. Press, 1960),
Black Alephs
(Trigram Press, 1969),
Lyripol
(City Lights, 1976),
The Bottom Line
(Curbstone, 1988), and
Endless Threshold
(Curbstone, 1992). His poetry has been published in Italy as well.
*
Roberto Alifano    is an Argentinian poet, story writer, essayist, and journalist, born on the West of the Province of Buenos Aires. He lived in Chile during the government of Salvador Allende, and had the chance to meet the great writers of the country such as Pablo Neruda, Nicanor Parra, Jorge Edwards and Volodia Teitelboim, among others. When Salvador Allende was ousted, he was detained and expelled by the dictator Augusto Pinochet because he delivered a speech during the Funeral of Neruda, -the poet of Isla Negra. As from 1974 until 1985 he was Jorge Luis Borges's secretary although he prefers to be called his "amanuensis". Together with him he translated Robert Luois Stevenson's Fables, the poetry of Hermann Hesse, Lewis Carroll's tales, and other writers of fantastic literature. Among his books as a story teller are to be mentioned: Borges, Oral Biography (Spanish Critics Award, 1987), Shakespeare-the mystery-, Borges and the Divine Comedy, Borges -Essential Dialogues, The Humour of Borges (1996) and Throwing Butter at the Ceiling (2010), and the poem books, Of Dreams and Wanderers (1967), Rough Plaster (1972), Haikus and Tankas (1974), The Infinite Mirror (1977), I Dream you dream (1981), The Numbers (1989), Where did I leave my shadow (1992), Of Friends (1997), This winter river (1998), Alifano poetry (2004), The Guardian of the Moon (2005) and Songs to a Wonderful Love (2006). Alifano has been honoured with the Degree of Honorary Professor of the Universities of Dusseldorf and Siracusa. He has also become Academic Member of the Institute of Culture of Mexico. As from 1988 he conducts the Literary Review Proa, founded in 1922 by Jorge Luis Borges. (Taken from RLA -Representación Literaria y Artística-).
*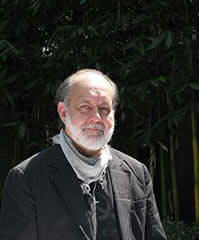 Jotamario Arbeláez     is the main exponent of the nadaísta movement, a group of rebellious poets and writers who revolutionized Colombian literature in the 1960s. "Jotamario Arbeláez' poetry is above all irreverent and anti-rhetorical, and characterized by an exuberant narcissism. His intention is to build a personal mythology in keeping with dissent and derision, a kind of self-love that subsumes the state of permanent rebellion of his poetic and vital personality. He meticulously follows the nadaísta proposals contained in the First Manifesto of 1958, and has been the most faithful but also the most unruly member of the nihilistic movement that shook the foundations of the staid Colombian culture (Oscar Collazos).
He has published more than ten poetry books, among them: The Prophet in his House, 1966; The House of Memories, 1986; and The Erotic Spirit, 1990. Some of his poetry prize received are: La Oveja Negra National Poetry Prize, 1980; Golpe de Dados National Poetry Prize, 1980; Colcultura National Poetry Prize, 1985 and Valera Mora International Poetry Prize, Caracas, 2008.
*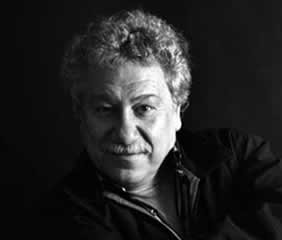 Juan Manuel Roca    was born in Medellin in 1946. He is a recognized poet, essayist, novelist, storyteller, art critic and cultural journalist. It is one of the greatest contemporary American poets. Some of his books of poetry: Memoria del agua; Luna de ciegos (University of Antioquia National Poetry Prize); Los ladrones nocturnos; Cartas desde el sueño; Fabulario real; Ciudadanos de la noche; Pavana con el diablo; Monólogos; La farmacia del ángel; y Testamentos. Casa de las Americas Prize for Poetry José Lezama Lima, for Song of remoteness. He also obtained the Casa de América Poetry Prize, by his book Biblia de Pobres, as well as The National Poetry Prize of the Ministry of Culture in 2004.
Interview on ConcersanDos -Spanish-
*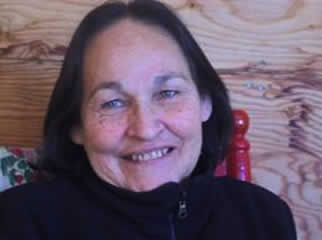 Joséphin Bacon  was born in 1947. She is a poet, composer and singer of the Innu Aboriginal nation in Canada. He directed the documentary film Mishtikuashisht-Le Petit Gran Européen: Johan Beetz (1996). He has published the poetry books: Aimititau! Parlons-nous, correspondence with Joseph Acquelin, 2008;! Bâtons à message / Tshissinuatshitakana, bilingual edition Innu / French, 2009 (which won the "Prix des lecteurs du Marché de la poésie de Montréal") and Nous sommes tous des sauvages, 2014.
Joséphine Bacon. Exposition Matshinanu — Nomades au Musée des Abénakis à Odanak.
*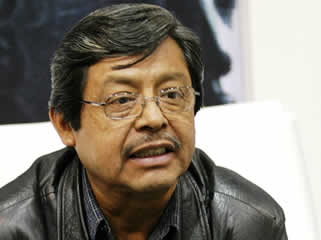 Natalio Hernández   was born in Mexico in 1947. He belongs to the Nahuatl Nation. Has published the poetry books: Xochikoskatl, 1985; Sempoalxóchitl/Veinte flores : una sola flor, 1987; Ijkon ontlajtoj aueuetl / Así habló el ahuehuete, 1989 ; Canto nuevo de Anahuac, 1994; Papalocuicatl / Canto a las mariposas, 1996; In tlahtoli, in ohtli / the word, the way: Memory and fate of indigenous peoples, 1998; El despertar de nuestras lenguas: Queman tlachixque totlahtolhuan, 2002; Semanca Huitzilin / Colibrí de la armonía / Hummingbird of Harmony, 2005.
Speaking in Languages on the Edge: Natalio Hernandez
*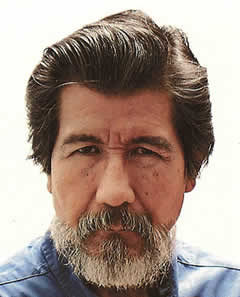 Horacio Benavides was born in Bolivar, Cauca in 1949. He lives in Cali, city where he gives poetry workshops to children and youth. He has published the poetry books: Books of poetry published: Orígenes, 1979 ; Las cosas perdidas, 1986; Agua de la orilla, 1989; Sombra de aguar, 1994; La aldea desvelada, 1998; Sin razón florecer (National Poetry Award from the District Institute of Culture of Bogotá, 2001) ; Todo lugar para el desencuentro (Eduardo Cote Lamus National Poetry Prize, 2005) ; De una a otra montaña (Selected Poetry, 2008); La serena hierba, anthology, 2011; Como acabados de salir del diluvio, antología, 2013. He has also published some books of riddles, among them: Agua pasó por aquí and Ábrete grano pequeño. His book La serena hierba won the National Prize for Poetry 2013, from the Ministry of Culture of Colombia.
Festival Mundial de Poesía de Venezuela. Produced by La Otra, Revista de Poesía.
*
Joy Harjo  was born in USA in 1951. Her seven books of poetry include How We Became Human- New and Selected Poems, and She Had Some Horses.  Her awards for poetry include the New Mexico Governor's Award for Excellence in the Arts, a Rasmussen US Artists Fellowship and the William Carlos Williams Award from the Poetry Society of America. She has released four albums of original music including her most recent, Red Dreams, A Trail Beyond Tears, and won a NAMMY for Best Female Artist for Winding Through the Milky Way. Wings of Night Sky, Wings of Morning Light, Harjo's one-woman show premiered to good reviews in Los Angeles. She has been commissioned by The Public Theater of NYC to write the musical We Were There When Jazz Was Invented.  Soul Talk, Song Language, Conversations with Joy Harjo from Wesleyan, and Crazy Brave, a memoir from W.W. Norton have both just been released in paperback. Forthcoming are a new CD of original music, Wings of Night Sky, Wings of Morning Light from Wesleyan University Press, a collection of poetry, and the new play. She travels extensively nationally and internationally, solo and with her band Joy Harjo and the Arrow Dynamics Band. She is a founding board member of Native Arts and Cultures Foundation and is now on the Leadership Council. She is working on establishing an arts academy for tribal citizens. The curriculum will include the blues. She is a half-time full professor at the University of Illinois, Urbana-Champaign and lives in the Mvskoke Nation in Oklahoma.
HoCoPoLitSo (The Howard County Poetry and Literature Society)
*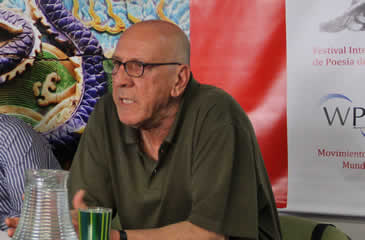 Photo by Fernando Rendón
Guillermo Martínez  was born in La Plata, Huila, Colombia, in 1952. He is a poet, publisher and bookseller. His poetry, finely decanted, has been influenced by the landscapes of his childhood and also by the oriental poetry. Published books: Declaración de amor a las ventanas, 1980; Diario de Media noche y otros textos, 1984; Marx y los poetas, 1984; Puentes de Niebla, 1987; Mitos del Alto Magdalena, 1990; Tres Poetas de Lengua Inglesa (translations of W.B. Yeats, Theodore Roethke and Kenneth Patchen), 1993; El Árbol puro del río Bogotá, 1994. He has lived in China and published Spanish translations from some Chinese poets (among them Wang Wei, Lu Xin, and Li Bai).
*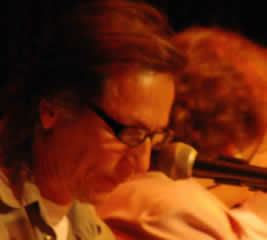 Fotografía del Festival Internacional de Poesía de Medellin
Jorge Iván Grisales   was born in Medellín in 1953. He is a poet, playwright, actor and theater director. Member of the Taller de Artes de Medellin. He was nominated by the International Review as the best actor in the International Theater Festival of Manizales and Miami. He was professor of the Medellin Popular Art School and the University of Antioquia. Works: Los versos del nadador ciego, 1997 y Método para el manejo de la voz escénica: De la memoria de la voz a la imagen de la palabra, 2006.
*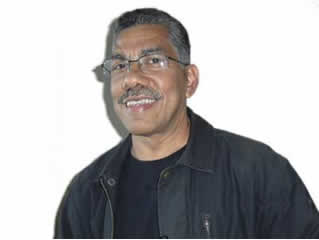 Rómulo Bustos   was born in Santa Catalina de Alexandria, Bolívar, Colombia, in 1954. He has published the poetry books: El oscuro sello de Dios, 1988 ; Lunación del amor, 1990; En el traspatio del cielo (1993), Premio Nacional del Ministerio de Cultura; Palabra que golpea un color imaginario (1996), La estación de la sed (1998), Oración del impuro (Obra reunida, 2004), Sacrificiales (2007), Muerte y levitación de la ballena (2010). "Her poetry is inspired by his homeland landscape and uses a rich and exquisitely refined language, imbued in imagery and metaphysical, existential and erotic suggestions.  His collected work was published by the National University of Colombia under the tittle "Oración del impuro » (2004). He is a professor of literature at the University of Cartagena. He received the National Prize from the Poetry Writers Association of the Coast, 1985; the National Poetry Prize of the Colombian Institute of Culture, 1993, and the Blas de Otero Poetry Prize from the Complutense University of Madrid, 2010.
*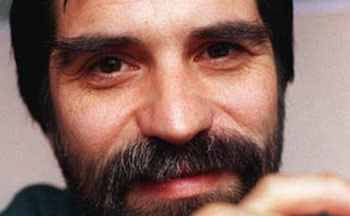 Jorge Montealegre   was born in Santiago de Chile in 1954. He is a poet, journalist, essayist, and a humor's scriptwriter. He studied Film and Public Management. After the military coup of Pinochet, was jailed at age 19 in 1973. Later he was released and wrote in exile at Rome "Chacabucho" his first book (1974), which describes his experiences in prison. He has received, among other awards, the  Altazor Prize, the Municipal Prize for Literature and the National Book Council Prize.
Other of his published books are: Huiros, 1979; Lógica en Zoo, 1981; Astillas, 1982; Exilios, 1983; Título de dominio, 1986; Bien Común, 1995; El tren en la poesía chilena, 1996; Rostros y rastros de un canto, 1997; Wurlitzer, 1998;  Prehistorieta de Chile, 2003 and Huesos, 2003.
In his words: "My first poems emerged from an atmosphere of solidarity, fraternal encouragement, determining my writing references. The Chacabucho's atmosphere of pain and hope, was an initiation. It left an ethic mark rather than aesthetics. From my experience with the prison and the prisoners emerged a strange mixture of horror and tenderness. The closures, the desert, the cement, are like a part of a picture that lasts and is transfigured. The poet born in captivity dies in captivity. The prison, as exile, is not a place that is abandoned. It takes forever. It appears and disappears. It visits us and visits itself."
*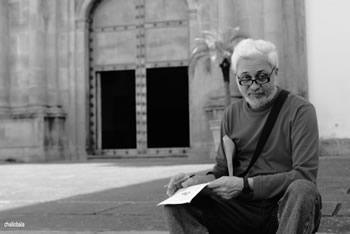 Moisés Pascual was born in Panama in 1955. He has published, among other books of poems: Los infelices, 1982; Los versos de Alejandra, 1983; Proclama del amor en guerra (poesía) and Jugar a la vida, 1991; as well as the book of tales for children: La casa del pececito, 1986 and Estas ciudades se han puesto a adorar el sol.
He won the Literary Contest "Ricardo Miró" 2003 in poetry, "Pablo Neruda" Poetry Prize 1977, and also The Poetry Summer Tournament, 1983 (INAC). In 1975 he earned Honorable Mention at the University Award and in 2006 in the story section of the Literary Contest "Ricardo Miró".
He was a member of the group of writers "La otra columna", the cultural association "El Grupo" and the cultural collective "Atabal". He has been editor of the "Hoja Volante". Her has been Included in anthologies like Ancon Liberado and Panama Young Poets.
*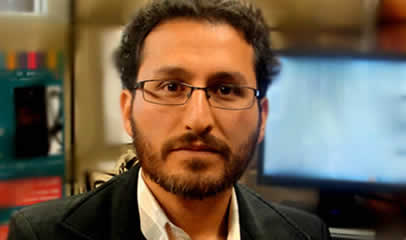 Selnich Vivas  got a doctorate in Latin American and German literature at the University of Freiburg, Germany. His doctoral thesis focuses on Kafka and Colombian literature. He is the author of the novels Para que se prolonguen tus días and Finales para Aluna. In this novel, divided into four volumes, it was just published the first book, Stolpersteine ​​(2008), dedicated to the poetry work of the protagonist, Aluna Sveta. The book brings together the poems that Selnich Vivas Hurtado has written over fifteen years, both in Spanish and German which have been attributed to Sveta Aluna.
He has been translated some German writers as Trakl, Celan, Benn and has worked as a professor of German and Latin American literature at several universities in Colombia and recently as a professor of Spanish Literature in Germany. With his book "Déjanos encontrar las palabras" he won the National Poetry Prize of the University of Antioquia, where he currently works as a teacher and where he teaches poetry.
*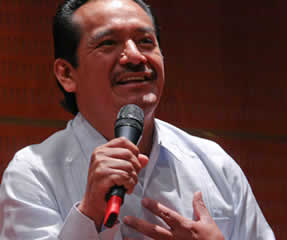 Juan Gregorio Regino  was born in Mexico in 1960. He belongs to the Mazatec Nation. His poetry is rooted in the Mazatec oral tradition, where its memory has delved to find new ways to literature. His poetry has been studied in various countries like Spain, France, Italy , Serbia, Cuba , Argentina and the United States. In 1996 he received the Nezahualcóyotl Literature Award in Mexican Languages, awarded by the National Council for Culture and the Arts. He has published two books of poetry: Tatsjejin nga kjaboya (No es eternal la muerte) and Ngata'ara Stsehe (Que siga lloviendo). Some of his poetry has been translated into English, French, Italian, Serbian and Catalan.
ElCafePoiesis presents poem Cantares.

*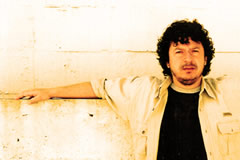 Omar García Ramírez was born in Armenia, Quindío, Colombia, in 1960. He is a poet, novelist, short story writer, and painter. He studied cinematography. Among his works are: Your black smile under the wolf's Fauces; About the Garden of Delights and other Worldly Texts; Fraternal Urban Geography; Altamira; and, The Lady of Burning Hair. In 2008 he won the National Poetry Award by the International Poetry Festival of Medellin.
In his own words: "…Poetry aspires to be a liberated territory of language. It's therefore disputed land of words and images that break the ordinary view of life. About this vast field of semiotics experimentation, the poet works with his imagination and craft using the limited tools of their language. But there he can suggest instead of saying; he can glimpse epiphanies, visions and nightmares almost always leaving a window into the imagination of his readers (minimum brotherhood, secret island)…"
*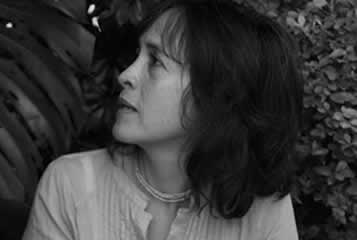 Vilma Tapia Anaya   was born in La Paz, Bolivia, in 1960. She is the author of the poetry books: Del deseo y de la rosa, 1992; Oh estaciones, oh castillos, 1999; Luciérnagas del fondo, 2003; Corazones de terca escama, 1995, 2004; La fiesta de mi boda, 2006; El agua más cercana, 2008 y Fábulas íntimas y otros atavíos, 2011.
She works in the fields of education, research and social management in the rural communities of her country. He is also editor and proofreader of texts. He ruled some writing workshops in Cochabamba , where she lives. His poems have been included in the Anthology of Bolivian Poetry (2004) by Mónica Velásquez Guzmán as well asin the bilingual anthology Poesía entre dos mundos (2004 ), selection and German translation by Wolfgang Ratz.
He has also written and published short essays, poems and other texts in books, newspapers and magazines of Bolivia, Colombia, Spain, Portugal, Belgium and Austria. He represented Bolivia during some international poetry meetings in La Paz , Oaxaca, Madrid, Brussels, Liege, Vienna, Quito, Asunción, Cochabamba and Rosario.
*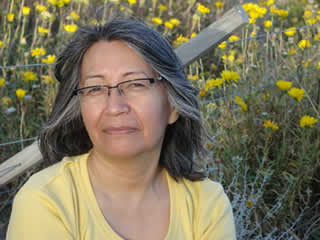 Liliana Ancalao   was born in Diadema, Argentina (Comodoro Rivadavia, Chubut ), in 1961. Her grandparents came and went through the mountains when there were no imposed state borders between Chile and Argentina.
She has published: "Tejido con lana cruda" (2001), and "Mujeres a la intemperie-pu zomo wekuntu mew" (2009). Part of his work has been included in the anthologies: Taller de escritores. Lenguas Indígenas de América" (1997, Temuco, Chile); La memoria iluminada. Contemporary Mapuche Poetry (2007, Malaga, Spain) ; Mamihlapinatapai, poesía de mujeres mapuche, selknam y yámana; Escribir en la muralla, Politic Mapuche Poetry  (2010) and "Kümedungun-kümewirin and Poetry Anthology of Mapuche Women Poets, Centuries XX-XXI" (2011).
Lucho Martínez and Liliana Ancalao on 7mo Encuentro de Culturas del Sur del Mundo
*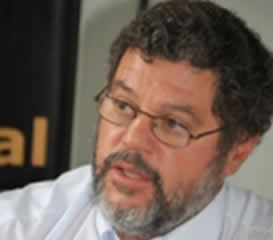 Elbio Chitaro   was born in Uruguay in 1961. He has published the books of poems: La tristeza de la madre del caballo, 2002; Versión de Medea, 2008 (Annual award of Literature); Palabras rotas, 2010 (Fondos Concursables Award) and La impureza, 2013. He is founder of the House of Writers in Uruguay.
*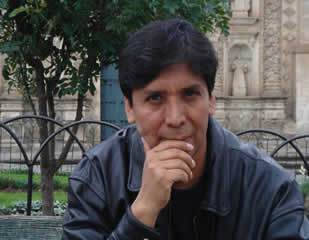 Odi Gonzales   was born in Cusco, Peru, in 1962. He learned simultaneously Quechua and Spanish. In Arequipa, he made his secondary studies. In the Universidad Nacional de San Agustín de Arequipa, he studied Industrial Engimeering and Literature. Between the years of 1990-2000, he was college professor. Moreover, later on he won a scholarship with The University of Maryland, College Park where he made his postgraduate studies in Latinamerican Literature and he taught Quechua Language and Culture. In USA he also worked as a translator from Quechua and as an investigator for National Geographic Televison, The Smithonian, National Museum of American Indian, and National Foreign Language Center of Washington D.C. He currently lives in Cajamarca, Peru devoted to his doctoral thesis in Oral Quechua Tradition. He has published the poetry books: Juego de niños, 1988; Valle Sagrado, 1993; Almas en pena, 1998; Tunupa/El libro de las sirenas, 2002; and La escuela de Cusco, 2005. In 1996, he published the book of essays The Condemned or the anguished soul in the oral Andean tradition. In 1992, he received The National Poetry Prize "César Vallejo" from The Diario del Comercio of Lima and in the same year, he was awarded with the National poetry prize of The Major National University of San Marcos in Lima. Bilingual and an expert in the Quechua oral tradition, he works a very attractive issue: the Andean fabulation, the indigenous cosmogony and its traditional routines. And he does it with a clean and dry stroke whose effectiveness he proves thanks to the precise dosification of the narrator's and character'e voices. His biggest contribution has been to incorporate voices coming from the Quechua oral language into the poetic speech, reaching a coral poetry, polyphonic with different levels of language, a mixture of voices that converge in each one of his poems.
*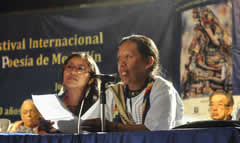 Fredy Chikangana was born in 1964. He belongs to the Yanacona Nation, located at the South-East of Cauca, Colombia. He has participated in poetic and literary meetings in indigenous languages, ​​celebrated in some countries of America. He has published, among other books of poems: Songs of Love to Scare Death; I'm Yanacona, Word and Memory; The Hummingbird of the Naked Night and Other Fire Songs. He was included in the anthology "Before the Dawn", an anthology of indigenous literatures of the Andes and the Sierra Nevada of Santa Marta.
In his own words: "Art is the highest expression of man or mankind, in the sense that one can find the reason of this world, what for we live. Because you advice that society strives, everyone runs and runs and finally ends being empty. But art gives elements so that one finds oneself and is equal to all beings of mother Earth. I've always said that nowadays people do not look around, can not understand that this tree, for example, can tell me some things, or if a bird perches here can tell me some things, it give me a message. It's posible people become sensitive due the influence of art, in this world in which human beings are not the only masters of the universe but also birds, birds, fish, also have their own language and are our brothers; then at that time we will be better, I think that is the wish of art..."
*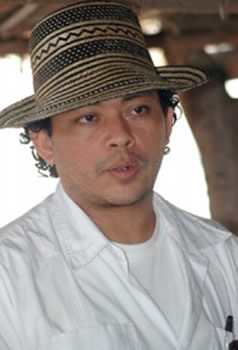 Vito Apüshana (1965, Miguel Ángel López) is an indigenous poet from Colombia. He has published four books of poems, and in 2000 was awarded the Latin American literary prize Casa de las Américas for his book Encuentros en los senderos de Abya Yala.
Vito Apüshana left his native land when he was thirteen to study in Medellín. Although people he knew insisted that he stay in the city, he decided to return to his native land ten years later. He then travelled around the deserts, beaches and mountains of the Wayuu territory in search of the voice of his people, and finally found himself in the past he had rejected until then.
He explored his true origins and the essence of his people, and he listened to the elusive voices of his ancestors. From that time on, his poetry became a dialogue with his people's past. It also embraced the hybrid continent that he calls Abya Yala, a Cuna word for America, meaning "land of vital blood" or "land in full maturity".
There is here, of course, a political discourse about the conflict between the white population and the indigenous peoples, but it is based on words inspired by the tradition, not by the conflict itself. Although Apüshana does not try to evade this political dimension, his primary concern is to assert that his people have a rich tradition – one which is worth exploring in order to understand all the indigenous peoples of Colombia and the continent, from the pampas to the Amazon River, or, in his words, "from the Andes to as far as the Rocky Mountains".
*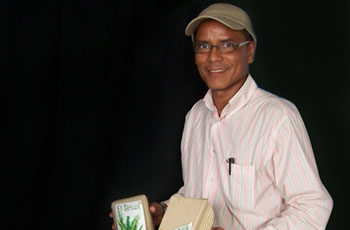 Ivan Graciano Morelo was born in Arboletes, Antioquia, Colombia, in 1967. He is a poet, storyteller, renowned educator, literary workshops coordinator, publisher, artist and artisan.
He has worked as a workshop coordinator of the Gulliver Project for children, realized  by the Corporation Art and Poetry Prometeo in Medellin. Under the name of "Mama Negra Pregonera", he rules a wide promotion of reading and writing. He is director of the literary journal La Tagua, widely circulated in Antioquia and outside the department.
He won the first prize in the best project or significant practice, granted by the Department of Antioquia, Teachers Competition for Excellence 2009. He has also won several short story and poetry contests at local and regional level. Among his published books is "Cantos bajo los palos de mango".
In his own words: "Poetry is a form too, sublime and voluptuous, of scientific knowledge. The poet is a scientist using the tools of the unconscious, of magic, of reason, of word, of symbol and love. Poetry without love (to life and beauty) is not poetry, it is idle talk although its structure is ruled by harmony and music."
*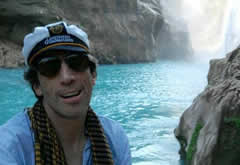 Yuri Zambrano was born in Mexico. He is a poet, novelist, short story writer, essayist, and a doctor specialized in the study of brain and the functioning of neurons. In his native country, he coordinates the World Poetry Festival, which receives collaborations from other countries and activities related to natural sanctuaries.
In his view: "Poetry is beauty, but also human depth. When you know yourself, you know the folly of mankind… We are crazy men who believe in the poetic beauty of nature and humanity... ". He belongs to the coordinating committee of the World Poetry Movement.
*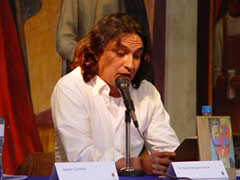 Mario Eraso was born in Pasto, Colombia, in 1967. He is a poet and storyteller. He has a degree in Spanish Language and Literature, a Master of Arts and Ph.D. in Hispanic Literature (His thesis was a critical reading of the Roberto Juarroz's work).
He published the books of poems: Cemetery, 2005; and, Gold, 2012. In the preface of Cemetery, Armando Rojas Guardia said: "It's a long poem, written from the rage and compassion, with liturgical cadence, almost litany of psalm. The verses are falling into the soul of those who read as heavy drops of quintessential verbal material, producing a cognitive and sensory impact that only great poetry triggers in us."
He won the first place in the Departmental Poetry Contest Luis Felipe de La Rosa, Pasto, 1993. He was inclued in the anthology Who's Who in the Colombian Poetry (Bogotá, 1998) and the Anthology of Poets and Narrators of Nariño. For his book of poems Dawn in Lisboa with Oliver, he obtained the 1st National Poetry Prize of the International Poetry Festival of Medellin, which makes posible his participation in the 24 Medellin International Poetry Festival.
*
Hugo Jamioy was born in Bëngbe Wáman Tabanóc (Our Sacred Place of Origin) located in the Sibundoy Valley, Department of Putumayo, Colombian Amazon Basin, in 1971. He belongs to the Camuentsa Cabëng Camëntsá Biyá people (Men from Here with Their Own Thoughts and Tongue). He has published poetry books: Mi Fuego y Humo; Mi Tierra y Mi Sol, 1999; No Somos Gente, 2001. His texts have been published in Canada, Germany, Spain, Mexico, in university cultural magazines; and in Anthologies of Writer's in the Indigenous Languages of America. He is currently preparing a book titled Preguntas y Respuestas Sabias de un Niño Camëntsá, a text that contains dialogues with a 3 year old indigenous child; and the poetry book titled Danzantes del Viento, 2001.
*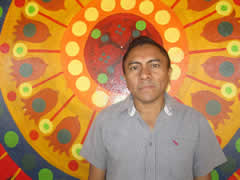 Hilario Chacin was born in Paraguaipoa, Venezuela, on November 5, 1972. He is a poet, storyteller, historian, educator and currently Guajira Official Chronicler in the Zulia State.
He obtained a MA in Intercultural Bilingual Education at the University Mayor San Simon in Bolivia and graduated in policy participation of the indigenous peoples.
He has published some literary works such as Lyrical and Narrative from a Wayuu Vision; The Rain's Sons; Wayuu Semantics and Ethnomedicine; The Wayuu Cuisine, Remembrance, Rituals and Symbols.
He won the International Poetry Prize Anthology 2009, with the work "Asiraa- Laughters" which was awarded by the University of Arizona, which was published under the Ahani volume: Poetry from the Indigenous Americas, translated into several languages​​. One of his unpublished books is "Wayunkeera: Mud Doll".
*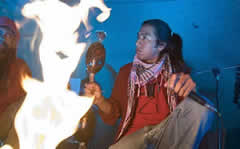 Tzutu Baktun Kan   was born in Solola Santa María Visitación, Guatemala, on April 29, 1978. He belongs to the Tz'utujil Maya Nation. He is a singer, musician, rapper, visual artist, and activist. He is one of the most explosive artists in the Guatemalan Maya musical scene. As a Hip- hop artist, he fights for social justice in Mayan communities through political and poetic rap lyrics in Spanish and Mayan language Tz'utujil. Rescuing Maya oral styles, communicating their letters with the powerful ancestral prayers and stories of the recent history of Guatemala. Tz'utu represents a generation that wants the voices of the Maya to be heard worldwide. With his songs from rap, he transmits the language and knowledge of the Maya worldview, as a duality between the ancient and the contemporary. He was alternating with singer Lila Méxicana Dawn's in his last concert in Guatemala. He is also activist in the art project for indigenous children named «Cultural Channel» and has exhibited his work in various exhibitions and galleries.
soundcloud.com by Tzutu Baktun Kan
*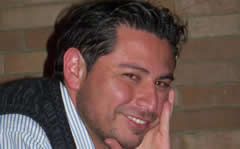 Hellman Pardo was born in Bogotá, Colombia, in 1978. He is a poet and author of essays on violence in Colombia. He was finalist in the 2007 International Short Poetry Prize, Buenos Aires, Argentina, with Humanity of Things (Part 1). He is also author of The Unfinished Temptation, 2008 Anatomy of Solitude, 2013.
He collaborates to the newspaper Confabulación and The Magazines: El Ático, La Movida Literaria and Cinepalabra. He publishes the web page www.tierraliteraria.blogspot.com page
For his book of poems Water's History, he obtained the National Poetry Prize of the Medellin International Poetry, which makes posible his participation in the Festival 24 Medellin International Poetry Festival.
*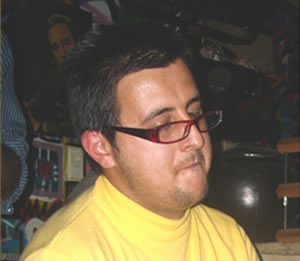 Fernando Valencia Vargas was born in Bogotá, Colombia, in 1984. He is a poet and human rights lawyer of the External University of Colombia. Master in Applied Sociology at the Autonomous University of Barcelona. He has published eight books of poetry: " The Despoliation" , "Accounts of the Soul", "Transverse Silence", "Epic of the Disinherited People; Abacua Song;  Sorrowful ghost"; "Distant narcissisms"; "Snapshots from sleepless cities" and two books of essays: The Poetic Embodiment of Justice " and "Memory and Compensation: Elements of Transitional Justice For Victims".
Co-Founder of the Magazine "Somos" in the External University of Colombia. He directs the Fata Morgana and is the Academic Coordinator of the International and Popular Book Festival in Bogota. He has been included in poetry anthologies in Venezuela, Cuba, El Salvador, Chile, Peru, Mexico and Spain and invited as a poet and lecturer at festivals, meetings of writers and book fairs in Brazil, Cuba, Mexico, Venezuela, Ecuador, El Salvador, Spain, Nicaragua and Colombia.
*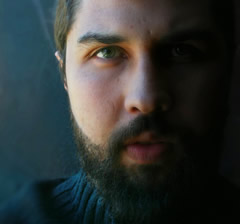 Amadeus Longas was born in Medellín in 1984. He is a poet, visual artist and photographer. He writes his poetry under the pseudonym of Luis Angel Zola. She rules workshops of Creative Writing workshops from art, focused mainly on children and youth. He has participated in several meetings of poetry in Colombia, Ecuador and Argentina. His literary work has received mentions in Chile, Spain and Argentina.
For his book of poems Mechanics of Assembly: the Color of Silence in Edward Hopper, he obtained the Young Poetry Prize of the Medellin International Poetry, which makes posible his participation in the Festival 24 Medellin International Poetry Festival.
*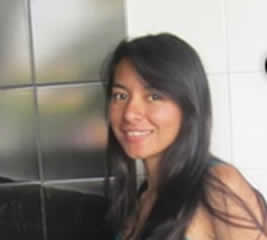 Bibiana Bernal   was born in Calarcá, Quindío, Colombia. 1985. She is a poet and publisher. She won the Comfenalco Poetry Prize, 2003. She received la « Medalla al Mérito Literario, de la Alcaldía de Calarcá. She is the director of the Pundarika Foundation, Cuadernos Negros Editorial. She is a founding member and member of the Board of Directors of the Network of the Colombian Independent Publishers Colombianas (REIC). She has published the poetry anthologies: Mujeres minicuentistas, 8 Cuentistas Quindianos, 5 Ensayistas Quindianos, Minificción Quindiana, Ellas cuentan menos and the poetry book Silencios de Hadaverde.
*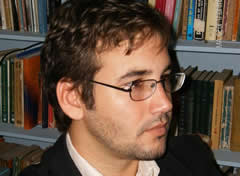 Sergio García Zamora was born in Cuba in 1986. He is a poet and belongs to the "Zero" Generation. He is a Bachelor of Literature from the Central University Marta Abreu of Las Villas. He is an editor and literary scholar too.
He has published the poetry books: Self Portrait Without Bees (2003); Time of Harvest (Primavera Poetry Prize, 2010); The Scissors Sharpener (2010); Pruning (Calendario Award 2010); The Acor's Valley (Foundation Prize of the City of Santa Clara 2011); Mambí Day (Digdora Alonso Award 2011); Hunting Pavilion (2013); Book of Happy Love (Emilio Ballagas Prize 2012) ; The splendid cities (Eliseo Diego Prize 2012); The Hours's Violence (José Jacinto Milanes Prize, 2013; and insurgent Cavalry (Manuel Navarro Luna Prize, 2012). His poems appear in literary journals in Honduras, Puerto Rico, Venezuela, Mexico, USA and Spain.
For his book of poems The Inhumane Condition, he obtained the Gazeta Poetry Prize, which makes posible his participation in the Festival 24 Medellin International Poetry Festival.
*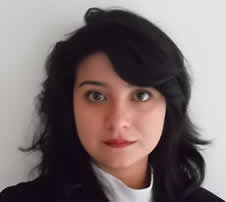 Cindy Martinez was born in Sogamoso, Bogotá, Colombia, in 1990. She studied Cultural and Communicative Management at the National University of Manizales and obtained a Master's degree in Creative Writing in Bogotá. She won the Orlando Sierra Hernández National Journalism Award 2010 and got honorable mention in Poetry of the Faculty of Natural Sciences National University, Manizales, 2010. She is also the author of the poetry book "The fog, the Delirium" Bogotá, 2013.
*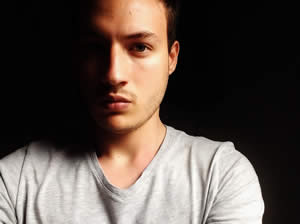 David Marin was born in Medellín in 1990. He is a poet and a student of Hispanic Philology at the University of Antioquia. In his book of prose poems I Open the Night, 2011, he makes a tribute to Jean Arthur Rimbaud. This book, obtained inn 2010 the Fellowship of Youth Poetry Creation of Medellín.
For his book of poems "Remanencia", he obtained the Gazeta Poetry Prize, which makes posible his participation in the Festival 24 Medellin International Poetry Festival.
As stated in the jury : "This book shines due the composition of a landscape crossed by an inner experience. The poet's voice flows fused to the revelation of light, color and textures through the senses…"
ASIA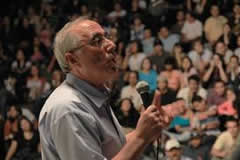 Ataol Behramolu was born in Çatalca near İstanbul in 1942. He graduated from the University of Ankara, Department of Russian Language and Literature. His first collections of poems, published in 1965 and 1970, were well received as a synthesis of the lyrical poetic traditions with the new avant-garde elements.
Between November 1972 and June 1974 he worked as a researcher/ assistant at Moscow State University's Faculty of Russian Philology, Chair of Russian and Soviet Literature. In 1975 in İstanbul he edited the monthly literary journal "Militant" which emerged as an important and influential journal during the two years of its publication. At this period of 70's the other collections of poems came out: "Neither Rain…Nor Poems", "During the Siege", "The Epic of Moustapha Suphi", "Quatrains". A selection of Behramoğlu's poetry was translated into Greek and published along with a laudatory attention of Yannis Ritsos(1981). Was arrested in March 1982 along with the other executive members of the Turkish Peace Association and kept atrocious conditions in a military prison until November of the same year. He was awarded the Lotus Prize by the Afro-Asian Writers Union while in goal in 1982. On November1983, at a session of the Turkish Peace Association trial which he did not attend, he was sentenced to 8 years hard labour followed by 32 month internal exile. He had to flee from the country to Paris where he stayed until 1989 when the sentence was dropped. During this period external exile he participated in several meetings in many countries of world (from Australia to Finland)to read his poems and lectures  to the Turkish and another audiences. In 1985 was awarded an M. A (Diplomes D'etudes Approfondies/ D.E.A) from the Center Comparative Poetry for his study on the poetries of N. Hikmet and Maiakovsky. In 1986, in French language the Turkish literary and cultural magazine "Anka" has began to be published under his direction.  In 1988 a selection of his poems was translated and published in Hungary by the "Europa" Publishing House. His Epic of Moustapha Suphi (1987/88) was the first play in Turkish staged at the 1989 Avignon Theatre Festival.
Prof.Dr.Ataol Behramoğlu currently is the head of the  Russian Language  Department in İstanbul's Beykent University  and also has his column as a literary and political commentator in the daily "Cumhuriyet". Besides his widespread popularity as a poet and writer in his country, he is an eminent translator of the works of Russian poets and writers including the works of A.S.Pouchkin, M.Y.Lermontov, A.P.Tchekov, A.M.Gorky such as of the others.  Hispoetry has been translated into many languages . Awarded the Great Prize for Poetry 2003 of the Turkish PEN Centre, he also has  been honoured by İnternational Pouchkin  Medal in 2007.
*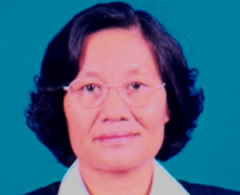 Kongdeuane Nettavong  was born in Xieng Khounag Province, Lao, on June 7, 1947. She is a poet, writer, editor, reporter, storyteller and musician.
She is the former director of the Lao National Library in Vientiane Capital, Laos. She received her Bachelor of Arts in Geography at Laval University, Quebec, Canada in 1970 and her master's degree in Archives in 1974 from Saint Cloud, Paris, France.
Her work in the preservation of Lao Cultural heritage is extensive and ongoing and still working as a consultant. She served several terms as a subcommittee member for culture and education for Asean and ACCU-UNESCO. She headed the Preservation of Lao Palm-Leaf Manuscripts Program (Lao-German Cooperation Project) and the National Reading Promotion Project through Puppet Theater, and is a permanent consultant to the Lao Children's Home for Culture.
Her publications include a picture book, Four Marvelous Brothers, 2002, 2003 and 2008; Fifty Lao Classic Folktales related to herbal Medicine (2007); My lovely poems, Khaen and melodies of Khaen (2007), and Intangible Culture: The sukhwan Ceremony. Her research topics include Lao herbal folk Medicine, lao Folktales, Lao intangible.
*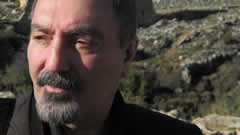 Metin Cengiz   is a poet and writer (born 3 May 1953, Göle). He established the Digraf Publishing House in 2005, in collaboration with his friends, to publish poems and essays concerning poetry theory.
He won the Behçet Necatigil Poetry Award in 1966 with his book Şarkılar Kitabı (The Book of Songs), Melih Cevdet Anday Poetry Award in 2010 with his book Bütün Şiirleri 1 (Collected poems 1), Bütün Şiirleri 2 (collected poems 2) and Tudor Arghezi İnternational Poetry Award  in 2011 (Romanya). He is a member of Writers Syndicate of Turkey, the Association of Turkish PEN Writers and the Turkish Authors Association.
His poems are translated into several languages such as French, English, German, Spanish, Italian, Bosnian, Russian, Romanian, Arabic, Hebrew, Azerbaijani, Serbian, Hindi, Greek and Kurdish. His selected poems are published in French with the title Apres le Tempete et Autres Poemes (2006, Harmattan) and his celected poems are published are published in Spanish entitled Selected Poems (2013).
Poetry: Bir Tufan Sonrası (After A Deluge, 1988), Büyük Sevişme (The Great Love, 1980), Zehirinde Açan Zambak (The Lilly that Bloom in its Poison, 1991), İpek'a (To İpek, 1993), Şarkılar Kitabı (The Books of Songs, 1995), Gençlik Çağı (Juvenille Years, 1998), Aşk İlahileri&Günümüze Hüzzamlar (Hymnes Of Love &The Hüzzam Compositions Today, 2005), Özgürlük Şiirleri (poems of freedom), Bütün Şiirleri 1 (Collected poems 1), Bütün Şiirleri 2 (Collected poems 2), İmgeler Benim Yurdum (2011) (Images are my home). He has published severas  Essay-Criticism-Study.
*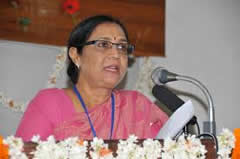 Rati Saxena   is a poet, editor, translator and culture organizer. She is managing trustee of kritya trust for art, culture and literature. She is also festival director of famous kritya festival annually organized in different part of India. She has published Two collections of poetry books in English four collections in of her own poems in Hindi and One in Malayalam (translated) and a critical work in Hindi on the renowned Malayalam poet Balamani Amma. Her two travelogues are also ready to print. Her poems have been translated in most of the non Indian languages also. Her one book is published in Italian and one in book in Uzbeck Language is under publication. Her work as research on Atharvaveda. "The seeds of mind" a fresh approach to study of Atharvaveda under the fellowship of Indira Gandhi National Center for Arts. She has worked in Sri Sankaracharya University of Saskrit as a Vedic teacher. Her work regarding Vedic literature and ancient culture are published widely. She has translated about 12 Malayalam works, both prose and poetry, into Hindi and has participated in several national seminars and published articles in a number of journals. Se got Kendriya Sahitya Akedemy award for translation in year-2000 AD. She is Editor of a bilingual Web journal for poetry - www.kritya.in
Kritya is her brain child, which is one of the very few poetry festivals in the country, where she endeavor to make a beautiful combination of art and poetry.  She has been invited for many poetry reading in prestigious poetry festivals like "PoesiaPresente" in Monza ( Italy), Mediterranea Festival in Rome, and International House of Stavanger ( Norway) She has recently participated in famous Struga festival-Macedonia, and Hofleiner Donauweiten-Vienna (Austria).
Her publications include a picture book, Four Marvelous Brothers, 2002, 2003 and 2008; Fifty Lao Classic Folktales related to herbal Medicine (2007); My lovely poems, Khaen and melodies of Khaen (2007), and Intangible Culture: The sukhwan Ceremony. Her research topics include Lao herbal folk Medicine, lao Folktales, Lao intangible.
*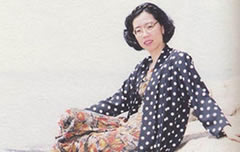 Shu Ting was born in 1952 in Jinjiang, Fujian province. Her secondary education was cut short by the Cultural Revolution and she was sent down to work in the poverty-stricken countryside until 1973. On her return to Fujian, she was to work on construction sites and in factories. In spite of her experiences during this time, her firm faith in the human spirit led to poetry.
Shu Ting became associated with the Misty group when her poems appeared in the underground literary magazine Today. Her voice gently articulated an emotional awareness which a generation dominated by the Cultural Revolution easily identified with.
In the mid 1980s, Shu Ting began to experiment with modernist imagery. Her poetry remains, however, recognizable and distinctly feminine.
*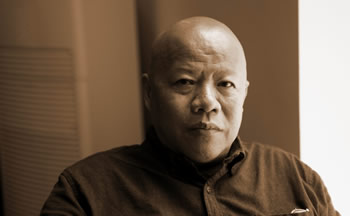 Yu Jian was born in 1954 in Kunming, China. He dropped out of the school when he was 12 years old due to the Culture Revolution. Then he was assigned to the factory. Yu Jian started poem writing in the early of 1970s.  He graduated from the Chinese language and literature major of Yunnan University. Now he is a literature professor of Yunnan Normal University.
 Main Poem works: 60 Poems; The Naming of a Crow; The Poems of Yu Jian; Flash Cards; Poems and Picture; Only Sea Just Like the Curtain; In a long Journey; Who is he. Main Prose works: the Notes in Brown Leather Book; Yujian's Thoughts Easy; India.
Translated works: FLASH CARDS》ZEPHYR PRESS 2010 English; 《AKTE 0》 HORLEMANN 2010 German; 《UN VOI》 BLEU DE CHINA GGLLIMARD 2010 French; 《DOSSIER 0》 BLEU DE CHINA 2005 French; 《VOO》 AMASTRA-N-GALLAG 2001 Galicia language; 《DE EERSTE SCHEPPINGSDAAD》 HET TRAGE VUUR 32- December 2005 Dutch; 《POËZIE ALS INCIDENT 》 1996 POEZIECENTRUM Dutch Documentary.
Documentary: Hometown 2011; Green Train Station. Nominated for Silver Wolf Prize of International Documentary Film Festival Amsterdam(IDFA) in 2004.
Awards: New Poem Prize of Taiwan United Daily News; Lu Xun Literature Prize; German translated poems collection AKTE 0 won the first prize in "Litprom"(Gesellschaft zur Förderung der Literatur aus Afrika, Asien und Lateinamerika e.v.) sponsored(Weltempfänger) Asian-Africa Americas Outstanding literary works. Flash Cards nominated of 2011 Best Translated Book Award.
*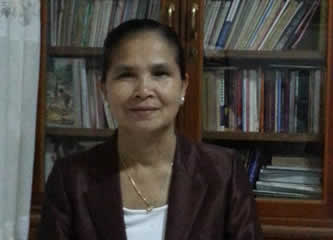 Phiulavanh Luangvanna   was born in XiengKhouang, Laos, in 1954. She is a poet, editor and teacher. She studied Lao language and Literature at Vientiane. Acting President of the Writers Association of Laos. Her literary work is composed by poems, short stories, plays, radio and television works. For her narrative work, she has received several awards, including: The heart of a father, organized by the Institute of Social Sciences, 1984, "The additional classroom" of the Ministry of Information and Culture and the Mekong Award for "Our kid is called Friendship ", 2007, Hanoi.
*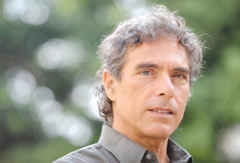 Amir Or  born in Tel Aviv in 1956, is the author of eleven volumes of poetry in Hebrew. His latest books are Heart Beast(2010), Prophecy of the Madman (2012) and Loot (Selected poems 1977-2013). His poems, translated into more than forty languages, have appeared in poetry journals, anthologies, as well as in fifteen books in Europe and America. Among them are Poem and Day (Dedalus, 2004, 2006,); The Museum of Time (ArtAark, 2009; Dutch, Azul Press 2012); Miracle/Milagro (Spanish/English, Urpi Editores, U.S., 2011;) Loot (Serbian, Arhipelag Press 2012, 2014, Şiirden, Turkish 2014), Le Musée du Temps (Editons de l'Amandier, 2013) and Let's Speak You (English/Romanian/Hebrew, Contemporary Literature Press 2014).
Or gave readings and lectured in dozens of festivals and conferences worldwide. He is the recipient of Israeli and international poetry awards, including the Pleiades tribute (SPE 2000) for having made "a significant contribution to modern world poetry", the Fulbright Award for Writers, the Bernstein Prize, the Levi Eshkol Prime Minister's Poetry Prize, the Oeneumi literary prize 2010 of the Tetovo Poetry Festival and the Wine Poetry prize 2013 of the Struga Poetry Evenings. He was also awarded several poetry fellowships, among them fellowships from Iowa University; the Centre of Jewish-Hebrew Studies at the University of Oxford; the Literarische Colloquium, Berlin; the Heinrich Böll Foundation, Ireland; and the Hawthornden Castle, Scotland.
He translated into Hebrew eight prose and poetry books, including The Gospel of Thomas;  Stories from the Mahabharata; and Limb Loosening Desire, an anthology of erotic Greek poetry. For his translations from ancient Greek he was awarded the Culture Minister Prize.
Or has studied Philosophy and Comparative Religion at The Hebrew University in Jerusalem, where he later lectured on Ancient Greek Religion. He has taught poetry and creative writing at Helicon Poetry School, as well as at universities in Israel, Europe, the U.S., and Japan. He has published numerous essays on poetry, classic studies, and comparative religion.
In 1990 Or co-founded Helicon Poetry Society and later on served as Helicon's Chief Editor and Artistic Director. He initiated and developed its various projects, including Helicon's poetry journal and its series of poetry books; the Sha'ar International Poetry Festival; and the Helicon Hebrew-Arabic Poetry School.
Or serves as editor of the Catuv poetry books series. as national editor of the international poetry magazines Atlas and Blesok, and as a national coordinator for the U.N. sponsored UPC venture, "Poets for Peace." He is a founding member of the EACWP (European Association of Creative Writing Programs) of the international Circle of Poets and of the WPM (World Poetry Movement).
*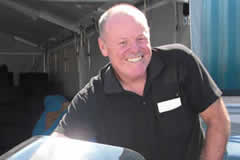 David Mckirdy   was born in Scotland in 1956 and was raised and educated in Hong Kong. David McKirdy was until 2008 a director of the HK International   Literary Festival, having been involved since it's inception in 2001.   He is one of the organisers of local HK poetry group 'Outloud' and   has presented the poetry and storytelling program for 'Citypoetry'   2001 & 2006. He has taught at the HK University's 'Moving Poetry'   initiative in 2002 & 2004.

McKirdy has in recent years been the Poetry commisioning editor for   'Chameleon Press'.
*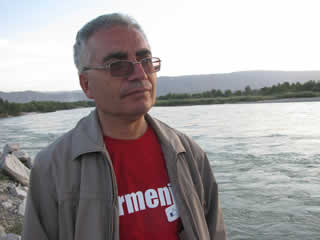 Hrant Alexanian  was born in 1961, in Artsakh, Armenia. Has received the higher technical education in Yerevan. Since 1983 is occupied in exclusively literary and journalistic activity. Is the author of  1 scientific and 12 poetic books. His literary works were published in translation into the Russian, English, Persian, Serbian, French, German, Ukrainian, Chinese, Romanian, Polish, Bulgarian languages.
The author of numerous essays and journalistic articles. Has carried out voluminous translations of modern writers of the world poetry. Is the winner of the award of the Writers Union of Armenia named after D. Varuzhan. Is the editor-in-chief of literary and art translation magazine "Gegharm".
Participated in international poetry festivals in Struga/Macedonia/, Poznan and Warshawa /Poland/, Yerevan/Armenia/, Stepanakert/Artsakh, NKR/, Qinzhau/China/. Is a candidate of philological sciences. At present lives in Stepanakert (NKR, Armenia).
Among his published books, are: Biological Field, 1989; Summer in Amaras (for children),  1990; Celebration (Feast), 1991; Rose Riot (Riot of a Rose),- 1994; Symmetry of Falling, 1996; Cubes (Bricks) for its Majesty,  1997; Marginal statements, 1998; Full Moon Sarcophagus, 2000; Conventional Words from haM Interbooks, 2003; Word Baritone. Universe Baritone, 2007; As a turning wordosaur, 2011; Information of unrecognized  country,  2011; Din of the mother world,  2012; My  dole  doesn't  settle  down  in  any  sky, 2012; Heaven Nairi, 2013.
*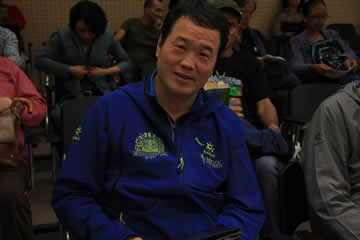 Luo Ying is native of Lanzhou, China, he has lived and work both in Beijing China, and Newport Beach, California U.S.A for many years. He is the Chairman of Zongkun Group, which specializes in both Real Estate Investment and Tourism Development. In 1981, Luo Ying earned his bachelor's degree in Chinese literature at Peking University, and in 1998, he earned his Executive MBA from the China Europe International Business School.
He is a member of the Chinese Writers Association and the director of the Chinese Poetry Society. In his spare time, Luo Ying enjoys mountaineering and had climbed top of the Mt. McKinley in Alaska, top of the Mt. Winson in Antarctica, and ski to last degree of South Pole, in year of 2010 he completed climb Mt. Everest.
He has published the poetry books: The Green Tara  Series; Empty Glasses and Empty Tables; 7+2 Mountain Climber's Journal; Diary of an Educated Youth y Water – Charms. He also published the essays book, Bunnies.
*
Tian Yuan, doctor of literature, is a famous poet. He was born in 1965 in Luohe, Henan province,China. He went to Japan for study in the early 1990s, and he is serving as a Visiting Professor of Josai International University now. He has already published five collections of poems including "Tian Yuan Anthology of Poems" (People's Literature Publishing House, 2007). He once won Chinese Poetry Prize in Taiwan, China and the United States. In 2001, he won Japan's first "International Student Literary Prize" for his three modern poetries in Japanese and then won the 10th Shanghai Literary Prize in 2013. He has published two Japanese anthologies of poems in Japan, and they are "The Birth of Shore" (shichosha, 2004) and "The Memory of Stone" (shichosha, 2009) which won the 60th "Mr. H Prize" in 2010. He is also the chief editor of the Japanese version of " Shuntarou Tanikawa anthology of poems" (three volumes of Shueisha Library Version, 2005). In China, Singapore and Hong Kong, he translated and published several poetries such as "Shuntarou Tanikawa anthology of poems" ( Hebei Education Press, 2004 ) , " Gentiles –Takashi Tsujii Anthology of poems" ( People's Literature Publishing House, 2005 ) , "Dying Spring - Shuntarou Tanikawa anthology of poems" (Oxford University Press, 2010 ) , "Sky - Shuntarou Tanikawa anthology of poems" (Peking University Press, 2012 ) and so on. In addition, he has produced several short stories and a lot of academic papers in Japanese. Besides, he has compiled two volumes of Japanese version of "Poetry Anthology of Chinese New Poets" (Translated by Zhunei Xin, Poetry Press, 2004) and published many Collected Essays such as "Theory of Shuntarou Tanikawa" (Iwanami Shoten, 2010).
*
Manal Al Shaikh   was born in the city of Nineveh, northern Iraq, on January 18, 1971. She is a poet, writer and journalist. She currently resides in the Norwegian city of Stavanger. She graduated in English translation by the Faculty of Arts in the University of Mosul. She worked as a freelance journalist in the Iraqi local press and in the Arab press. Her articles and literary writing were published in several newspapers and magazines, Iraqis, Arabs and Europeans. She participated in numerous poetry festivals in and outside her country, her poems and essays have been translated into several languages​​: English, French, Catalan, Norwegian and Italian.
Published works: The Deviation of Coffins, 1996; Books of Seclusion, 2008;  Biting Through a Chopped Moon, 2009; Impossible Letters, 2010 ; With a red dot under his left eye, 2010; The gates of Antioquia Night, 2010.
Kapittel, Stavanger internasjonale festival for litteratur og ytringsfrihet 2010
*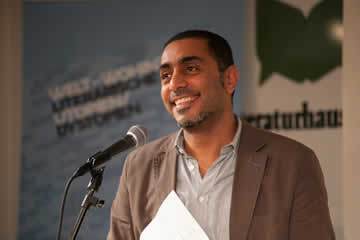 Ali Al Jallawi   was born in 1975 and began writing poetry at the age of fourteen. His early work was characterized by revolutionary and political ideas, and he was imprisoned for three months at the age of seventeen after writing a poem in which he criticized the Bahraini regime. He was arrested again in 1995, during the uprising in Bahrain, and imprisoned until 1998, the period covered in his memoir, God After Ten O'Clock. His collections of poetry include Al Madina Al Akhira, Dilmuniyat I, Dilmuniyat II, and Tashta'il karazat nahd. During the crackdown against the pro-democracy protests in Bahrain earlier this year, Ali Al Jallawi fled the country and is now in exile in Europe.
Festival Internacional de Poesía de Granada, Nicaragua.
*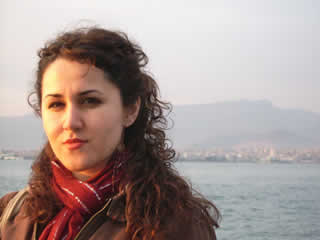 Müesser Yeniay   was born in İzmir, 1983; graduated from Ege University, with a degree in English Language and Literature. She has won several prizes in Turkey including Yunus Emre (2006), Homeros Attila İlhan (2007),  Ali Riza Ertan (2009), Enver Gökçe (2013) poetry prizes.
Her first book Dibine Düşüyor Karanlık da was published in 2009 and her second book Evimi Dağlara Kurdum is a collection of translation from world poetry. Her latest book Yeniden Çizdim Göğü was published in 2011. She has translated the poems of Persian poet Behruz Kia under the name of Lalelere Requiem. She has translated Selected Poems of Gerard Augustin together with Eray Canberk, Başak Aydınalp, Metin Cengiz (2011). She has also translated Personal Anthology of Michel Cassir together with Eray Canberk and Metin Cengiz (2011). Lately, she has published Contemporary Spanish Anthology with Metin Cengiz and Jaime B. Rosa. She has also published a book on modern Turkish Avant-garde poetry The Other Consciousness: Surrealism and The Second New (2013).
Her poems have been translated into English, French, Serbian, Arabic, Hebrew, Italian, Greek, Hindi, Spanish and Romanian. She participated in the poetry festivals in Bosnia-Herzegovina, Israel, Serbia, United States, France and India.
Müesser is the editor of the literature magazine
Şiirden (of Poetry).
She is currently pursuing a Phd in Turkish literature at Bilkent University, Ankara, and is also a member of PEN and the Writers Syndicate of Turkey.
*
EUROPA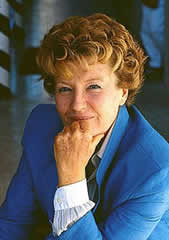 Dacia Maraini   was born in Italy in 1936. She is a poet, novelist, playwright, essayist, journalist and scriptwriter. She has won important awards for her work, including the Campiello Prize and the Premio Strega. In the 60 's, she co-founded the Teatro del Puercoespín, and years later, La Magdalena, feminist experimental theater. Author of more than sixty plays performed in Italy and abroad, several films have been made ​​from her books and has written screenplays for directors such as Pier Paolo Pasolini and Carlo Di Palma.
In an interview to the newspaper El País, she declared: «I have always fought. My writing comes from a clear outrage against injustice. Not only to women, also to the situation of prisons, asylums, homelessness ... My writing comes from there, the desire to change that reality and from the indignation against injustice".
*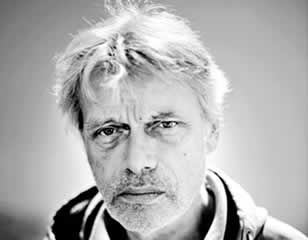 William Cliff  (André Imberechts)  was born in Gembloux, Belgium, in 1940. He is a Poet, novelist and translator. He studied Philosophy at Louvain and Spanish and Catalan at the University of Namur. He translated Jaime Gil de Viedma. He has published, among other books of poems: Égrasez-Le, 1976; Marcher au Charbon, 1978, America, 1983, En Orient, 1986; Fête Nationale, 1992, Journal d'un innocent, 1996, L'État Belge, 2000; Adieu patries, 2001, Le pain quotidien, 2006; Immense existence, 2007; Épopées, 2008; Autobiographie Detrez suivi de Conrad, 2009. Novels: La sainte famille 2001, Le passager, 2003, The Dodge, 2004; L'Adolescent, 2005, USA 1976, 2010.
*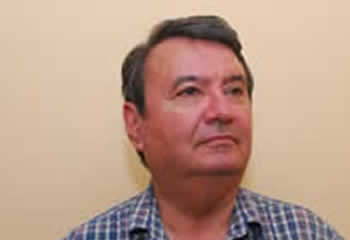 Ion Deaconescu   was born in Romania in 1947. He studied Philology at the University of Bucarest and has been professor at the University of Cracow. He has published the poetry books: Appareil pour photographier l'âme, 1981; La vase de brume, 1985;  Le cri de la mémoire, 1985; L'Eternité de l'instant, 1986; Masque pour voix, 1987; La Grammaire du hasard, 1991; Prova di solitudine, 1993; La rethorique du miroir, 1995; Etoile de veille, 1995; Le jardin du désert, 1997; La blessure du ténèbres, 1998; Ailes de Lumière, 2009; La damnation du poète, 2011. He won, among others, the Dante Alighieri Award (1097), The Rafael Alberti Award (2008) and the Trieste International Poetry Prize, 2010.
*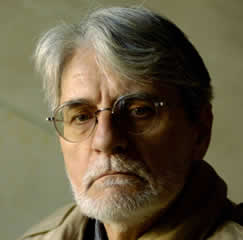 Ivo Svetina   was born in 1948 in Ljubljana. He writes poetry, drama texts and essays and got several prizes and honorable  mentions for his literary work. He has translated several singnificant text, eg The Tibetan Book of the Dead, Tibetan Mistery Plays. During 1968-1977 he was engaged in the experimental theatres Pupilija Ferkeverk and Pekarna (Bakery); the performance Gilgamesh was created under his direction. In  1978  he got employment at the Cultural Society of Slovenia, later he worked as a dramaturg and a Programme Editor at the Television Slovenia.
1985-1992 he was as a dramaturg and Aristic  Director at the Slovensko mladinsko gledališče (Mladinsko Theatre). 1993-1998 he as a State Undersecretary at the Ministry of Culture of the Republic of Slovenia he was in charge of artistic and other creative programmes. In 1998 he was appointed a Director of National Theatre Museum of Slovenia in Ljubljana. Ivo Svetina is a member of Slovene Writers  Association and the Sloven PEN centre.
Ha has published the poetry books: Plovi na jagodi pupa magnolija do zlatih vladnih palač, 1971; Heliks in Tibija, 1973; Botticelli, 1975; Vaša partijska ljubezen, Očetje! Herojska smrt življenje, 1976; Joni, 1976; Dissertationes, 1977; Bulbul, 1982; Marija in živali, 1986; Péti rokopisi, 1987; Knjiga očetove smrti: videnja, izreki, 1989; Almagest, 1991; Disciplina bolečine: stance praznine, 1993; Glasovi snega, 1993; Disciplina bolečine, 1993; Zakoni vode in lesa: 1993-1995, 1997; Svitanice, 1998; Svit, 2000; Stihi, videnja, izreki, 2001; Oblak in gora, 2003; Pesmi nevednosti, 2004; Lesbos, 2005; Vrt pozabe, 2005; Na obali oceana tovarna poezije, 2008; Pes in Perzijci, 2008; Stimmen slowenischer Lyrik 2, 2008; Sfingin hlev, 2010.
*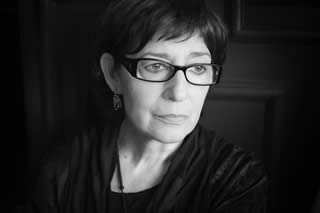 Photo © Su Alonso & Inés Marful
Olvido García Valdéz  was born in Spain in 1950. She is a poet, essayist and translator. He has published the books of poems: El tercer jardín, 1986; Exposición, 1990, (Ícaro Literature Prize); Ella, los pájaros, 1994, (Leonor Poetry Prize); Caza nocturna, 1997; Del ojo al hueso, 2001; La poesía, ese cuerpo extraño (Antología), 2005; Y todos estábamos vivos, 2006, (National Poetry Prize, 2007); Esa polilla que delante de mí revolotea. Collected poetry (1982-2008), 2008.
*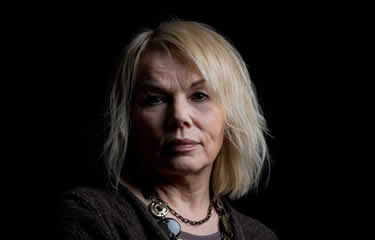 Synnøve Persen was born in Porsanger, Norway, on February 22, 1950. She is a poet, visual artist, organizer, critic, translator, lecturer, debater, art consultant, cultural and political activist, living in Finnmark, the northernmost county of Norway, with borders to Russia and Finland. Writing poetry in Northern Sami, has published four poetry books in Sami, all translated into Norwegian, one of them into Icelandic, alit lottit girdilit (blue birds fly), biekkakeahtes bálggis (windless path), ábiid eadni (the ocean's mother), meahci šuvas bohciidit ságat (tales spring up from the nature's rush) and one biography muora ii galgga sojahit eambbo go gierdá. Nominated to the Nordic Council Literature Prize in 1993 and 2008, received the Sami Council Literature Prize in 2006 and the Biret Elle Memorial Prize in 2000. Writing critical articles on Sami issues.
Represented in various anthologies in several languages, has published two sound books and been in many festivals performing poetry, alone, together with musicians and even with symphonic orchestra.
Educated as visual artist at the Academy of Fine Arts in Oslo, has participated in numerous exhibitions, in the nordic countries, in some european countries and in exhibitions with indigenous artists in Venezuela and Canada, beside numerous solo exhibitons. From 2004 granted the Revenue Garantee by the Norwegian State as visual artist.
Worked with the organizing of Sami artists, as founder of both the Sami Artists Union and the Sami Writers Union. Has been a member of the Arts Council Norway and has had numerous leading and other positions of trust in Sami and Norwegian artists organizations. Has worked for the establishing of institutions for Sami Art, as an Art School, Center for Contemporary Art and a Sami Art Museum.
*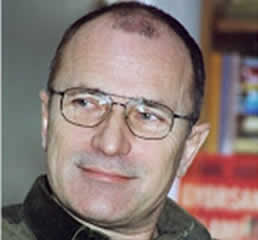 Attila f. Balázs   was born in Hungary in 1954. He obtained Slovakian nationality. He is a poet and storyteller. He has also been a puppeteer, librarian, radio and newspaper journalist and editor. His awards and honors include the Award Poetry Festival Sighet (Romania). Written in Magyar, his work has been translated into Romanian, Slovak, Czech, French, German, Spanish and English. His work covers multiple cultures, since he has lived in Czech Republic, Slovakia, Romania, Hungary, and has literary connections with each of these places, being a member of writers' associations in each of these countries.
He currently lives in Bratislava, where he serves as director of the AB-ART publisher. His poems have been translated into English, Romanian, Czech, Slovak, Serbian, German, Slovenian, Swedish, French and Spanish.
*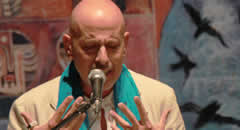 Lello Voce  is an Italian poet, writer and journalist who was born in Naples in 1957. He is poet, writer and performer. He was among the founders of Gruppo 93 and of the six-monthly literary magazine Baldus.
In 1982 he published Singin' Napoli cantare (Ripostes ed.) in 1985, (Musa !) (book + audio tape, Mancosu ed.) and I segni i suoni le cose (book + Audio CD, Manni ed.) in 1996.
He has published the novels Eroina, Cucarachas and Il Cristo elettrico; and also the poetry books. Farfalle da combattimento, L'esercizio della lingua, Piccola cucina Cannibale.
In 2003 he was awarded the Delfini Poetry Award for L'esercizio della lingua (with original drawings by Sandro Chia, Mazzoli editore).
He was the first to introduce Poetry Slams in Italy and he was the first EmCee to organize and lead an international Poetry Slam with poets of no less than seven different languages (Romapoesia, 2002, Big Torino 2002).
His poetry collections in Italy and abroad: (to name but a few, La poesia italiana della contraddizione, edited by Cavallo and Lunetta, Newton Compton, 1989 ; 1st "Invarianti" Notebook, edited by G. Patrizi, Pellicani, 1989 ; Shearsmen of Sort : Italian Poetry 1975-1993, special issue of "Forum Italicum", New York University, 1993, Italian Poetry 1950 to 1990, Dante University Press, Boston, 1996, The Temporary Chorus Tokyo, Shico-sha, 2001, Parola Plurale (Sossella ed., 2005), Echo and Narcissus, 14 Writers for a Landscape, edited by Rebecca De Marchi and Dario Voltolini (Sironi, 2005), Preaching for a New Millennium. From a Siege of Ashes, edited by Gabriele Frasca (Marsilio 2008).
In 2000, with Nanni Balestrini, Paolo Fabbri, and Sergio Spina he co-authored the TV programme The Navel of the World (Rai Educational -Rai 3 - Rai1).
He has organized a wide range of culture and poetry festivals and meetings. He was the artistic coordinator of the International "Venezia Poesia"Festival, directed by Nanni Balestrini in 1996. Always in 1996 he cooperated with the Italian Culture Institute of Sao Paulo, Brazil in organizing the Italian space at the 14th Book Biennial, the most important book fair in South America. He worked for UNESCO as Project Leader and Artistic Director of the International Rap and Hip Hop culture Festival"VERONA RAP" (1998).
He was Artistic Director of the 2001, 2002, 2003 and 2004 editions of the International Festival « Romapoesia » in Rome and of the first Italian Poetry Festival in Japan (Tokyo, 2001 - always jointly with Nanni Balestrini and Luigi Cinque).
Since 2005 he's been Artistic Director of the International Poetry Festival of Monfalcone (GO) - Absolute Poetry, and he has designed its collective poetry blog and international poetry aggregator Poegator.
*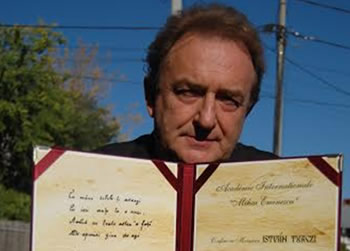 István Turczi  (b. 1957). He is a poet, fiction writer, translator, university professor (of creative writing and communication). Editor-in-chief of PARNASSZUS Poetry Quarterly and Publishing House. Secretary General of Hungarian P.E.N. Club. Chairman of Poets' Section in the Hungarian Writer's Association. 3rd Vice-president of  World Academy of Arts and Culture (WAAC). Representative of Hungary at European Writers' Council, Brussels. Full member of European Academy of Poetry, Luxembourg and Bjornson Academy, Norway.
19 poetry volumes, 4 novels, numerous radio and theatre plays, 12 books translated by. Latest books: Memory of Changes, poems, 2012. Good Beginnings, novel, 2013. Selected Poems, 2104.
Prizes: International Poetry Award in Warsaw, Poland, 2004;  Knight's Cross of the Hungarian Republic's Order, 2004; Attila József National Literary Prize, 2006; Honorary Literary Doctorate of World Congress of Poets, 2008; Poet Laureate of the Hungarian Republic, 2010; Eminescu International Poetry Prize, Romania, 2013.
His poems have been translated into several languages like English, French, Spanish, Chinese, Polish, Slovak, Russian, Finnish, Mongolian, Norvegian, Hebrew, Turkish, Wolof and Mandinka (Africa). Own books of poetry in Israel, USA, Norway, Germany, Romania, Moldova, Taivan, Slovakia.
*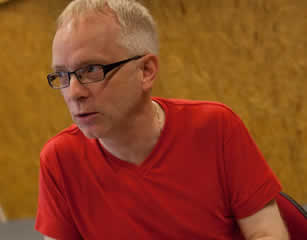 Markus Hediger     was born in Zurich, Switzerland, on March 31, 1959. He studied French and Italian literature at the University of Zurich. After completing his studies, he began to translate into German some French books, mainly novels, short stories and sometimes poetry. He has translated 20 books of Swiss French-language writers, including Nicolas Bouvier, Claire Krähenbühl, Jacques Mercanton, Alice Rivaz and Yvette Z'Graggen.
By other hand, he has always written poetry, not in German, which is hir mother tongue, but in French. He published his first book of poetry in 1996, which he called Ne retournez pas la pierre. His second book of poems, entitled En deçà de la lumière (On this side of the light), came out in 2009 and his third book, a "Booklet" Pour que quelqu'un de vous se souvienne (For someone remembers you) in 2013. In 2009 he published an essay on the poet and playwright Georges Lebanese Schéhadé: Les Après-midi de Georges Schehadé.
For his translation work and his poetic work, he has been awarded several times from 1979 to today. The last received recognition was granted by the Cantón of Argovia (2012) in recognition of his new poetry book project .
He has lived throughout his life not only in Switzerland but also in France, Germany, Italy, Spain and Argentina, countries considered as Switzerland, his home. In 2010 he was co -organizer of Literary Journeys Zofingen (Switzerland), dedicated to the Argentinian literature : http://www.literaturtagezofingen.ch/index.php?id=11 . In 2011 he was invited to the International Poetry Festival of Rosario (Argentina).
*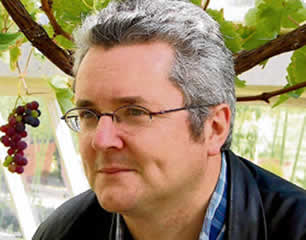 Peter Sirr   was born in Waterford in 1960. He has a poet, essayist and translator. He studied Irish and English Literature. He is one of the leading voices of the current Irish poetry. He has published the poetry books : Marginal Zones, 1984; Talk, Talk, 1987; Ways of Falling, 1991; The Ledger of Fruitful Exchange, 2000; Bring Everything, 2000; Nonetheless, 2004; Selected Poems 1982-2004, 2004; Wake Forest, 2005; The Thing Is, 2009.
He won the Poetry Awards : Patrick Kavanagh, 1982 ; Listowel Writers' Week, 1983 ; and Michael Hartnett, 2011. He is a member of Aosdána, an Irish association of artists. He was the editor of Poetry Ireland Review from 2003 until 2007. He is the director pof the Iris Writers Centre and coeditor of the Graph Magazine.
*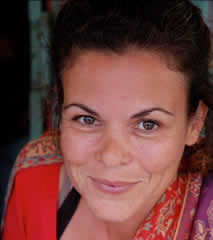 Laure Morali   was born in 1972 and grew up in Bretagne. At the age of twenty, she went to study in Quebec. She writes poems, stories and tales. She rules literary workshops. Some of her works: La route des vents parait, 2002, La terre cet animal, 2003; Traversée de l'Amérique dans les yeux d'un papillon, 2010 ; and Comment va le monde avec toi, 2013.
www.youtube.com/watch?v=yyzdx3Uj6Bs
*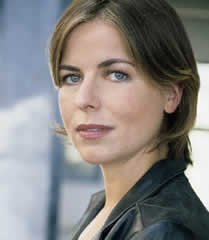 María Barnas  was born in the Netherlands in 1973. She is a poet, novelist, essayist, and visual artist. Her writings on art and poetry have been included in some newspapers. His first book of poems published Zonnen Twee (Two Suns), 2004, won the C. Buddingh Award, 2003 (One of the most important awards in poetry debut in the Netherlands). The jury considered his "contemplative work, musical, desperate and humorous, powerful and fragile poetry, with a transparency that becomes more complexa at reading it again. Her other books of poetry. Er staat een stad op (A City Grows), 2007 and Jaja of oerknal, 2013, nominated for the VSB Poetry Prize, 2014. Among her novels are: Ice Angels (1997) and The Bather (2000).
*
Published at January 22nd, 2014.

Última actualización: 04/07/2018