24º International Poetry Festival of Medellín. "Celebration of Earth with Native Peoples"
24º International Poetry Festival of Medellín
July 19th to 27th, 2014
"Celebration of Earth with Native Peoples"
Poetry: Light transformed into love of the planet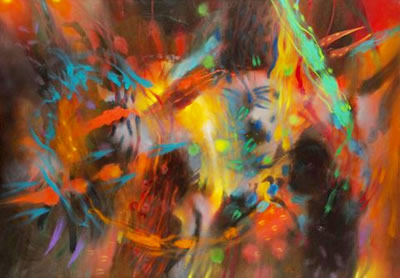 Painting by Carlos Jacanamijoy
By Jairo Guzmán
Direction Committee of Medellin Poetry Festival
Poetry will give us the strength to return to humankind the "patrimony of light / transformed / into love of the things of this planet", as expressed by Jorge Carrera Andrade in his memorable poem El combate poético.
Many are the urgent issues humankind needs to address in order to achieve permanence on Earth. Many are the signs that announce its extinction if it continues on the same path of destruction and servitude.
The Earth sings in our most fundamental root. As a species, we have survived the great interstellar night. We still have forest and jungle, but they have been confiscated, besieged by the eye of industrial overexploitation's hurricane.
Our blood plasma has the same components as ocean water, our ancestor. The ocean, source of life, is now affected by an excess of toxic substances and detritus; its waters turn acid and many of its species, the human among them, are under threat.
The desert also advances on the beautiful, blue-seeped sphere, and the forest is a presence emphasizing the love of the planet in us. The source of poems and legends and axis of collective memory, the forest was and is the engine of the great spiritual acquisitions, the source where the symbols are revealed and ready to operate upon reality.
In the forest there was transmitted the persecuted knowledge, the essential and magical knowledge which was preserved thanks to the codes promoted by the tree in light's child dimension.
The sovereign forest, the great accomplice, sap's dynamo, is the gods' dewy residence, where the lyrics and song sprout. To it we owe ourselves in our poetic dimension. From it we descend, full of symbols for the days of this life, before the mystery of existence, before the beautiful plenitude of the celestial garden which is planet Earth, where life reverberates.
We have saturated the living with an excess of toxics. Animals are now besieged beings: persecuted, diseased and decimated. In another time, animals used to be our fellow beings. We have abysmally separated ourselves from their essence, common to ours, to become functionalities, control agents of the living, imposing our implacable law of domain and measurability for the overexploitation of the natural resource fields.
News abound these days about the hundreds of birds that drop down dead. This occurs in several places of the planet. The signs of environmental catastrophe are increasing. The crazy machinery of the fishing multinationals lays waste to the sea bed, destroys its living proliferation of microorganisms that support many fish. Crude oil is poured by millions of tons in the seas. Animals are trapped in a poisoned bubble.
As a species, we are our own greatest problem. Genocide has been our persistent stigma. We are witnesses to the agony of over a billion persons suffering from chronic starvation, while at the same time one thousand three hundred million tons of food are annually thrown away in the world.
Every year we are witnesses to the deterioration and extinction of aboriginal languages, and thus to the vanishing of the mythic and historical memory of the native peoples, victims of the wild capitalism which is found across the world, globalizing the deterioration of the human species and of the biosphere.
We are witnesses to the extermination of the cultural identities of the aboriginal peoples, replaced with a globalized and standardized code which facilitates the local empowerment of the great economic emporiums.
In October of this year 2013, the UN's Intergovernmental Panel on Climate Change (IPCC) issued its latest report on global warming. It warns that we are getting close to the point of no return, when it shall be impossible to prevent the worst effects of climate change, including the degradation of 75% of the Amazonian forest, the destruction of coastal cities, spread of plagues, droughts, floods, forest fires, and the extinction of glaciers and of thousands of vegetal and animal species.
In this report it is affirmed that "we can still prevent the worst effects of climate change and leave our children, and their children with a decent planet. But we need governments that act like fire-fighters and not like arsonists". The panel recommends setting as soon as possible on a path towards the employment of renewable energy and the protection of forests, oceans and water resources on which the permanence of human life and of many species depends.
We know that in order to achieve these changes an increased planetary awareness is needed, which can induce the powers that be to dismantle the destruction apparatus currently holding Earth in its grip.
In this context, the Medellín International Poetry Festival will hold its twenty-fourth issue on July 19 to 27, 2014, and intends to broadcast to the world a message of true commitment to the preservation of life on the planet and of the native cultures, the last link joining us to the mythic awareness which shall consolidate true actions of love for the planet.
The Festival's interventions, as a process of audience consolidation towards a new sense of coexistence in the midst of serious social conflicts, shall be performed with the aim of improving the community's inclusion in cultural processes that build peace.
The 24th Medellín International Poetry Festival shall mark its presence with poetry readings in charge of 65 renowned poets from 45 countries in the five continents. The guest poets invited so far are: Amin Khan (Algeria), Roberto Alifano (Argentina), Liliana Ancalao (Argentina, Mapuche Nation), Hrant Alexanyan (Armenia), Ali Al Jalawi (Bahrain), William Cliff (Belgium), Vilma Tapia Anaya (Bolivia), Barnabé Laye (Benim), Josephine Bacon (Canada, Innu Nation), Jorge Montealegre (Chile), Luo Ying, Shu Ting, Yu Jian (Popular Republic of China), Juan Manuel Roca, Guillermo Martínez, Horacio Benavides, Rómulo Bustos, Rafael Patiño, Jotamario Arbeláez, Omar García Ramírez, Selnich Vivas, Jorge Iván Grisales, Patricia Ariza, Iván Graciano Morelo, Cindy Martínez, Fernando Vargas, Bibiana Bernal (Colombia), Vito Apüshana -Miguel Angel López- (Wayuu Nation, Colombia), Hugo Jamioy Juagibioy (Kamsá People, Colombia), Freddy Chicangana (Yanacona People, Colombia), Mario Eraso, Hellman Pardo (Colombia, winners of Premio Nacional de Poesía by 24° Medellin Poetry Festival), Luis Ángel Zola, David Marin (Colombia, winners of Premio de Poesía de Medellín by 24° Medellin Poetry Festival); Sergio García Zamora (Winner of Award Magazines La Gaceta-Prometeo 2014, Cuba), Alex Pausides, Legna Rodriguez (Cuba), Laure Morali (France), Tzutu Baktun Kan (Guatemala, Maya Tz'utujil People), David Mckirdy (Hong Kong), Isztván Turczi (Hungary), Rati Saxena (India), Manal al Shaikh (Iraq), Peter Sirr (Ireland), Amir Or (Israel), Dacia Maraini, Lello Voce, Paolo Agrati (Italy), Phiulavanh Luangvanna, Kongdeuane Nettavong (Laos), Natalio Hernández (Mexico, Náhuatl People), Juan Gregorio Regino (México, Mazateca People), Yuri Zambrano (México), Synnøve Persen (Norway, Sami People), Moisés Pascual (Panama), Odi Gonzales (Quechua People, Peru), Renato Sandoval (Peru), Ion Deaconescu (Romania), Oumar Farouk Sesay (Sierra Leone), Attila Balazs (Slovakia), Ivo Svetina (Slovenia), Olvido García Valdés (Spain), Markus Hediger (Switzerland), Gcina Mhlope (South Africa), Maria Barnas (The Netherlands), Müesser Yeniay, Metin Cengiz, Ataol Behramoglu (Turkey), Joy Harjo (United States, Muskogee People), Jack Hirschman (United States), Elbio Chitaro (Uruguay), Luis Enrique Belmonte (Venezuela), Hilario Chacin (Venezuela, Wayuu People), aka Comrade Fatso (Samm Farai Monro - Zimbabwe), aka Outspoken -Tongai Leslie Makawa- (Zimbabwe). They will also participate singer Andrea Echeverri (Colombia) and writher Felipe Orozco (Colombia).
A hundred poetry readings will be held, as well as an ecological forum in which native poets, ecologist poets, artists, delegates from environmental organizations and specialists will participate. There will be a panel on peace in Colombia, and formative activities within the context of the 18th Medellín International Poetry School, where the knowledge and experience of 30 poets will be offered, carrying out 30 pedagogical projection activities between courses, workshops, conversations and conferences.
There will also be a rich complementary schedule, including other areas of the arts in order to hold concerts, monologues and/or theatrical stagings, sketches and performances. All of these activities will also revolve around the poetic experience, and will be complementary actions helping to consolidate the Festival's general guidelines, focused on the struggle for the preservation of Earth and the achievement of peace in our country.
Among the guest poets there will be several native poets from 15 ethnic groups worldwide. Their contributions and ancestral knowledge will pay homage to the world's native peoples, who have resisted the onslaught of colonialism and a centuries-long destruction, in an unprecedented saga driven by their high spirituality and great wisdom.
The 24th Medellín International Poetry Festival shall encourage native poets to express and disseminate their perception of the world, their cosmology, their claims and their suggestions as cultures whose ancestral knowledge is very respectable and necessary for our times. These cultures shall continue to give us the treasure of their language, myths and rituals.
We legions of poetry shall gather in order to increase planetary awareness, from stage to stage, where the crowds shall be linked to the same desire, the same aspiration to accept the challenge of great spiritual transformation, building a gesture, an attitude of openness to all the changes and ruptures necessary to found a life-affirming world, not subject to the designs of extermination and destruction.

Published at November 17th, 2013.
Última actualización: 04/07/2018