Ivo Svetina, Slovenia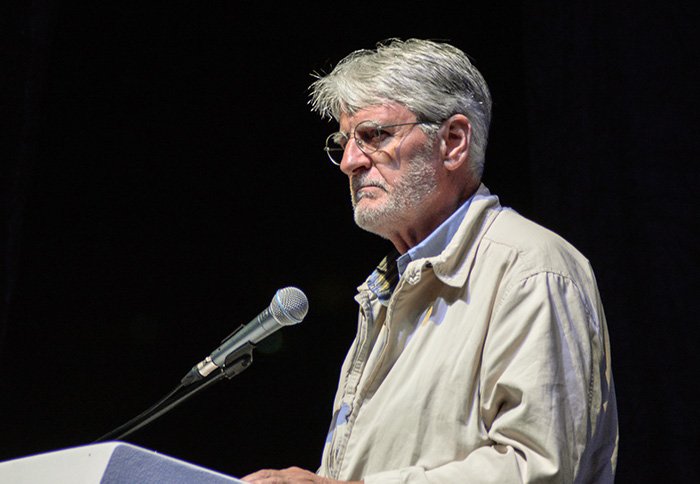 25th Medellin International Poetry Festival
Photo by Sara Marín
Por: Ivo Svetina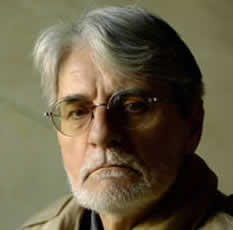 CAVE
The birth of an Idea
1.
Attentive like a dog observing sparrows,
the wise man follows objects, and behind
phenomena which lead him to conceptions
to be dismantled, in a dialogue
with his young lover, into thing and shadow,
into grief and tears, into war and mourning.
The wise, the lovers. The former name
what has been nameless, and so non-existent;
the latter fall in love with the unknown,
the nameless, for its beauty, and their soul
surrenders to the (fair) appearance; so the lovers
become an object claimed by the wise men,
who – on the verge of finishing a learned dispute –
drive them into a cave, to shadow the Idea
of love eternal, which makes men Immortals.
2.
Who frightens them with puppets? should have cried
at least one god – but gods knew of no cave.
Why did – who? – frighten them with puppets
bobbing beyond a parapet,
casting marvellous shadows on the wall,
a wall pierced through and through by dying glances?
It was a gimmick: if the light held sway
behind their backs – the backs of puppeteers
and their dolls – the shadows carried
with ease these wondrous figures – made of shadow! –
deep down, inside and down, past heads and shoulders
chained into pain, and, skittish, cast themselves
on the stone wall: they knew, although mere shadows,
that this was all the prisoners could see.
When shadow-casters spoke at length, the cave
filled up with voices, not yet music, but for those
tied and tormented, as hymns to the unknown.
This was the first time they essayed to speak,
till then a scream and moan and cry had been their tongue,
one to be understood by any stranger,
for suffering requires no translation.
3.
Thought the philosopher: if those poor wretches,
parable as they are, should be set free
by one who took off their ropes, which, long ago,
had gnawed into the skin, inviting them
to look upon the light, the glow, the fire, the blaze,
the sun itself, all that had been untasted,
they would but suffer still more searing pain.
Blinded by that to which their backs were turned
for ages, they could not squeeze out a single tear,
just as the mothers' milk had dried up long ago,
with all, phenomena and objects, steeped in splendour,
dipped in a mouth of fire by a godlike smith.
But the worst pain, breaking many a neck,
weak as it was when free at last, would break
on seeing what was no mirage but real.
BEETLE ON A GIRL'S BELLY
1.
The poem has no plan; alone under hopeless
clear skies which ask nothing of me,
you lie where you rolled on the shore that you love,
testing the suppleness of skin
and the strength of your dreams:
images sailing past indolent eyes.
To my left is a field, where sheep caked with shit
lie down among golden arrows;
to my right is the deathless dove again,
a princess descending the stairs of the cypress.
Against the eastern skies leans a hotel,
white rooms and beds made of pearl shells.
I will not enter it yet, for it would take me –
a virgin with breasts never swollen with milk.
Am rather a kid to graze upon fat,
white female bodies,
with muzzle and hooves in vagina and navel.
With three-angled tongue to soothe the membrane,
and still more the withered, gooseflesh-pricked skin.
2.
The cat, rocking the secret of deathlessness
even in Ancient Egypt, inconstant,
fawning on everyone, faithless, she might well
sleep under your breast, being as warm
and yielding, sneaks up, imitating a tiger,
to me: to drink her fill of my scent, in which
I washed at eight, next to you in the empty bed:
the lips gliding over the white enamel of teeth,
the smile still that of the night.
With my palm under her tummy I lift her,
a wight with no weight, a fistful of wilderness memory,
which, by this turquoise-bottomed pool,
seems like a card from an Asian resort.
With paws as pink as a baby's tongue
Cleopatra's daughter touches my heart,
which surfaces so that it might calm down
in the warmth and breath of the breeze.
3.
Since I have been here, not an hour has passed,
yet I have lived through my life,
not worth a farthing, with wishes,
too many, piled up.
I wait for the first night to part her gown
and show, to all eager ones, stars
sprinkled like sand over cooling marble,
still bearing the footprints of her
who rinses her feet with the tears of her unborn children,
to the choruses high above in the blackness,
as velvet from here as a blueberry grave.
4.
The gluttony of beasts is born in solitude
to which man never finds his way, for all around
him is but joy and mirth, and wine and women
surrendering to the sun, awaking jealous stench.
The hand is no paw, shaped by nature
in the image of gentle death resting
in her secret lap: it has grown weary,
creeping through ages as through
woods of bamboo, ringing with sculpted hips.
The hair is no skin, newly anointed with oil,
for the glance to glide gentlier down to the jug
of membrane which hides my desire when night spreads her sheet
and I step in the store, a stranger, to buy satisfaction.
---
Ivo Svetina was born in 1948 in Ljubljana. He graduated in comparative literature and literary theory studies at the Faculty of Arts, University of Ljubljana. He writes poetry, drama texts and essays and got several prizes and honorable mentions for his literary work. He has translated several significant text, eg The Tibetan Book of the Dead, Tibetan Mistery Plays.
During 1968-1977 he was engaged in the experimental theatres Pupilija Ferkeverk and Pekarna (Bakery); the performance Gilgamesh was created under his direction. In 1978 he got employment at the Cultural Society of Slovenia, later he worked as a dramatist and a Programme Editor at the Television Slovenia. 1985-1992 he was as a dramatist and Artistic Director at the Slovensko mladinsko gledališče (Mladinsko Theatre).
1993-1998 he as a State Undersecretary at the Ministry of Culture of the Republic of Slovenia he was in charge of artistic and other creative programs. In 1998 he was appointed a Director of National Theatre Museum of Slovenia in Ljubljana. Ivo Svetina is a member of Slovene Writers Association and the Sloven PEN Centre.
Published at June 25th, 2015
Última actualización: 09/01/2022