Keki Daruwalla, India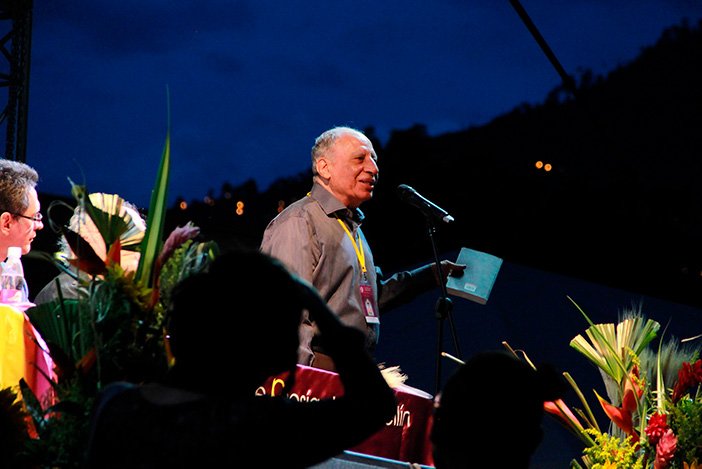 26º Medellin International Poetry Festival
Photo by Nidia Naranjo
Por: Keki Daruwalla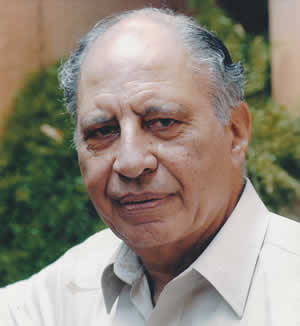 Orpheus and Persephone
He couldn't wait—winter was upon him.
Through abyss and tunnel he had to go down
to meet her in the seed-dark of the underworld—
she in her iceberg aspect, face frosted in a frown,
or so he imagined. He couldn't wait
for spring when she trod the earth again and turned
her face towards the sun like a heliotrope.
Placental seed would pine for her return
and all vegetation which she quickened into life.
He hadn't planned, should he on bended knee
ask another lease for his snake-stung wife?
How are the dead retrieved? Retrieve-- was that the word?
Ask for her soul, or the rest --limbs, hair, laughter, voice?
Give me a hearing Goddess! He thought she hadn't heard.
2
Halfway through his subterranean voyage he froze.
That river was blacker than a starless night,
driftwood-river clogged with driftwood-souls,
and Charon paddling away—Goddess help! He cried.
Is this a river or black despair that I see?
There's such silence here as I never heard.
Heard? Is that how silence sinks into your system?
What state am I in, floundering around a word?
He berates himself (his confidence has vanished)
he needs a drink, (there's none to be had.)
Think of her as exile, think of her as banished.
Switch the states, exile and death, think of the soul
as émigré. Unsure of himself, he has no one to speak to.
He could talk to his lyre—it would sing as told.
3
(Persephone awaits him)
His music had come to her as rumour,
and even rumour rang like a silver bell!
Now he's on his way, past windbreak, corn-stubble
to this dank cavernous space, men call Hades, Hell.
"He has lowered himself onto our river Styx!"
News of him comes every minute to her throne.
She claps for her younger maids to comb her hair,
laquer her toenails, throws out the older crones.
For once the dark smothers her, she notes with surprise.
"Let candles and the flambeaux be lit! Things here
are dark as dreams yet to travel to the eyes."
She stills her excitement – but the maids are too far gone.
"We've heard him!" they cry. "His music is magic,
we don't know if he has a lyre or a wand."
4
The fire of anticipation threads her gut.
She's heard so much and the stories were long—
he raised a hill sloping to heaven with one note,
he could pour the night, all the stars in one song;
the spheres and their music were just his lyre's echo.
Birds of the air and beasts of the wild were tamed
by this son of Calliope. And when
he was in sorrow his music was like rain.
Intuitively she knows what he would ask for:
Eurydice to walk the world once again,
and sadly she would have to turn him down,
but with philosophy's salve . She'd keep him on track--
death was renunciation of life he would be told,
and what you renounce can't be taken back.
5
Frozen-flat he thought the place would be-- windless, lightless,
a country of black mist bordering Night.
He found silver pillars holding up black marble roof;
a dark shimmer about it could pass off for light.
He caressed his lyre strings, "Goddess of the dark,
Persephone I've dropped a thousand floors
to reach you, beseech you, have travelled your great river,
that is how suppliants come to your door.
Goddess of seedlings, you who live in the earth's black core
there can be no secrets from you—you are secrecy itself.
Surely you know what I am here for."
She understood of course, nodded in assent;
had heard the first gust of his lyre's melody and wished
his music wouldn't move into lament.
6
He played on and Persephone said
we take our bearings from rivers—Styx, lithe Lethe.
I got half drowsed by your gentler strains, and loved it,
sleep after all is a tributary of death.
But melancholy grimes your face and your melodies.
You carry a dark cloud and who knows when it rains?
Your lyre suddenly brings nightfall even here,
in this dark country where only night remains
in perpetual tenantry. I admire you greatly
but your angry strains could burn pastures, vistas.
Those who love desperately mourn desperately.
So take Eurydice with you, you can backtrack
to the world you came from. Forget her sojourn here,
think only of the future—AND DON'T LOOK BACK!
4th February 2005
Keki Nasserwanji Daruwalla was born in 1937 in Lahore in undivided India. In 1945 his father Prof. N.C. Daruwalla retired from Govt. College Lyallpur (now Shah Faizlabad) and moved to Junagadh as Tutor and Guardian to the Prince. His latest novel Ancestral Affairs (Harpercollins, 2015) dwells on Junagadh's disastrous accession to Pakistan in 1947. From Junagadh the family moved to Rampur in UP in 1948, where he first studied in Baqar School and later Raza Inter college. His early education, mostly in sub –standard institutions, was pretty chaotic, especially because the language of instruction kept changing, the last two being Urdu and then Hindi. From 1952 -58 he studied in Government College Ludhiana. He attended a coaching camp run by Lala Amarnath and captained his College Cricket XI. He picked up his love for English literature and cricket from his father. Daruwalla joined the Indian Police Service (IPS) in 1958. He had two stints in anti dacoity operations in UP and also served in the SSB on the Indi Tibet border for three years 1963-66, where he trekked up to heights of 18,880 feet while crossint the Chorhoti Pass. He joined the Cabinet Secretariat and left R&AW as Special Secretary when he was promoted as Secretary and Chairman JIC (Joint Intelligence Committee) in 1993. He retired in 1995. After retirement he rode through the entire Himalayas ( including Nepal, Bhutan and Sikkim) in 2003. He served as Member National Commission for Minorities (2011-2014) where he visited and enquired into practically every major communal riot. He was awarded the Padma Shri for his writing in 2014. He returned his Sahitya Academy Award in 2015 as a protest against its reluctance to take up the cause of rationalist writers murdered by right wing diehards, and also against intolerance of fringe elements belonging to so called 'cultural' factions. He was Special Assistant to the Prime Minister in 1979. Daruwalla was a Colombo Plan scholar at Oxford 1980-81 where he worked on Politics in South Asia. He was also a member of the Commonwealth Observers Group for the Zimbabwe Elections in 1980.
---
Keki Daruwalla born in 1937, some of his books are: Under Orion. Writers Workshop, India. 1970; Apparition in April. Writers Workshop, 1971; Sword & abyss: a collection of short stories. Vikas Pub., 1979; Winter poems. Allied Publishers, 1980; The Keeper of the Dead. Oxford University Press, 1982; Crossing of rivers. Oxford Univ. Press, 1985; Landscapes. Oxford University Press, 1987; A summer of tigers: poems. Indus, 1995; The Minister for Permanent unrest & other stories. Orient Blackswan, 1996; Night river: poems. Rupa & Co., 2000; The Map-maker: Poems. Orient Blackswan, 2002; The Scarecrow and the Ghost. Rupa & Co., 2004; A House in Ranikhet. Rupa & Co, 2003; Collected Poems ( 1970-2005), (Poetry in English). Penguin Books India., 2006; Map Maker, 2002; Fire Altar: Poems on the Persians and Greeks, 2013; For Pepper and Christ novel, 2009, (It was short listed for the Commonwealth Fiction prize for Asia and UK in 2010); Ancestral Affairs, Novel, 2015.
This page was took from Poem Hunter (http://www.poemhunter.com/keki-daruwalla/biography/) and is based on the copyrighted Wikipedia Keki Daruwalla; it is used under the Creative Commons Attribution-ShareAlike 3.0 Unported License.
Published on March 10th, 2016
Última actualización: 15/12/2021