26° Medellin International Poetry Festival. Terje Dragseth. Poems


Terje Dragseth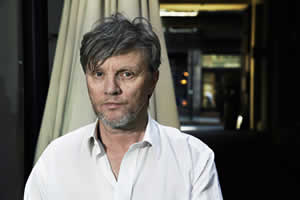 Excerpts from «Bella Blu - Handbook for the Universe»
Translated by Pål Steinar Gumpen/Örjan Amundsen
Terje Dragseth, born 1955,  live and works in Kristiansand, Norway. He is a celebrated poet and filmdirector, working with the band I Sing My Body Electric.  His debut  in 1980 with "Offerfesten, tekster og dikt", was followed by a number of books, the  latest "Bella Blu, Håndbok for verdensrommet", Sci-fi poetry, "Solen sukker i min sko", short stories, and "Jeg skriver språket", a poem, 2015.  
Terje Dragseth is  awarded the Norwegian State 10 year artist grant.
I Sing My Body Electric. Website
I Sing My Body Electric. Tumblr
Bella Blu, performed by Terje Dragseth, music by Dragseth/Amundsen.
*
(except: V.O. 0011 in Log 3, and V.O. 0012, V.O. 0011 in Log 7).
*
"I want to speak about bodies changed into new forms. You, gods, since you are the ones who alter these, and all other things, inspire my attempt, and spin out a continuous thread of words, from the world's first origins to my own time."
Metamorphoses by Ovid. Book I, [trans.: Anthony S. Kline].
                                                                                                                                                                               
On board the spacecraft BELLA BLU:
VOICE OVER (V.O.) 0011
VOICE OVER (V.O.) 0012
Night watchman
The geometrical girl
Crew passengers soldiers
The dog with the fluorescent fur
The little prince with the big head
a.o.
WITH A SPEED OF 17 KM PER SECOND
THE SPACECRAFT BELLA BLU IS MOVING
AWAY FROM GALAXIES PLANETS ASTEROIDS
METEORS ROCK-COLOSSI AND IS NOW 17.5 BILLION KILOMETERS
AWAY FROM THE PLANET TELLUS AND THE SOLAR SYSTEM.
LOG
DAY 7
We cannot understand the world with words.
We cannot define a dolphin as a machine.
We cannot let the mouth be devoured by gasoline.
DAY 8
November in over the Russian plains.
Sun gives December to the northernmost continents.
We have a loaded gun stored in a folder for 17.October.
DAY 9
Rereading the oldest logbooks.
A backyard wall embodies the content.         
Shadows are like thoughts.
Receiving wind from dead stars.  
Atoms are continuous movement.
DAY 10
The dog with the fluorescent fur - wet snout against snow and leafs.
What's that wandering across the road over there - a porcupine?
Dog seeks water man salt.
LOG 2
                                                                                                                                                        DAY 183
Rumble from Mars.
Call of distress from Deep Field.
All of this disquieting.
V.O. 0012:
MAGNESIUM
FEET WALKS IT COURSE
UPRIGHT WEIGHTLESS
MAGNESIUM IS STRUCTURE
100 ENZYMES GIVE THANKS
A COKE FOR THE PALATE
MAGNESIUM PHOSPHATE ARE INSOLUBLE
AND CANNOT BE ABSORBED IN THE INTESTINE
ARE YOU SICK
YOU CHANGE WITHOUT US BEING ABLE TO READ
YOU HAVE NO IDENTITY
THERE ARE NOT CATEGORIES
THERE ARE THEREFORE NO ONE HERE
REMEMBER THIS
REMEMBER THIS
REMEMBER THIS
LOG 3
VO 0011:
AHH BELLA BLU BELLA BLU
BLU BLU BLU
HOW ARE YOU
TODAY TODAY
BY THE MILKY WAY
HOW DO YOU DO
HOW DO YOU DO
FAR FAR AWAY
FAR FAR FOREVER AWAY
DUST AND STONES
STONES AND DUST
FOREVER IRON FOREVER RUST
IRON RUST TO DO
LOVE ON YOU
DUST AND STONES
STONES AND DUST
IRON RUST TO DO
LOVE ON YOU
LOVE ON YOU
AHH MY BELLA BELLA BLU BLU BLU
FAR AWAY AWAY BY THE MILKY WAY
THE MILKY MILKY WAY
AH MY BELLA BLU
BELLA BLU BLU BLU
LOVE FOR YOU
LOVE FOR YOU
DAY 430
The ship takes storm and hail it comes in swells.
We have been drowsy a long time.
The devouring affects the shadows severely.
They perceive the living differently from us.
DAY 442
Dark burnt informers mumbling post-iconic words.                                                                        
Christ. Satan.
Still we log everything.
DAY 464
Horizontal discontinuity.
It's our journey our goal our time towards 0 and 01.
Our transformation capacity our reminiscence migration.
Star diameter: 100 times the sun 
DAY 480
There lies poison pills in a glass thinking.
Late heavens just grow on, comprehensive as they are.
DAY 485
This is not written on paper.
Light hesitating.
DAY 565
There are heartbeats in everything.
LOG 4
DAY 576
Lips obviously hers.
They glow. 
The geometrical girl has touched the little prince with the big
head.
DAY 645
We have only read about the significance of presence in Ovid.
Growth are for bodybuilders.
DAY 649
When horses cross the stream and darkens,
said the prophet with the grandiose words.
DAY 725
1000 years have changed us.
Something else we don't yet know.
DAY 812
The dog with the fluorescent fur in all hangars.
Hyperactivity in the ear snail.
V.O. 0012 distorted into the unrecognizable.
LOG 5
DAY 1005
A body in an open boat without oars.
We don't know what it is.
DAY 1011
Sweet wine in cups to the passengers on the upper deck.
Who brought us into this? 
DAY 1100
The geometrical girl
walks the dog with the fluorescent fur
in hangar for animals.
She sings: gamma gamma gamma - gamma gamma gamma -
Night watchman wakes.
By his side.
A needle.
LOG 6
V.O. 0011:
EVEN 19 HOVERS OVER THE WATERS                                                                                     
OVER GIANT SHIP BY ALL
HEARING 19 SUITS
A CHANGE FOR EVERY ERRAND                 
WITH THE CRY
THAT DISAPPEARS IN A POSTERITY OF GLASS
THERE ARE 28 OF LIFE'S THROBS THAT SHUTS                                                      
THAT IN THUNDER MOUNTAIN
THAT INSIDE APRIL
THAT IN THE KNEE
THE BIRD CONCRETE
DINING TABLE CAN EXPECT RAIN
DAY 1111
With a survivor's mouth will the log continue.
Nothing is still we await.
The whirl of the spinal cord. 
Blows of an axe against trees.
Planets we never see again.
DAY 1137
Railings safe to mount.
We have sent robots in advance.
They have their own timbre.
It means peace for our operation.
Just as meaning in sand.
A lot or little.
Entropy.
DAY 1154
The sun's beams at the motel's neon sign.
Before the sun sets over a deranged desert.
Red for the wondering face.
And red for velvet.
DAY 1189
The transparent space station: KONSTANTIN TSIOLKOVSKY
Linked to the extreme velocities.
Irresolute jelly.                                                                                                                                                                                                                                                                                                                                                                                                                                                                               DAY 1253
Explanations are insignificant.
LOG 7
DAY 1271
Land.
We are pointing the telescope.                                                                                           
Drying our wet eyes.                                                                                                                                      
Hoping for the best.
V.O. 0012 TIL V.O. 0011:
SAHT ANDER
ANDER SAHT ANDER
SALAAM KCHRI
BWTAT SALAAM ANDER ANDER
SAHT KCHRI BWTAT SALAAM ANDER
KCHRI SALAAM
TE AN
DAY 1276
The room farthest in the innermost room farthest in                                               
distributing given drops to the astronauts.
So they can dream.
They no longer have their own eyes.
DAY 1296
Bird flies. 
DAY 1299
Over the tree crown.
The planets.
Over the skin.
Stone.
Everywhere.
VOICE OVER 0011 repeat repeat repeat:
STARS YOU CAN ONLY WISH FOR                                                                                    
WE SEE THEM IN THE MORNING                                                                                                            
WE SEE THEM IN THE DAYTIME WE SEE THEM IN THE NIGHT   
TWO DOGS IN SPACE
FOR THAT WE ARE HAPPY
WE GREET THEM WELCOME                   
THEY DIED FOR THE DEAD        
WE SEE THEM IN THE MORNING                                                                                                
WE SEE THEM IN THE DAYTIME WE SEE THEM IN THE NIGHT           
WE FILL FUEL WE LOAD MANGANESE AND URANIUM         
WE FILL THE HELMETS
WITH EXCIPIENTS                                   
WE SEE THEM IN THE MORNING                                                                                                 
WE SEE THEM IN THE DAYTIME WE SEE THEM IN THE NIGHT
FOX FUR NEBULA CONE NEBULA LYNX
RADIANT RED HYDROGEN GAS DARK DUST BANDS
CRACKLING COLORS IN MYRIADS OF STARS 
THE NAKED EYE FOR THE MILKY WAY
WE SEE IT IN THE MORNING                                                                                                         
WE SEE IT IN THE DAYTIME WE SEE IT IN THE NIGHT   
OUR DARKNESS AND OUR SHUDDER       
300 000 KILOMETERS OF LIGHT            
DISCUS OF BILLIONS
WE SEE IT IN THE MORNING                                                                                                         
WE SEE IT IN THE DAYTIME WE SEE IT IN THE NIGHT  
THE SOLAR SYSTEM LEAVING THE CLUSTERS         
TO NEVER AGAIN RETURN                         
WE SEE IT IN THE MORNING                                                                                                         
WE SEE IT IN THE DAYTIME WE SEE IT IN THE NIGHT
 
AS SEVEN ANGLED MUSIC       
THE SOUNDS' CORRESPONDENCE             
STARS IN BETWEEN               
THEY SING
EVERYTHING IS SONG           
YOU WHO ARE SOUND
LISTENING                                                                                                                                      
WE HEAR IT IN THE MORNING                                                                                                                
WE HEAR IT IN THE DAY WE HEAR IT IN THE NIGHT  
AS SOUNDWAVE YOU WILL COME TO BE                                                                    
OUT OF SOUND INTO SOUND                                                                                                     
FREE YOU WILL TRULY BE
AS THE WAVE WE WILL RIDE
WE SEE IT IN THE MORNING                                                                                                                     
WE SEE IT IN THE DAYTIME WE SEE IT IN THE NIGHT   
YES OF SOUND
YOU ARE TRULY COME TO SOUND                                                                                                    
YOU WILL TRULY BECOME
THE PLEIADES' COSMIC TRANSFORMATIONS
COMPANIONS ORANGE ROBES
WE HEAR WE HEAR
THAT WHICH UNDERSTANDS MORE OF US THAN WE DO          
WE HEAR WE HEAR                                                                                                                          
WE HEAR IN THE MORNING                                                                                                          
WE HEAR IN THE DAYTIME
WE HEAR IN THE NIGHT  
BELLA BLU
BELLA BLU BLU
BELLA BLU BLU BLU
Published on March 8th, 2016
Última actualización: 04/07/2018