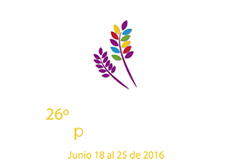 Poems by Gcina Mhlophe (South Africa, 1959)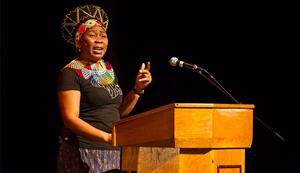 Gcina Mhlophe (Nokugcina Elsie Hlophe), was born in Hammarsdale, South Africa on October 24, 1959. She is a poet, activist, fighter for freedom, playwright, actress and story teller. She is one of the few woman storytellers in her country. Her action is dedicated to preserve storytelling as a means of keeping history alive and inviting South African children to keep the cultural tradition through the reading. She tells her stories in English, Afrikaans, Zulu and Xhosa.

As Njabulo S. Ndebelesaid «Rooted as it is in contemporary cultural practice, her poetry taps deeply into a resilient past. She uses the time-tested repertoire of mnemonics that are a definitive feature of oral poetry, and makes use of salutations, injunctions to the audience, changing meanings, repetition, alliteration, onomatopoeia, allusion, parallelism, play with noun class prefixes, and many other verbal techniques mostly recognized and admired by audiences as a mark of compositional dexterity.»

Her works have been translated into German, French, Italian, Japanese and Swahili. She has travelled around the world giving workshops on storytelling, publishing books of poetry and fiction and performing in plays and movies.

Among her published books are: The Snake with Seven Heads, 1989; The Singing Dog, 1992; Queen of Tortoises, 1995; Nalohima, the Deaf Tortoise, 1999; Fudukazi's Magic (CD: lyrics and music), 1999; Love Child, 2001; Nozincwadi, Mother of Books, 2001; Have You Seen Zandile?, 2002; An African Mother Christmas, 2002; Hi, Zoleka! 2003; Stories of Africa, 2006; Our Story Magic, 2006; Ithemba Means Hope, 2006; Golden Windows, 2007; The Singing Chameleon, 2008; The Barefoot Book of African Tales, 2009; The Magic Horns, 2009.

Website
Con el sol en el canto Video in Medellin
Poems and presentation Poetry International Website

*


Lead Us, Son Of Tambo!

Hoyiiini! Hoyina!
Do lend me your ears, people of my land
Lend me your ears and I will bring you a message
We are here today because it was meant to be
Long ago, this day was preordained
By our creator Qamata, together with our ancestors
Let it be so, they unanimously said
Today we have this mother of all celebrations
A day filled with so much joy and laughter
We are dancing like never before!
So much meat – we eat till we can only stare
But we are not satisfied until we reach the bone
Deep in the very bone, sucking so hard
As if we want to know the origins of this marrow

Oh, the descendants of our ancient ancestor Ntu!
What do we say on a day like this?
What words to we use?
But before we know, old experienced elders reason and pronounce with conviction
Ah! Tambo, ancient bone of our great ancestors!
Ah! Tambo, the anchor bone so many had to hold onto
Ah! Tambo, the bone whose marrow never runs dry
Sharing wisdom, integrity, and love
Yes indeed, many who knew you say it repeatedly
You were a cyclone! One whose massive influence was for building
Future leaders, young men and women
Who so needed your wisdom
Yes indeed, Cyclone of unity they call you!
You united opposing forces
You created strong relations for us in foreign lands
That is why we are gathered here today
Holding onto that solid bone of unity that you represent
Emperor of Leadership in Africa!

Wherever you are today, in that vast hereafter
With countless pioneers and freedom fighters
We know you are looking at us
You see the youth of today learning to stand
Taking small steps, running, falling, gripped with fear!
But they stand again and run again!

Current dishonesty, struggles for power and positions
You see them all
Apologies! Apologies to you father Tambo!
Apologies! Daughters and sons of Africa!
Your teachings we will try to remember
We will try to hold each other and revive
The values you espoused

Our voices will break into song that resounds
Throughout the land, bringing joy to even the birds
Of heaven, together we will sing:
Tambo, leads us all, son of Tambo
Help us rebuild our nation, lead us
Son of Tambo!

Here I pause . . .
Here I pause . . .

Wishing Well


2006

Make a wish,
Anything ! Go on, make a wish
Think of the rain
Pouring down in bucketfuls
Early this morning
The trees all looking up
Their green tongues lapping it up
Did you see the trunks
Scheming, as they wondered if
It would rain long enough
For their roots to slowly remember
The ancient art of walking trees

Then the lover trees would waddle
Towards each other, carefully
As nervously as all first time lovers
Wet, slippery hugs they would share
But really passionate and clingy too

Oh, I've got it
You wish to be a fruit tree instead
Heavy with ripe juicy… Figs !
Yes, that's it, I see it in your face
Then everyone looks at you
With such uncontrollable longing
Eyes bulging, mouths watering
Arms outstretched, hearts beating
And minds focused on you
Only you !

Wrong ! Wrong and wrong again!
I wished to be - a dragonfly
Yes, a Guardian Angel Dragonfly
With real magic powers
Always ready to pounce, To sting real hard on the
Face of any person, Who's just about to hurt a child
Anywhere and everywhere, In our beautiful country
I'd be endowed with
Lightening speed and spirit powers
That connect and hear a child's first fearful cry,
even a while it's still a whisper
"At your service !" I will say as I charge forth
Then I'd sting that stinky minded person
So hard they'd yelp! and turn
Round and round… like a dog chasing its tail
Their faces swelling so fast
Their eyes closing and minds boiling
With the pain and confusion
Unable to work out…What kind ?
What kind of dragonfly was that

"Ha! Children's Guardian Angel Dragonfly -
That's who !"

I'll whisper in their dirty ear
As I fly off
To my next assignment.




The Wedding Dancer




Mama,
They tell me you were a dancer
They tell me you had long beautiful legs
To carry your graceful body
They tell me you were a dancer,

Mama,
They tell me you sang beautiful solos
They tell me you closed your eyes
Always when the feeling of the song
Was right, and lifted your face up to the sky
They tell me you were an enchanting dancer

Mama,
They tell me you were always so gentle
They talk of a willow tree
Swaying lovingly over clear running water
In early Spring when they talk of you
They tell me you were a slow dancer

Mama,
They tell me you were a wedding dancer
They tell me you smiled and closed your eyes
Your arms curving outward just a little
And your feet shuffling in the sand
Tshi tshi tshitshitshi tha ! tshi tshi tshitshitshi tha!
O hee ! How I wish I was there to see you
They tell me you were a pleasure to watch

Mama,
They tell me I am a dancer too
But I don't know…
I don't know for sure what a wedding dancer is
There are no more weddings
But many, many funerals

Where we sing and dance
Running fast with the coffin
Of a would- be-bride or a would-be-groom
Strange smiles have replaced our tears
Our eyes are full of vengeance , Mama

Dear, dear Mama,
They tell me I am a funeral dancer…

(there is a song that keeps recurring before each verse of the poem) _

----------
this poem was written in the late 1980's at a time when many of our comrades were shot at by the Apartheid police and almost every Saturday we went to funerals to burry our dead.
Today, in 2006, the new monster, iGongqongqo, that is mercilessly swallowing our young people is HIV/AIDS , again we go to funeral almost every weekend. Certainly this is not the "Freedom in our life time !" we fought for. So it is true that the struggle is never over. This one too is a struggle we should fight with the same vigor as we fought the stinking Apartheid regime.
Sky Blue
Have you ever wondered
Why the sky is so blue?
Well, I have.
And I think I do know why
It is blue because it is deep
A wide kind of deep
A generous kind of wide
It is such a warm hearted blue
That lets the sun shine bright
As far and wide as Sun wishes to
In his hot adventurous way
A kind hearted blue
That lets the twinkling stars
And planets dance or glide
Or float as free as they please
A kind of blue that's humble enough
To stand back and let the rain clouds
Linger on as long as they wish
Clinging to each other, kissing
And embracing passionately
Before they burst with a thunder clap
And let the rain
Just fall and fall for hours on end
Even days and weeks
Till the clouds slowly go away
Then you'll see the sky once more
Still there, still blue
Yes, a loving kind of blue
That embraces the moon with
Gentle silvery fingers
A blue that encourages moon
To smile tenderly at young lovers
Just bitten for the first time
By the legendary love bug
The sky is blue
Like a blank page
So new dreams can be invented
And ambitions can be flung up high
And come back to take us little humans
On new magical journeys every time!
And on wind wings write special messages
To endless destinations
So you see now?
Sky is forever there, forever wide,
Ever kind, and ever embracing
A blue that is not sad, as many seem to think
A blue that's open minded
A blue that's endless
In a cool, calm and collected way.
Sky blue, true blue.
Published on April 28th, 2016