Celebrating the Memory of Eleusis: to transcend the state of barbarism. Celebrating the Memory of Arthur Rimbaud: to transform life
Celebrating the Memory of Eleusis: to transcend the state of barbarism
Celebrating the Memory of Arthur Rimbaud: to transform life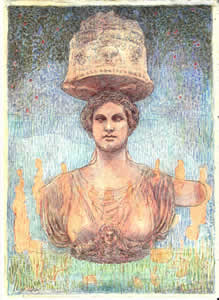 Draw by Darío Villegas
By Fernando Rendón
Director 26° Medellin International Poetry Festival
Europe is, in its core, an offshoot of Greek culture, civilization cradle of art, literature, philosophy, architecture, medicine, astronomy and democracy, on this side of the world. And Greece comes from the spiritual ebullience lived in the ceremonial rites of Eleusis during 2,400 years transforming the barbarian nation of pelasgians, ancient Aegean inhabitants, in the refined Greek community, and a sum of warring city-states in the country Homer, Aeschylus, Aristotle, Herodotus, Asclepius and Phidias. The name of Eleusis, today Elefsina, is not included in the vocabulary of Windows. To take part in the ceremonies of Eleusis was the culmination of the prolonged spiritual quest of the ancient Greeks through their lives (kings, citizens-men and women, scholars, artists or slaves), since the stone age or neolithic period.
The Mysteries of Eleusis, whose secret no one could reveal under penalty of death, evoked the pain of Demeter (her daughter Persephone was abducted by Hades, god of the underworld); but also her liberating joy with the return of Persephone in the annual Spring. Profound visions and shocking perceptions of death and spiritual rebirth jolted thousands of followers, for more than two millennia, transforming their convictions and hopes and giving them a strong sense of living. Homer, whose Hymn to Demeter ancestrally  presided initiations, wrote about the rites of Eleusis: "Blessed among the inhabitants of the Earth he who has seen these things." And Sophocles added: "He will no longer fear death."
The 26th International Poetry Festival of Medellín (18 to 25 June 2016), which received the Right Livelihood Award in 2006, will celebrate the radiant memory of Eleusis with courses, lectures, panels, discussions with the public, plays, concerts and ceremonies, through the participation of famous American researcher Carl Ruck, co-author of the book Road to Eleusis (with Albert Hoffman and Gordon Wasson); traditional Greek singer Savina Yannatou, accompanied by pianist Spyros Manesis; academics Mark Hoffman and Evie Marie Holmberg (Hellenic College); German philosopher and poet Hatto Fisher; Greek researcher Ilias Monacholias and Colombian academic Tarcisio Valencia. The documentary The Mourning Rock (La roca de luto) will make its Latin American premiere. This film is by the Greek director Filippos Koutsaftis, and it will be subtitled in Spanish. Under the direction of playwright and actor Jorge Ivan Grisales, a group of students of dramaturgy at the University of Antioquia will bring Hymn to Demeter, by Homer, to the stage. A group of shamans, led by Querubín Queta Alvarado (Kofán Nation) and Berito Kuwaruwa (U'wa Nation), will develop parallel harmonization rituals, spiritual ceremonies designed to spread the reconciliation spirit of dialogue in the troubled hearts of hundreds of thousands of Colombians , who have had more than half a century of bloody war.
In the context of this year's Festival, researcher Carl Ruck will make a public presentation of the Gaia Project, which seeks to turn Eleusis into the core and center for the restoration of the dialogue of humanity with the Earth. For this purpose, he considers that it is vital to obtain worldwide recognition of the archaeological traces of Eleusis, that the sanctuary be declared World Heritage by UNESCO and to collect funds from international donors to build a new complex of museums around the place. "The symbolism is simple. We do not intend to restore a missing religion or reverse the course of time", he says, "but we do seek a new covenant with the Earth. As in ancient times, we depend on the generosity of Gaia for prosperity".
To Change Lives
One hundred years after the death of the great French bard Arthur Rimbaud in 1891, the International Poetry Festival of Medellín was founded, as an epicenter of  poetic earthquakes in many countries on all continents, giving rise to the World Poetry Movement in 2011. At his death, frankly many generations of poets in the world perceived a new breath in the cool climate of poetry and experienced an inspiring intoxication in the paths of their writing and their lives. Rimbaud escaping his home on the roads and trails of disobedience, stubborn renegade from the West, adventurous and rebellious visionary, fiery villager who decided to "change others' lives", enlightened spiritual traveler; explorer, camel guide and cartographer in Africa, every day escapee from his season in hell and sailing in full wisdom, he deserves our full gratitude and, every day, the best and most heartfelt acknowledgement.
"Sometimes in the sky I see endless beaches, covered with white and joyous nations. Above me, a great golden ship waves its multicolored flags under the morning breezes. I have created all festivities, all triumphs, all dramas. I have believed I invented new flowers, new stars, new flesh, new languages. I have believed I acquired supernatural powers", wrote the great poet of Charleville, prompting the discovery of new realities of the sacred matter of poetry.
In his loving homage, which we will call "Rimbaud Station", it will be presented a digital exhibition sent to the French Alliance by the Rimbaud Museum; audios of his poems set to music and documentaries about Rimbaud. The Colombian poet Juan Manuel Roca will compile and submit an anthology of poems and drawings about the French poet, among other additional activities including conferences, among them, a conference by the French poet and biographer Alain Borer, panels and courses on his revolutionary work.
Poetry And Musicians
Music and poetry have a common root and stem from the same prehistoric source. Poetry was born together with music and music was intended for dance, which initially had a holy and sacred nature. People expressed their songs and poetry in their dances in the sacred tasks of agriculture for their lives, in times of planting and harvesting. The 26th edition of the Festival will present a large group of poets who are musicians and poetry of important contemporary poets poured into songs.
This new event will involve the participation of poet-musicians Gcina Mhlophe (South Africa), Terje Dragseth (Norway), Juan Carlos Mestre (Spain), Dane TS Hawk (Denmark). The Greek singer Savina Yannatou, musicians Tuomo Haapala and Marie Selander (Sweden), Julián Guerrero, Laura Narváez and Manuela Gónima (Colombia), rapper Mohammed Deeb (Egypt), Rudsel Isidora (Curacao), Judith Crispin (Australia), among others.
Tentative Roster Of Confirmed Poets
The Poetry School of Medellin will celebrate its twentieth anniversary with a program of courses, lectures, panels and discussion groups that will be released shortly. It will encourage, among other activities, dialogues between poets, shamans and philosophers. Special guests will be the Colombian Nelson Vallejo, and Argentines Graciela Maturo and Hugo Mujica. The Poetry School of Vienna, architect of its foundation, will be represented by Augusta Laar and Kalle Aldis Laar.
The poets who have fully confirmed their participation so far are: Ali AlHazmi (Saudi Arabia), Hugo Mujica, Graciela Maturo, Carolina Zamudio (Argentina), Judith Crispin (Australia), Dimana Ivanova (Bulgary), Jian Rufeng (Popular Republic of China); Colombian poet José Luis Tahua Garcés, Winner of the IInd National Prize Medellin International Poetry Festival; Luz Dary Peña, Guillermo Linero, Danny Yecid León, finalists; Juan Carlos Galeano, Pablo Montoya, Tarsicio Valencia, Rubén Darío Lotero, Luis Arturo Restrepo, Héctor Cañón, Albeiro Montoya, Fátima Vélez, Fredy Yezzed, María Cecilia Muñoz, Marisol Bohórquez, Robert Max Stenkist, Annabel Manjarrés, Ana María Bustamante, Hugo Oquendo, George Mario Ángel, Leo Castillo, Sore Snid, Manuela Gónima, Andrés Uribe, Hanna Escobar (Colombia); Israel Dominguez (Cuba, Winner of the Prize Magazine Gaceta - Magazine Prometeo, 2016), Gibi Bacilio (Curacao), Adriana Paredes Pinda (Mapuche Nation, Chile), Dane TS Hawk (Denmark), Marianela Medrano (Dominican Republic), Raúl Vallejo (Ecuador), Deeb (Egypt), William Alfaro (El Salvador), Alain Borer (France), Hatto Fischer, Björn Kuhligk (Germany), Keki Daruwalla (India), Duna Ghali (Iraq), Emilio Coco (Italy), Akbar Ryskulov (Kyrgyzstan), Ashur Etwebi (Libya), Aicha Bassry (Morocco), Mikeas Sanchez (Zoque Nation, Mexico), Terje Dragseth (Norway), Manipiniktinikinia (Tule Kuna Nation-Panama), Krystyna Dabrowska (Poland), Barbara Pogacnik (Slovenia), Juan Carlos Mestre, Samir Delgado (Spain), Jochen Kelter, Augusta Laar (Switzerland); Gcina Mhlophe (South Africa), Koulsy Lamko (Tchad), Juliane Okot Bitek (Uganda), Isabel Crooke Ellison (United Kingdom), Gustavo Pereira, Freddy Ñañez, Adhely Rivero, Antonio Trujillo (Venezuela), Corade Faso (Zimbabwe).
Other confirmed guests are Kalle Aldis Laar (Germany), Carl A. P. Ruck (United States), Ilias Monacholias (Greece), Nelson Vallejo (Colombia), Savina Yannatou (Greece), Spyros Manesis (Greece), Onani Meg Carver, Evie Marie Holmberg, Mark Alwin Hoffman (United States); Rudsel Isidora (Curacao), Berito Cobaría (U´uwa Nation, Colombia), Julián Guerrero and Laura Narváez (Colombia), Gunnara Izquierdo (Kamsa and Arhuaca Nations, Colombia).
he 26th Medellín International Poetry Festival is realized thanks to the contribution of the Municipality of Medellin, the Ministry of Culture of Colombia, the Foundation Alta Mane Italia, Foundation Alta Mane Geneva, the Norwegian Embassy, the Embassy of Switzerland, Confiar Cooperativa Financiera, Prohelvetia, Foundation Heinrich Boll -Southern Cone-, the Embassy of Mexico, Goethe Institute, the Poetry School of Vienna, Culture of Resistance Network, Fritt Ord, NORLA, Ministry of Culture of Morocco, Chancellery Argentina, Prins Bernhard Cultuurfonds Caribisch Gebied, China Writers Association, Arts Danish, Spanish Cultural Action, Alliance Française, French Embassy, Italian Cultural Institute, Polish Book Institute, among others.
Up Dated at May 29th
Published at March 18th 2016

Última actualización: 04/07/2018