Akbar Ryskulov, Kyrgyzstan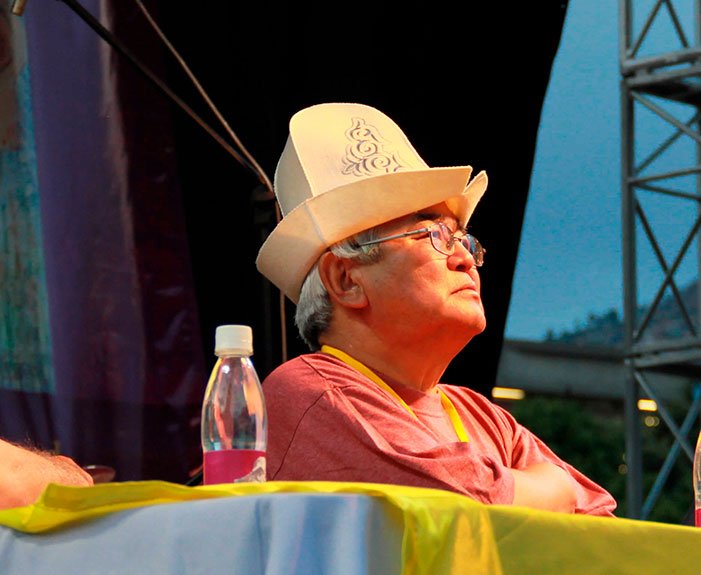 26º Medellin International Poetry Festival
Photo by Nidia Naranjo
Por: Akbar Ryskulov
Traductor: Mukan Asanaliev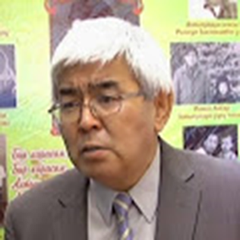 Meditation Of A Bridge

Over me there run the trains
And below me lorries ride…
And it seems there is no place
On this earth where I can hide.
Oh, the Universe is great,
Great are hills and dales I see,
And in one I thus unite
Mobility with immobility.
I catch the rhythm of the times,
Ready for service, here I stand.
Trains go bundling down the lines,
Trains go dwindling through the land.
All around is full of noise:
Clickety-clack…clickety-clack…
That means old nomadic joys
Still survive upon the track.
I am satisfied with these days
Which like horses race on past.
Life's real meaning lies always
In struggle, bustle, movement fast.
Translated by Walter May
*
Not sensing the happiness that was so near,
Nor cherishing the memory of days gone waste.
Stupefied, hands tied, I lament oh my dear,
Still feeling your lips on my lips – the taste.
Predestination is the Lord's own right.
My sin – that I let such a meeting pass by.
I can wish you sweet dreams and good-night,
But how shall I endure a forever good-bye?
Translated by Mukan Asanaliev
*

My thoughts are whirling down the ramp,
As if thinking the song I sing.
In the dusk I spin around the lamp,
And burn as the butterfly's wing.
I towered myself in mental flight,
But the height to reach is still too high.
Again I hasten towards the light,
To burn as the wing of a butterfly.
The hills I have passed left far behind,
And my youth won't return, though I cry.
In twilight round the lamp, spinning blind,
Snuffed out like the wings of a butterfly.
Translated by Mukan Asanaliev
*

To leave a trace upon the snow,
I would journey to a far off land.
I n puzzling whimsy I yearn to know,
"Why do the trees so thoughtfully stand?"
I look at the trees in thoughtful stand,
Remaining tireless all day, on the snow.
Maybe they yearn for far away land?
That's the thing that I'd like to know.
Translated by Mukan Asanaliev
*
Poppy grows up through the stone,
For this is nature's unchangeable way.
Today began yesterday, it's known,
And tomorrow will follow this day.
Translated by Mukan Asanaliev
Map of Kyrgyzstan
Look at the map of Kyrgyzstan!..
What the pride for our forefathers you experience:
Valleys, pastures, rocks,
Lakes, rivers, glaciers,
Are precious stones sparkling as the crown of Ala-Too!
Look at the map of Kyrgyzstan!..
You'll feel the joy and sorrow altogether:
Those who shifted the borders,
Those who cut the lands,
What God they serve to?
Take another look at the map of Kyrgyzstan! ..
Keeping scissors, swords and axes in hands
Disfiguring thresholds,
Cutting hemlines,
They did and do today - frightening enemies.
If you look at the map of Kyrgyzstan,
You'll see the sacred image of Kumai Kush:
One wing of it is creased,
Another one is broken,
But it leans on the highest mountain peaks!
Greeks called Kumai Kush - "Phoenix"
By the will of God a miracle happens ever:
It burns, it rises from the ashes,
It reborns again each five hundred years,
From Earth to Sun it rushes!
To the heaven will fly Kumai Kush,
Kyrgyzstan is my land with the proud name!
Kumai Kush reminds me
My homeland - Kyrgyzstan,
And its map is call for justice and unbending will.
Translation by Lira Ryskulova
---
He was born in Kyrgyzstan in 1953. He is poet, novelist, translator, editor, journalist, university professor and diplomat. He was ambassador for his native country in Kazakhstan and Malaysia. He is also the president of the Association of Writers of Kyrgyzstan. He is the author of eight books of poetry. His works have been translated into some of the major world languages. He has translated into his native language works of Byron, Goethe, Ho Chi Minh, L. Levcheva, and other contemporary writers. He has received various awards in his country for its contribution to the development of literature in Kyrgyzstan, including the "Honored Worker of Culture of the Republic of Kyrgyzstan".
Published on March 3rd, 2016
Última actualización: 20/02/2022