Gary Geddes (Canada, 1940). Poetry and Peace


July 8th to 15th, 2017
INVITED POETS
Gary Geddes (Canada, 1940)
Poetry and Peace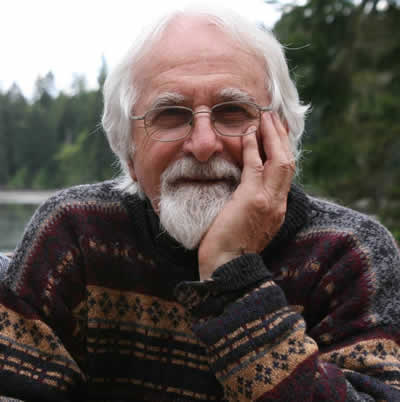 By Gary Geddes
Special for Prometeo
During my travels abroad, in the Middle East, in war-torn sub-Saharan Africa and in Chile during the Pinochet dictatorship, I have had many opportunities to meet other poets and to observe the lives of those less fortunate than me. This has made me conscious of the need for a poetry that is engaged with injustice, human rights and the relation of power to powerlessness; also, a poetry that constantly questions its own blinkers and privilege. This involved critiquing the very notion of bearing witness and fighting against cultural amnesia; that is, trying to construct a poetics of recall, rescuing, as Conrad says, the vanishing fragments of memory and giving them the permanence of art.
These encounters made aware of the need for a more engaged stance that moves beyond both the confessional mode and the impersonal voice of the all-knowing observer to the restive, deeply troubled voice of the learner, whose ignorance places him or her continually at risk. As Irish poet Eavan Boland so succinctly explains, "I do not believe the political poem can be written with truth and effect unless the self who writes that poem—a self in which sexuality must be a factor—is seen to be in radical relation to the ratio of power to powerlessness with which the political poem is concerned." As Boland—a woman in a university and a male-dominated world—knows all too well, every genuine exercise and utterance must be performed in the full knowledge of the agent's position in a hierarchy of privilege and power. So too, for me to talk about human rights and injustice or the importance of poetry in Canada, Africa or in South America, is to be constantly reminded that I live in a society where poverty and violence, though serious and increasing, are still the exception rather than the rule, and where the making of a work of art is only political insofar as it acknowledges and struggles against its own radical uselessness.
            While I've tried to argue that the writing of poetry is a political act, that it is subversive and capable of nesting in the ear, of flying in under the radar of the intellect and reaching us at the deepest levels, as I get older I have also come to see poetry as a healing art and to believe that psychological harmony is linked to social harmony. The best poems leave us changed in some way, however imperceptibly, perhaps only a faint chemical reaction, a slight shift in the techtonic plates of the ego, or altered in a more profound way, like the Saul's moment of enlightenment on the road to Damascus. The mystery is in the chemistry. Poetry speaks to the wound in each of us, to the part of us that is damaged, incomplete, and so often in ruins. For Dylan Thomas, who struggled with alcoholism and other demons, poetry was therapeutic. "Out of the inevitable conflict of images," he wrote, "—inevitable because of the creative, destructive and contradictory nature of the motivating centre, the womb of war—I try to make that momentary peace which is the poem."
            The peace that poetry affords is not permanent; it is no more enduring than the peace afforded to Tutsis and Hutus, to Ethiopians and Eritreans, or to Israelis and Palestinians. It needs to be re-negotiated daily. Like peace itself, poetry is a process, a way of life, a daily discipline of self-assessment and commitment and renewal, driven by love and good faith. It's not an easy task, because language, like politics, is an unstable medium, dirty with sound and with secondary meanings and unexpected connotations that come zinging in from the side to torpedo the best of intentions. Yet it has the power to touch what is broken in us, to mend what is damaged. And, as the poets, feminists and psychologists tell us, we need to get in touch with that breakage, that damage, because the place of damage is also the place of power.
After fifty years of writing, even with Chaucer's warning that poetry is "the crafte so long to lerne," I feel as if I there is still so much to discover about the poetry and how it works its magic upon us. Each new poem is an attempt to uncover a piece of that magic. This piece-work is also the work of peace.     
*
Gary Geddes was born in Canada in 1940. He has published the books of poetry: Poems, 1971; Rivers Inlet, 1972; Snakeroot, 1973; Letter of the Master of Horse, 1973; War & other measures 1976; The Acid Test, 1980; The Terracotta Army, 1984; Changes of State, 1986; Hong Kong, 1987; No Easy Exit, 1989; Light of Burning Towers, 1990; Girl by the Water, 1994; The Perfect Cold Warrior, 1995; Active Trading: Selected Poems 1970-1995, 1996; Flying Blind, 1998; Skaldance, 2004; Falsework, 2007; Swimming Ginger, 2010; What Does A House Want?, 2014; The Resumption of Play, 2016.  
Other of his published books: Fiction: The Unsettling of the West, 1986. Non-Fiction: Letters from Managua: Meditations on Politics & Art, 1990; Sailing Home: A Journey through Time, Place & Memory, 2001; Kingdom of Ten Thousand Things: An Impossible Journey from Kabul to Chiapas, 2005; Drink the Bitter Root: A search for justice and healing in Africa, 2010; Medicine Unbundled: Dispatches from the Indigenous frontlines, 2017. Drama: Les Maudits Anglais, 1984.
Translations: I Didn't Notice the Mountain Growing Dark, 1986, poems of Li Bai and Du Fu, translated with the assistance of George Liang. Books of Criticism: Conrad's Later Novels, 1980; Out of the Ordinary: Politics, Poetry & Narrative, 2009; Bearing Witness, 2016. Anthologies: 20th-Century Poetry & Poetics (Oxford University Press, 1969, l973, l985, 1996, 2006); 15 Canadian Poets Times 3 (Oxford, 1971, 1977, 1988, 2001); Skookum Wawa: Writings of the Canadian Northwest (Oxford, 1975); Divided We Stand (1977); The Inner Ear, 1983; Chinada: Memoirs of the Gang of Seven, 1983; Vancouver: Soul of A City, 1986; Compañeros: Writings about Latin America, 1990; The Art of Short Fiction: An International Anthology, 1992; 70 Canadian Poets, 2014.
He has received numerous prizes for his work, among them: National Poetry Prize, Canadian Authors' Association, 1981; Commonwealth Poetry Prize (Americas Region), 1985; Archibald Lampman Poetry Prize, 1990; Guy Owen Poetry Prize, 1994; Pablo Neruda Prize, 1995; Gabriela Mistral Prize, 1996; Archibald Lampman Poetry Prize, 1996.
Published at January 19th 2017

Última actualización: 28/06/2018