Recived messages
27º Medellin International Poetry Festival

July 8th to 15th, 2017
Recived messages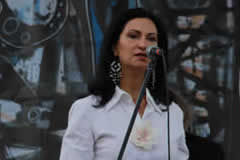 Photo by © Nidia Naranjo
Festival Internacional de Poesía de Medellín
Dear Fernando, Dear Gloria, Dear Luis,
Never late to say thanks to you all for the unique experience we had in Medellin, Colombia - of which it is said it is the land of poets. I would like to add also that it is a land of poets capable of turning the black pages of the history of their country into white ones. Therefore, it is the Colombian poets who embraced first, through the 27th International Poetry Festival of Medellin, the beginning of a new era in the life of Colombia and their own lives and those of all their compatriots as well. I believe the sky of Medellin witnessed this year for many days, day and night, that sincere and strong aspiration to the great values of life, to the protection of the bodies and souls of all human beings in the universe; that aspiration was in a way fulfilled in Medellin between 8 and 15 of July, through all the thousands of elevated hands confirming in a way their definite choice of peace and beauty and hope against the horrible smells of guns and death and cruelty, the thousands of elevated hands celebrating that miraculous and marvellous intersection between poetry and peace as the only way forward to a future promising illuminated horizons of serenity where creation, evolution, joy and love are possible and well-deserved.
When it is about the pragmatic running of the festival, I do not think I exaggerate if I say there was not a single poet who complained about anything during all the days of the festival from the first moment of arrival of a poet till the moment of leaving for the airport going back home. Everything was well prepared and pre-studied in details. Very dynamic and clever and helpful and kind team members were ready at any time to work in a very professional way in order to provide for all poets, equally, a great atmosphere in which to give their best at readings and other activities they were asked to participate in.
Cheers from the heart to you all! Fernando and Gloria! Luis and Natalia! Julio and all the members of the teams of translators, readers and interpreters! Many thanks to everybody who made our stay in Medellin as poets and individuals, comfortable, fruitful and beautifully unforgettable. It is especially necessary not to forget the high level of respect a poet was able to feel there, respect toward poetry, as well as toward the poets themselves, and this is a great quality to mention when talking about Medellin Poetry Festival.
Medellin! Sky of Medellin, be always Peace and Poetry. Be the Power of both Poetry and Peace!
Warmest regards and best wishes
Respectfully
Hanane Aad
Published at August 15th 2017

Última actualización: 28/06/2018