Inger-Mari Aikio (Sami Nation, Finland, 1961)


July 8th to 15th, 2017
INVITED POETS
Inger-Mari Aikio (Sami Nation, Finland, 1961)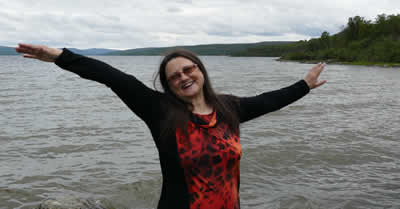 Inger-Mari Aikio, born 1961 in Northern Finland, lives in Samiland, Finland.
Poet, writer, translator and director and producer of documentary films and music videos. Worked before as a journalist, radio host and reporter.
Published 6 poem books in Sami: Gollebiekkat almmi dievva (1989), Jiehki vuolde ruonas giđđa (1993), Silkeguobbara lákca (1995), Máilmmis dása (2001), Camera Poetica - Suonat (2008) and Beaivváš čuohká gaba – Aurinko juo kermaa (2014). Translations in English, Spanish, Norwegian, German, Hungarian, Finnish, French and Bulgarian. She published two children's books and a novel for teens and young adults in Sami: Riebana bihpporgáhkut (2006), Čáhcerávgga gazza (2011) and Tropihka rievssat (2016). Lyrics for 45 recorded songs. Directed 12 music videos and 11 documentary films. Nominated for Nordic Litterature Prize (2004), Skábmagovat Film Award (2013) and State Grant for Children's culture (2015).
Published at May 27th, 2017

Última actualización: 28/06/2018