Caterina Davino (Italy, 1957)


July 8th to 15th, 2017
INVITED POETS
Caterina Davino (Italy, 1957)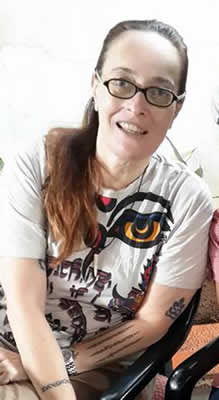 Caterina Davino, (pseudonym of Maria Caterina Invidia, Foggia 1957) lived in Rome from 1961 to 1996, where, after graduating in Italian Literature at Sapienza University I, she worked in the field of writing and new media as an artist and a theorist, in contact with the international avant-garde. She is one of the pioneers of digital poetry. Her work has been presented in Europe, Asia, the Americas, Australia, in hundreds of exhibitions, such as the Biennials of Sydney, Lyon, Athens, Merida, Liverpool (Independents), Hong Kong, Manifesta, and seven editions of the Venice Biennale and collateral events, where she collaborated also as a curator.
Among her publications are four novels: The Nothing Has Blue Eyes (2017), Sensibìlia (2015), The Sofa on the Rails (2013), Color Color (1998); non-fiction: Techno-Poetry and Virtual Realities (2002) and Virtual Mercury House – Planetary and Interplanetary Events (documents and texts about net-poetry, 2012). She is author of award-winning books of poetry, such as: Serial Phenomenologies (2010), The Book of Opium (2012), Waiting for the End of the World (2012), Despicable Deeds (2015), Aliens on Safari (poetry and photography, 2016), Rumors & Motors – Concepts of Poetry (digital poetry, 2016).
Giorgio Barberi Squarotti, a major Italian literary critic, writes about her: «Sharp poetry, essential, cutting, between irony and tragedy, with lightning flashes of desperation and piety, of memory and anguish. It has a painful and lost grandeur». Whereas the poet and critic Dante Maffìa writes: «She is able to oscillate between classical allusions to the holy books and the work of great poets like Hölderlin, Baudelaire, Borges, Artaud and Celan, and then she comes to terms with the Beat Generation, with Ferlinghetti, Corso, with the philosophy of the Existentialists. With immediate acceptances, repulses, with vast ignitions and immense fires, with echoes of jazz and pop music». Among the other critics dealing with her work, in Italy and abroad, are: Francesco Muzzioli, Giorgio Patrizi, Jorge Luiz Antonio, Eugenio Miccini, Lamberto pignotti, David W. Seaman, and others.
Published at May 27th, 2017

Última actualización: 28/06/2018