Ann-Margaret Lim (Jamaica)
Por: Ann-Margaret Lim

July 8th to 15th, 2017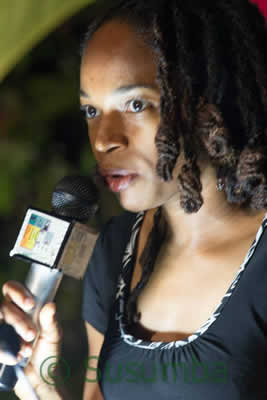 The Festival Of Wild Orchid

I
It was death
riding the ocean in a tomb of bodies;
so she howled an ancestor-waking howl
to her grandmother spirit in the trees, who,
stripped bare, begged the West Indies
to fit her granddaughter with wild orchid
leaves and the hardiness of a tree.

II
A tree stands bare, naked
like the first African woman
to stand on this island
with a swelling ocean for a tongue
and a cry
that stripped the trees of all the leaves.
Mark it!
It is the Festival of Wild Orchid.
On Reading Thistlewood's Diary
The songs of the slave represent the sorrows of his heart... Frederick Douglas

I
Livestock hamstrung, lamed, missing
back broken, thrown off a cliff;
Massa's transport slashed in the belly, gut hanging;
potato slips planted wrong;
machetes with their own minds
mutilating human cattle;
the spit-seasoned soup, coffee, tea:
black men and women walking into drownings;
repeatedly running;
refusing to spread the legs
braving the bilboes, a lashing
the dungeon, a branding;
killing the whiteman, braving a hanging
—resistance in miserable slavery.
II
Susanna
Dat's ma name.
Don't confuse it wid de open-air African savannah.
If yu look me up in miserable slavery
you'll si mi, listed under children
wid Congo in bracket, page 29.
Ah was part o' de pickney gang in 1751
when him firs' tek mi
in de curing house.
Ah wet him bed him tek mi in, afta dat.
Each time ah wet de bed.
But him neva stop.
An' yu, who fin' him diary an' call me favourite
tell de worl' how dem whip mi an Mazerine
for refusing backra an' him fren;
tell di worl' how T'istlewood
an' slavery ruin mi.
iii
Dear Phibbah,
Your name half-rhymes with Syvah —
the dance move that's in.
So when I think of you, I say
syvah, syvah, syvah, like in the song
and you know Phibbah, it's not a bad comparison
for when women syvah, they squat for take-off
spread wings, and fly.
When they syvah, Phibbah
their feet remember
the wheels and tuns you did
at fellow slaves' wake
singing; when I die hallelujah bye, bye
I'll fly away.
And the take-off
when the torso comes fully into play
resembles the throwing off of shackles
and I sing; syvah, syvah, syvah
and think of you Phibbah
in miserable slavery.
How you suffered through each infection
Thistlewood gave you
as he cummed every skirt it crossed his mind to fuck;
how you must have wailed when his son —
your mulatto child died.
This wasn't in the diary. He kept it 'dignified'.
And as the women release in
syvah, syvah, syva,
their hands like albatross' wings
I think: in what moment
did you hatch your freedom plan
on this confounded man?

IV

Descending Red Hills in the morning
I think; this is not that different
from what Thistlewood saw—
the same green from the trees;
the air blanketed with lingering sleep;
caterpillars of smoke crawling up the sky.
Walking the streets, Jamaica, 2015,
I encounter Lincoln—downtrodden, but fighting—
on every crossing:
I see Phibba
in women who find freedom in men;
Susannah in the Ananda Alerts (1)
of missing boys and girls;
I see the surviving chattel of the Egypt (2) plantation
in the black-or-white-suited mourners
of the recently gunned-down area youth.
And I wonder;
who in Thistlewood's diary would I have been?
(1) Ananda Alert: Ananda Morgan was kidnapped in 2010 and her body found weeks after. The Ananda Alert, whereby a bulletin is given from a Police Station to the public when a child has gone missing, was named so in 2011.
(2)Egypt: the name of the Plantation in Westmoreland, Thistlewood was overseer to
Granmammy
Granmammy's mammy was a Puerto Rican
an' as granmammy sey
her daddy was a true blood
Coromantine man.
Granmammy sey
I remin' her of her Puerto Rican mammy
de way I 'tan' infront di mirror an' fix ma hair
like so an' so.
She use to sey: Is same way so
yu great granmammy use' to tan
wid' 'ar likkle likkle wais', an 'ar long, long, hair;
infront di mirror, a fix 'ar face.
Granmammy's mammy was a Puerto Rican
an' as Granmammy sey
her daddy was a true blood
Coromantine man.
An' when my granmammy come from foreign
she sit an' spin, an' pedal de sewing machine
mek skirt an' frock an' blouse
fi 'ar likkle Coramintine, quarter Chinese
Puerto Rican gal.
Dear Cesar Vallejo
Mr. Minister of Health: what to do?
Ah, unfortunately, human men,
there is, brothers, much too much to do.
Dear Cesar Vallejo,
In Jamaica, our collective anger is like the sea;
it undulates, then, goes under
like the nine-day-wonder;
or somehow straightens out
like the crushes of waves that flatten
into nothingness, like cloth ironed smooth.
So my grandmother is a dead fish,
an unknown, uncounted statistic,
whose heart couldn't manage the viruses'
rampage, on a body gone eighty-one,
but until then, strong.
My grandmother, transplanted from China,
was thrown under the bus, like the rest of us,
who never knew how susceptible we were.
Since mum was the word,
the people lacked knowledge and perished!
So, in Jamaica, Mr. Vallejo,
government stands at the board
like a silent god in heaven
above the crinkled cloth,
and the cloth whose anger is ironed smooth, is us.
*
The Role Of Poetry In Bringing Peace And Reconciliation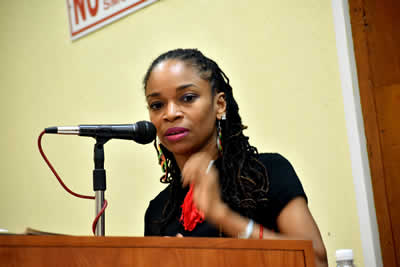 As a correspondence from Fernando Rendón, Director of the Medellin International Poetry Festival indicated to me, the main aim behind the staging of this Festival has been centred around your core belief in the power of poetry in influencing peace. This especially in light of the 52 year conflict between the Colombian Government and the FARC-EP.
Back home in Jamaica, in the early 2000s, I was part of a poetry workshop, led by Wayne Brown, someone whose poetry collection had won the 1973 Commonwealth Prize for poetry. He wrote poetry, prose and non-fiction –mainly current affairs columns – both regional and international. He taught both poetry and fiction workshops, and always said that his poetry workshops had a different atmosphere than his fiction workshops, and concluded that the poets had more of a quiet reverence when workshopping poetry.
Ladies and gentlemen, Mr. Brown zeroed-in on the primary nature of poets and poetry. Poets and poetry really, ultimately seek understanding and truth. They seek to know and get at the core of why we live; why we do what we do. And in seeking truth, knowledge and understanding, you have to be STILL, you have to LISTEN to not only the noise of man, but the quite of nature, the power of the environment we share. Being still and listening, in my mind, is a state of peace.
If the poet, seeks to dwell in that world constantly, then his/her works will be works coming from peace, therefore with that message of peace going out to the world, through the poems, other souls, also seeking truth, knowledge and understanding, will receive it, practice it, pass it on. The hope also, is that, those who are perhaps not seeking these things, may stumble on it, and be so affected they begin the process towards peace, when they read the poems.
Poets and poetry have been doing this for decades. Unlike guerrilla groups, that use weapons, poets through words have traditionally advocated for peace.
Even poems inspired from or birthed from war are odes or cries for peace. Have you observed that during periods of internal or civil war and also world wars, there are more poems focused on what's happening? More poems with the underlining message of peace.
Poets Who Have Written for Peace
Poets being humanities' eyes and ears, seldom turn a blind eye to their country's reality or that of the world they live in. In the 1930s for example, when things seemed to have been gearing up for world war, which was also the time of the civil war in Spain, an entire collection called POETRY OF THE THIRTIES, published by Penguin Books, had many poems rejecting war and the situations that brought about by war. Poets such as WH Audhen, Stephen Spender, Luis McNeice, C. Day Lewis, are in this anthology and they are most times here lamenting the deleterious effects of war and so advocating peace.
In SPAIN for example, Audhen has the Spanish Civil War (1936-1939) in mind, when he looks at Spain before the war, during the war and gives a hopefully peaceful future, after the war.
As the POETRY OF THE THIRTIES collection indicates, poets and poetry do have a platform, whether it be books, the literary sections of newspapers, poetry cafes, or festivals like The Medelin International Festival. The Calabash Literary Festival in Jamaica, is also another such platform. So yes, poets and poetry can influence change and peace.
The Medellin International Poetry Festival for example, in 2003 and other years, have been geared towards highlighting the disastrous effects of the war, with not only death, but massive displacement of the young in addition to the rest of the Colombian nationals being the legacy of the factions. As you know, the Festival has in the past organized readings and poets around certain deleterious or disastrous effects of the long-standing.
Your declaration made in 2003 "War is not the Solution to War" should be used as a reminder that Colombia cannot go back to 25 years ago. At the same time, this should be a slogan that the entire world takes on.
This is a message that poets gathered here for this festival should take to our hearts and let flow through our pens.
Fact is, I believe the poets through the years, living through times of social upheaval have latched on to this truth (War is Not The Solution to War) and have been writing this truth.
The Guyanese poet Martin Carter has a poem below:
THIS IS THE DARK TIME MY LOVE.
This is the dark time, my love,
All round the land brown beetles crawl about
The shining sun is hidden in the sky
Red flowers bend their heads in awful sorrow
This is the dark time, my love,
It is the season of oppression, dark metal, and tears.
It is the festival of guns, the carnival of misery
Everywhere the faces of men are strained and anxious
Who comes walking in the dark night time?
Whose boot of steel tramps down the slender grass
It is the man of death, my love, the stranger invader
Watching you sleep and aiming at your dream.
The poem above is in response to the arrival of the British Troups when Guyana was about to gain their Independence in May of 1966. Although full blown war did not erupt, or was not apparently threatened, Carter's response to the British troops and the armory of war they bring, shows the poet's desire for peace and creativity not destruction and war.
Poets create, war destroys. It destroys peace, destroys lives, destroys hope and trust amongst mankind. So naturally, poets will resist war.
Similarly, Wallace Steven's DRY LOAF and other 'war poems' are not celebrating war, they are elegies crying for peace. They are saying, as The Medellin International Poetry Festival said in 2003, War is not the Solution to War.
Even the W.H. Auden poem IN MEMORY OF WB YEATS, that begins "Earth receive an honoured guest William Yeats is laid to rest'; decries the savage effects and ravages of war. See below
III
Earth, receive an honoured guest:
William Yeats is laid to rest.
Let the Irish vessel lie
Emptied of its poetry.
In the nightmare of the dark
All the dogs of Europe bark,
And the living nations wait,
Each sequestered in its hate;
Intellectual disgrace
Stares from every human face,
And the seas of pity lie
Locked and frozen in each eye.
Follow, poet, follow right
To the bottom of the night,
With your unconstraining voice
Still persuade us to rejoice;
With the farming of a verse
Make a vineyard of the curse,
Sing of human unsuccess
In a rapture of distress;
In the deserts of the heart
Let the healing fountain start,
In the prison of his days
Teach the free man how to praise.
Before that section however. Auden says
For poetry makes nothing happen: it survives
In the valley of its making where executives
Would never want to tamper, flows on south
From ranches of isolation and the busy griefs,
Raw towns that we believe and die in; it survives,
A way of happening, a mouth.
Poetry may not physically stop things or bring about a change, but it survives in the mind, in the heart, on the lips of people, and in that survival, comes the influence. It survives to let people know that there is an alternative to war. It survives in the desserts of the heart, where the healing fountain will start. It will teach the free man how to praise.
Auden like all poets, know the power of words, to survive; to stay; to last; to influence; to bring about change.
Pablo Neruda, Cesar Vallejo both wrote poems advocating for peace in their countries. Neruda saw the peaceful ideal as closely representing communism, but that was his model, his ideal.
Peace, importantly, does not only mean the absence of war. True peace, which comes from within, is more easily attained when there is justice and equal rights. So the words from songwriter's like my countryman Bob Marley, who called for equal rights and justice, in songs such as WAR, Get Up Stand UP, Zimbabwe, speak about the pursuit of peace which is multifaceted – not just the absence of war.
Real and true peace is realized when every individual is at peace. So even with a ceasefire, poetry should still has work to do, to cultivate true peace. The peace that marble tries to encourage in songs like, One Love, Don't Worry, No Woman No Cry.
In summary, poetry is always the anti-war-cry, anti-war song, anti-war device. Poetry aids in insight, foresight, reflection, clarity and ultimately peace. Peace that starts from within and hopefully goes out and connects with the readers, listeners, community of poets and lovers of poetry and literature and hopefully much wider. Poetry works through the ripple effect, the domino effect, each one reach one and more.
Poetry is like the aloe vera in my garden I go to, to soothe insect bites, smooth my skin, erase wrinkles, poetry is a balm.
---
Ann-Margaret Lim lives in Red Hills, Jamaica. Kingston Buttercup (Peepal Tree Press, November 2016) is her second collection of poems.
Her critically acclaimed first collection of poems, THE FESTIVAL OF WILD ORCHID, which was published by Peepal Tree Press in 2012, was nominated for the UK Guardian First Book prize and received Honorary Mention in the 2013 Bocas Prize.
Ann-Margaret, who was commissioned to write the ode for Jamaican Poet Laureate, Mervyn Morris, BEARING WITNESS, which she read at the Kings House inauguration ceremony, was one of two Jamaican poets (the other being Morris) featured in the 2014 Ebony Magazine article: Six Caribbean Writers to Discover this Summer.
She lives in appreciation of the mentorship from: Wayne Brown, Mervyn Morris, Eddie Baugh, Kwame Dawes, Olive Senior, and the ground breaking examples of greats such as the Caribbean-spawned, Derek Walcott and the now generation of Loretta Colins Koblah and Safiya Sinclair.
Published in numerous anthologies in the Caribbean, the US and South America, Ann-Margaret represented Jamaica in the 2015 12th World Poetry Festival In Venezuela and looks forward to being part of beautiful Colombia's Medellin International Poetry Festival 2017.
-Ann-Margaret Lim . Poetry Society of Jamaica Wayne Brown Tribute Video
- Ann-Margaret Lim en el Festival Mundial de Poesía de Venezuela Video
- Festival of Wild Orchid de Ann-Margaret Lim Press release https://www.theguardian.com
- Poetry reading homage to Mervyn Moris Video
- Deep Rooots documental. NationalLibJamaica
Published at April 1st, 2017
Última actualización: 06/10/2021