Samira Negrouche (Algeria, 1980)


July 8th to 15th, 2017
INVITED POETS
Samira Negrouche (Algeria, 1980)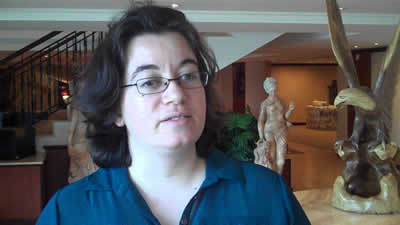 Samira Negrouche was born in Algiers, Algeria, in 1980. She is a poet, translator, narrator, essayist, playwright and medical doctor. She has also worked in the field of video, dance and photography.
Some of her published books: The Waves of Silence, 2002; The Cosmic Opera, 2003; Iridienne, 2005; Under the Granada's Shadow, 2006; Secret Cabinet, 2007; The Jazz of the Olive Trees, 2010; The Last Diabolo, 2012.
She belongs to the International Committee of the Festival "Voices of the Mediterranean" of Lodeve and is the general secretary of the Algeria's PEN club. She founded CADMOS, cultural association committed to the preservation of the cultural heritage of the Mediterranean. Part of her poetic work has been translated into Spanish and Italian.
Published at May 27th, 2017

Última actualización: 28/06/2018