Pedro Ortiz (Colombia, 1988)


July 8th to 15th, 2017
INVITED POETS
Pedro Ortiz (Colombia, 1988)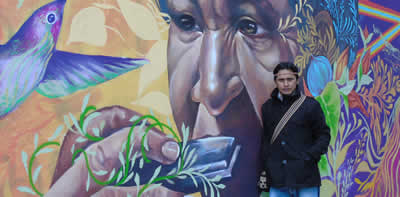 Pedro Ortiz is a poet from the Sibundoy Valley, Putumayo, Colombia. He studied in the Faculty of Law and Political Sciences of the University of Nariño. He is the founder of the Putumayo Literature Festival.
He has been invited to the International Recital of Poetry from the South, to the II International Encounter of Facatativa Writers, to the Voice of Life Encounter, among others. In March of 2015 he toured several cities in the country launching his book "Samai".
As a promoter of reading and writing, he has worked with children from the rural part of his region, producing a short story book entitled "Winds of Peace" and an audiobook in the voice of its authors, set to music from the region.
On November 30, 2016, he was recognized by Correo del Sur Magazine as the most prominent poet in the south-west of Colombia.
Published at May 27th, 2017

Última actualización: 28/06/2018