Aminur Rahman, Bangladesh, 1966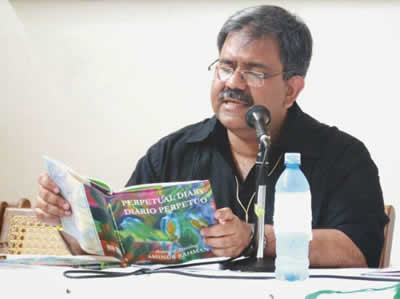 Love and Other Poems
Love : 1
A lot of difficulty
everything seems aimless
Just
a waste of time.
Without understanding
without giving
my heart is stiff
even though, all is clear.
Love : 2
With eyes closed
I make a diamond-choice
My heart is blissful
Though everything is lost
Love : 3
You love me quietly,
why then the abruptness
in you?
I am a lowly poet,
a picture without colour
lifeless.
Love: 4
with
nightmares the
one days
can pass
live memories
reasonably. fail to
last.
---
Aminur Rahman was born in Dhaka, Bangladesh in 1966, and studied at the university there where he graduated with an m.pharm[acy] degree.
He has published two collections of poems in Bangla -- Bishashikorotole (1989), and Hridoypure Dubshatar (1991); as well as a video compact disc (vcd) titled, Nivriti Nirvarata -- Solitary Dependence (1998), and a cd, Nirbachito Abritti -- Selected Recitations (2000). Forthcoming books, both non-fiction, are: Bangladeshe Shilpacharcha, and, Aabritti Bishayak Probandho (as editor). He also writes for various Bangla literary and journalistic publications. His forthcoming collection of poetry in Bangla is titled, Thikana:Kobitadhigir Par. He has translated Kazuko Shiraishi's Japanese poems into Bangla, and Sudeep Sen's English poems into Bangla -- A Blank Letter -- Ekti Khali Chithi. (2000). Love and Other Poems is Aminur Rahman's first collection of poems in English translations. He works and lives in Dhaka.
Published at February 12th 2017
Última actualización: 09/12/2021