Khalid Raissouni (Morocco, 1965)


July 8th to 15th, 2017
INVITED POETS
Khalid Raissouni (Morocco, 1965)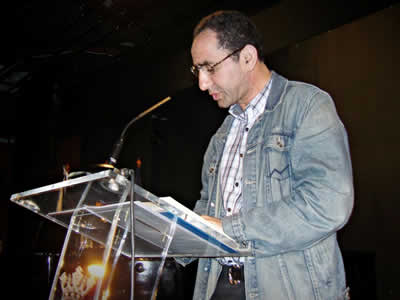 Khalid Raissouni Moroccan poet and translator, (Casablanca, 1965). Books of poems: Beyond Forgetfulness and Book of Secrets.
He obtained a degree in Arabic Literature from the Faculty of Arts and Humanities of Tetuan in 1988 and worked as a professor of Arabic Language and Culture at the Severo Ochoa Spanish Institute in Tangier. In 1985, he participated in the World Festival of Youth and Students in Moscow and contributed to the Moroccan Poetry Festival in Chauen, on several occasions. He is a member of the Writers Union of Morocco since 1986. His literary production includes poetry, articles, literary studies and the translation of literature, especially poetry. He has published his writings in Moroccan and Arabic newspapers and magazines such as Al Muharir, Al Alam, Al Quds Al Arabi, Kikah, Al Araby alyadid, Athaqafa al Yadida (New Culture), Nawafid (Windows), Al Bayane Kuwait, Nizwa , Doha-Magazine, Masharef Maqdissia... etc.
His activity of poetic translation is considered an attempt at a dialogue and construction of bridges of communication between the three banks, including both the Iberian and Latin American, since it completes a significant work of translations of Spanish poets and Latin American poets into Arabic. He has translated, among others, Antonio Machado, Federico Garcia Lorca, Rafael Alberti, Juan Gelman, Antonio Gamoneda and Andres Sanchez Robaina. He is a judge of the Argana International Prize that in 2013 awarded the prize to Antonio Gamoneda and in 2015 to Nuno Judice.
Published at May 27th, 2017

Última actualización: 28/06/2018