Fakhri Ratrout (Palestine, 1972)


July 8th to 15th, 2017
INVITED POETS
Fakhri Ratrout (Palestine, 1972)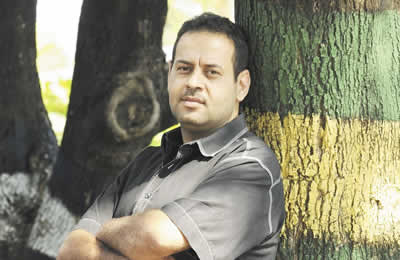 Fakhri Ratrout is a Palestinian poet and painter. He was born on a snowy morning in the desert city of Zarqa (Al-Zarq in Arabic) where it rarely snows, on November 10, 1972.
He obtained a Bachelor's Degree in Arabic Philology of the University of Yarmuk, Jordan. The goblin of poetry descended upon him in the Palestinian city of Jericho, where he served as a teacher for six years. In 2000, he moved to Nicaragua where his great-grandfather emigrated 100 years ago, and is currently working as a textile merchant. He has three poems published in Arabic: Made in Hell (Al-ghawoon, Beirut, 2012); The Paradise of the Assassins (Dar Roya, Cairo, 2010); and 400 Blue Elephants (Dar El Adham, Cairo, 2014). In 2016, he published in Costa Rica his poetry selection Drums of God.
Fakhri Ratrout's poems have been translated into Spanish and Italian and published in several anthologies of poetry. He has participated in the International Poetry Festival of Costa Rica (2010), the Granada International Poetry (2011), The Quetzaltenango International Poetry Festival (2011), The Salvador International Poetry Festival (2011) and the Granada International Poetry Festival (2012), and the Managua International Poetry (2012).
Published at May 27th, 2017

Última actualización: 28/06/2018