Hugo Francisco Rivella (Argentina, 1948)


July 8th to 15th, 2017
INVITED POETS
Hugo Francisco Rivella (Argentina, 1948)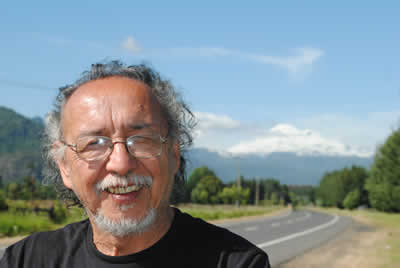 Hugo Francisco Rivella, was born in Rosario de la Frontera, Salta, Argentina, in 1948. He organized the National Encounter of Poets with People, in Cosquín, Argentina. He composed songs. He was Director of Culture of Rº de la Frontera. He had radio programs and was included in several anthologies.
Awards: National University of Córdoba First Poetry Prize, 1977; UNESCO Club First Poetry Prize, Second National Contest Buenos Aires, 1984; Central American Juegos Florales (Panama, Guatemala), First Prize Poetry, 1985; Second Prize National Fund of the Arts Literary Production, 2001, Buenos Aires; Jorge Barón Biza Competition First Prize Poetry - - Illustrated Poem - Córdoba, 2001; Fondo Nacional de las Artes First Prize, Contest of Folk Songs; First Prize in the V National Contest of the Zamba, Salta; First Poetry Prize for published authors, Secretary of Culture of the Province of Salta; First Prize Poetry Biannual Contest for published poets, Culture of Salta, 2008; First Prize Poetry Provincial Contest of La Copla, Salta, 2008; IV International Poetry Contest, Jaen, First Prize Poetry Andalusia, Spain; VIII Contest Jaime Gil de Biedma and Alba, Nava de la Asunción First Prize Poetry; Gilberto Owen Estrada Contest First Poetry Prize UNAE Mex, Mexico, 2011; First Prize Poetry In the Third Contest, Poetry in Paralelo Cero, Ecuador, 2016; Province of Córdoba First Prize National Poetry Contest, 2016.
Published books: Something of my Death, Rosario de la Frontera, Salta, 1981; Water From my Hands, with the support of FNA, 1995; Crystals in the River (Songbook), Vaca Narvaja ed., 1999; Horses in the Rain, FNA, Alcion Editora, Cordoba, 2003; Zone of Other Days, Secretary of Culture, Salta, 2007; I, the Bull, Alcion editora, Córdoba, 2008; Center of Storms, Secretariat of Culture of Salta, 2010; Of Fire and Shadows, Secretary of Culture of Salta, 2010; Whores (The hunting of the angel), Alción editora, Córdoba. 2011; Stone of the Angel -UNAEMex Toluca - Mexico-2011; Splintered Eye- Alción publisher- Córdoba-Argentina 2013; Thorns in the Eyes, El Angel Editor, Quito, Ecuador, 2014; The Shadow in the Mirror, Personal Anthology, 2014, Ed Norte-Sur, Mexico; The Mares and the Roses, Quito, Ecuador, El Angel Editor, 2016; The Hour of Lightning, Editorial 3600, La Paz, Bolivia, 2016; Inside of Me, Editions of the Dock, Buenos Aires, 2016; A Rose in the Jaguar's Claws, Apocrifa, Villa Maria, Cordoba 2016; Poems in the Language of a Sleepwalker, Cordoba, 2016.
Published at May 27th, 2017

Última actualización: 28/06/2018