July 8th to 15th, 2017
Fahredin Shehu (Kosova, 1972)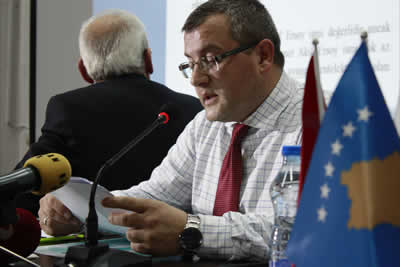 At Gizeh street in 2005




How many waxing and waning moons,
and those sickle among the stars confused.

If for others my dear you seem
the same in every season,
for me here in Gizeh street in Cairo
You are different,
different every time
as I defer your face and bow
down so you set beside the face
ff the Sphinx and walk
gracefully pampered by the smell
of Oud and in balcony drinking with a friend
Lipton black tea with some fresh mint leafs
soaked in huge ceramic mugs and roasted
cashews, pecans and macadamia
to foster hard thoughts.
Then the thin long ropey slices of carrots
and cucumbers for refreshment- while,
the air is humid although is two after midnight.

So I want to visit a lady,
on whom many words have been spread,
as she is a princess of some south Arabian tribes.

The apartment in the 12th floor,
and on that very moment
as we eat the royal dates and ice cold water
we drunk- the earthquake started.

The lady was terrified,
more than I during the wartime.
…and she said:
There was not an earthquake in Cairo
since 12 years ago, may Allah
protect us all.
Then she continued praying in Arabic.

I never knew what.




I have time




…for the lessons I've learned
Were severe as soul's wounds
Never cured by any known remedy
No happiness, no smile nor a kiss
Only LOVE leaves no shade

For I have time to listen
The cry of the orphan
And the smiles in kindergarten

I have time to attach
The pollen of the sunflower
On my eyelashes and
Run over a golden Wheatfield

I have time to grafting sharts
And enjoy the smell of grape's tiny flowers
Run across the vineyards
Of my distant childhood

I have time to count the stars
As I did as juvenile and
biggest stars I enumerated
showed the nipples in my hands

I have time to grab two rainbows
And knot them in sailor's knot
High above the mountain's peak

I have time for cherry blossoms
In her garden and wait for
The passionate fruits far before
The heat of August while
We cool the watermelon in
A flowing ravine of desires

I have time to hear
The erotic whispers of nightingales
And hear splendid melodies
They both deliver to the ether

I have time to mature the already old wine
And make vinegar for healing
And dry the best cheese of Kosovo
From the highest Shar mountains

I have time to collect scarlet
Pink and yellow rose- petals from
The garden of my grandmother
And make a jam to rejoice the day

I have time to visit sick
And heal the bruise from
The ankle of my spoiled son
Who run after blue butterflies?
In the sunset of the late spring

I have time to comb long hairs
Of my daughter and perfume them
With lavender oil and
Count her teeth as pearls from
Depths of the grand ocean

I have time to collect red corals
To make a necklace for my beloved wife
And out of kelp
Design a dress well embroidered with
My utmost Love

I have time to suffer for the hungry
Stomach somewhere far from my
Abundant crops and
Deliver it far away

I have time to put honey on the heart shaped
Leafs of plantain
To heal the sunburn of betrayed and
And read & respond to distant Facebook
Friends greeting my birthday

I have time to contemplate
The most difficult Koan
And do remember MY-ness
Instructed by Gurdijjeff

I have time to watch the Moon climbing
Above the hill and know it's
Not split in two just because
Of my broken eyelash

I have time to Love, Love, Love…
Just because I Love and
There's nothing to be left over
Nothing but Love one may not regret




My silence




The world is getting full
with Plethora of particles
on a table I sit fully numb.

It seems in vain I have struggled
To please everyone
so to remain solely alone.

Those who were born before me and
those that are born and to be born
equally- expect my Silence.




Gentle Mortification


Piles of Men bones and then… digged from the holes hidden deep in earth.
Stones and ashes with sweat of slaves you think we don't have them today.
My hair turned grey and the vision shortened. It suffocated by bizarre images
created throughout the world and beyond. Who said and who had ever promised
us to come down on earth and enjoy our vacation, for life demands more than
I may see, more than I may feel, more than I may utter the first word of
the first language- that of Silence.

There's another Soul evaporating on the deck and in the shore the breeze blows
odors of their smelly sweat. They watch as they wait in the queue their turn
to death entrance. That Gate open-heartedly awaits so many …a way so many
guests for their retirement. There is a vast Space beyond blissful Knowing and
the bells rang beneath the roof of the utmost Heaven.
You see. Even Death is different, not only Fate, not only Joy, not only
uninterrupted Smile- The one that demolishes every hatred. Even Love is different

in the process of your Gentle mortification.
Then ask me where is Freedom, where is the Turquoise bone of Destiny and
the days as cheap minerals overwhelming Life taken as corn seeds by chicken
and a rooster with the chirping voice who calls them and don't allow them
to have even a grain.

…and the flowers are frozen by the snow on the April's end- this Spring has
betrayed us all- sour are the strawberries, you think you eat cherries.

…and what else do you think we shall do when the Sun burns your shadow
until it disappears.

Who said you have a right to call me Life- when in real I'm only
a Gentle Mortification.




Some hours after dark


Three hours after dark, a strange voice life had sounded
I got birth to Love while I smiled as a mundane imbecile
after each blossoming of linden in the late spring 2014.
People use to walk over-burdened with weight of the city
in despair for the assassinated young lad who left behind
a pregnant young lady waiting for a girl.
The mother cries and the spouse too- who shall represent
them in Men assembly? – Who shall be the voice of justice?
when tonight Justitia was raped mercilessly and the king
is mourning deep from within- secluded he is licking
wounds as an old Lion. Some say he is gathering forces
for the last roaring, other say he falls in unreturned sleep.
What can I say…what can I…? – Who once again rejoiced
Life for who knows how many Man's years. Reading in verandah
writing sentences that are percolated from the Soul as
a freshly picked black grapes, and the vine to drink while
the right cheek is moonlighted on the last Friday, June 2014
embraced with the sounds of Eastern magical instruments
Santoor, Oud and Nay blended with the chirping voices
of the grasshoppers.

*




The role of poetry in building peace and reconciliation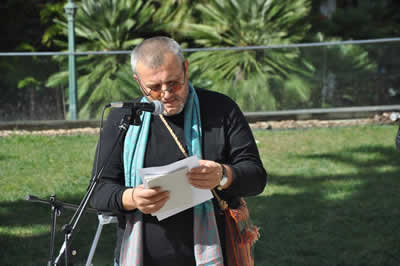 Cultivating poetry for over 30 years and being descendant of poetic family in the last 440 years I have gone through many life's challenges and many turmoil.
The last war in Kosovo in 1999 was the most difficult experience one may survive. Despite this Poetry never let me abandon her abode and always kept cozy in her recess.
In 2005 for the fist time I went to International Poetry Events in Sarajevo, Bosnia, where I met so much incredible poets from former Yugoslav area. I met also Serbian poets from Bosnia and Serbia with who we had a lot to discuss upon. It was poetry that united us and diminished the gaps between us.
Later in 2014 I went to launch my book "The Pen" published in Serbian Language by Arhipelag publishing house. I went on reading my poems in Albanian as well as in Serbian Language thus breaking the wall of silence and created a time of reconciliation. All tribute goes to Madame Vida Ognjenovic who was Ambassador of Serbia to Copenhagen, President f Serbian Pen Center, and Mr. Gojko Bozovic the Publisher. Indeed it was not so easy to get the courage to go there since I had had the worst war experience. Many of my friends died in Kosovo, and we use to live under apartheid regime of Slobodan Milosevic before Kosovo got Independent and recognized by 114 Countries of the World.
Due to my travels to International Poetry Festivals I gained experience and got to realize better the role of Poetry in building bridges among nations, and gathering people from all corners of the World. Thus in 2014 I was awarded a Gold Medal for Poetry as Bridge to Nations from Axlepin Publishng in Philipines.
After so many things happen a group of people approached me here in Kosovo so start with International Poetry Festival. And I immediately happen to have a brilliant idea of having the festival during the Grape harvest. So our festival is Poetry and Wine, which has some key criteria that consequently none of author invited in one year shall be participant in the upcoming one and another criterion is one Country one Poet. This helped us to have more Countries of different race, color, gender, affinity, frankly speaking the poets from all continents. The fraternal atmosphere created in such gathering is all thanks to Poetry and Poetry lovers. There is no best catalyst than Poetry and Wine for getting people reconciled and share food, wine, poetry, experiences of life etc. A Serbian Poet with Kosovar Poet, a Palestinian with Israeli, a Macedonian with Greek, etc. all sitting in one table, all reading together and bringing back home their incredible experience.
Prishtina, Kosovo
March 2017
*
Fahredin Shehu is a poet, writer, essayist and Independent Scientific Researcher in the field of World Spiritual Heritage and Sacral Esthetics.
Born in Rahovec, South East of Kosova, in 1972, he graduated at Prishtina University in Oriental Studies. Passionate of Calligraphy, he actively works on discovering new mediums and techniques for this specific form of plastic art. Certified expert in Adult learning/ Capacity Building, Training delivery, Coaching and Mentoring, Facilitating etc.
Participated in many festivals and conferences as International Poetry Festival Voix de la Mediterranë, Lodeve France, 2011, Participation at Struga Poetry Events- 50th anniversary, Struga, Macedonia, 2011, Participation at Nisan Poetry Festival in Maghar, Galilee, Nazareth, Israel, 2012, Participation at PEN Macedonia 50th anniversary and Regional cooperation, Skopje, Macedonia 2013, Participation alt Malta Literary Festival and Workshop, Valletta, Malta 2013, Maelstrom Poetry Festival, Brussels, Belgium 2016, Sapanca Literary Festival, Turkey 2016, 10th Anniversary- Ottobre in Poesia, Sardegna, Italy 2016, 10th Anniversary- Sandzako Knjizevni Susreti- Serbia 2016 etc.
Some 16 books so far have been borne and poetry translated in English, German, French, Italian, Spanish, Polish, Serbian, Croatian, Bosnian, Macedonian, Roma, Swedish, Turkish, Arabic, Hebrew, Romanian, Chinese/ Mandarin, Maltese, Frisian, Sicilian, and in several international literary magazines and anthologies such as The World Poets Yearbook 2009, Bei Jing, China, Poetas del Mundo, Santiaogo de Chile, Blue Max Magazine, Dublin, Ireland,Tribune de Geneve, Geneve, Switzerland, Check Point Poetry, Le Reti di Dedalus, Italy, Anthology, Alquimia de la Terra, Ann Arbour Review, Michigan, USA, Coldnoon Lityerary Magazine, Jawhalal Nehru University, New Delhi, India, Healing World Anthology, New York, USA, Poetry in Anthology for the Rights of Hazara People, Oslo, Norway.
He edited the Anthology World Healing World Peace- Inner Child Press- USA 2014, an Anthology of contemporary Kosovo Poetry in Turkish Language, 2016. He is also author of the novel, "The Honeycomb"- Authors edition, 2013, which is structured in 8 angels through 8 human occupations as an accomplishment of Bee honeycomb, making reader the ninth one, referring to symbolism of Enneagram that is for the first time in Albanian language explained through this novel.
Fahredin Shehu is the Poet Laureate of Gold Medal for Poetry as bridge to Nations, Axlepin Publishing-Philippines, being selected among many world excellent poets, writers, photographers and painters that contributed for making World a better place, 2014.
He is Founder and Director of International Poetry Festival, Poetry and wine in Kosovo.
Published at April 7th, 2017