Firas Sulaiman (Syria, 1969)


July 8th to 15th, 2017
INVITED POETS
Firas Sulaiman (Syria, 1969)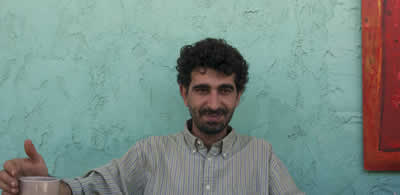 Translated by Samantha Kostmayer Sulaiman
Freedom
In the middle of a strange rapture
we were talking about freedom
my mother was darning
the socks of my little brother
suddenly war broke out
everything turned to rubble
except my brother's socks
which were left dangling
from the clothesline like a
flag
What's Left
What's left for the gypsy man when
they've imprisoned him in the city, 
killed his horse, stolen
his dagger and his woman,
except to make a horseshoe
of words, reins of rotting
air
for his new head
Stranger in the House
I leave the tap
running all night long
in order to disguise
happiness
sneaking into my room
and so my father believes
there is
no stranger in the house
Damn Me
Damn the joy that makes
me crazy, gathering fallen
keys from a piece of music;
Damn the doctor who
confirms my depression;
Damn me
I hate the spoiled displays
of grief in the sitting
room, and to put it in a
nutshell, My eyes are
tremendous and my hands 
are shaking in the sink
Father History
Long fingers
patient as a mirror
good for playing the piano
and pulling the ears
of children who insist
on growing up;
Long fingers broken
because they want
to touch the beard
of Father
History
I Am My Late Guest 
I will think of myself
I am my blind guard, an old man
I will remember myself
I am my friend who forgets my name when
he compliments me
I will love myself
I am my mother on another continent
asking what my skinny son is eating now and
crying
I will trust myself
I am my apprentice who doesn't learn anything
I will laugh at myself
I am my late guest who won't miss anything
I will sympathize with myself
I am my enemy who's losing
I will kill myself
whenever they pay attention to me
I will dream of myself
as tremendous and real as something that
never happened  
Bridge 
On a high bridge
I stand
Not to imagine the feelings of those who jumped
killing themselves
Not to feel sad for them
or sigh for their dark lives
deep in the dark water
I stand
to pick what remains of the bubbles
of their beating breathes
Their breath that still lingers in the air
I pick as much as I can
from their dust
So I can cross the bridge
Hide Behind Myself 
Like a boy emerging from an animated film
He sits in the mother's kitchen
He mixes spoons with knives
He blows his drooping quiff of hair
and then he leaves.
I'm him, but not quite
I enter poems
I play with death,
The sticky drippings from words,
and I hide behind myself
as a trembling soldier
Different Chasm 
He doesn't want his poems to go to college
He wants them on the shipboards
the lying sailors recomposing them
He wants them just a few meters behind nature
foolish lovers misunderstanding them;
He wants them in the bars crushed
like a small piece of air
between two toasting glasses
He wants them scared and dumbfounded
on the edge dividing the two chasms of memory and
forgetting
He wants them in a different chasm
Meeting Pessoa 
I moved the orange mass
From right to left
I took two steps backward and glanced
I noticed no difference
I approached the table
I lifted the thought of the cellar two meters up
I stood on the chair and glanced
I noticed no difference
I closed my eyes and imagined myself with Pessoa
at some seaside café
Talking about God and trees and broken fans
Then we were both nudged by a light boredom
like a rain shower outside.
He leaves in his long black coat
and his hat, like a huge coffee bean,
as if he's a spy working for infinity
While I hopelessly open my eyes
and return to move that orange mass from left
to right
as if I haven't learned a thing in twenty years
God    
1
God is now afraid, afraid in his
cellar like nobody could ever
imagine
too old, untouched by time
unable to lean onto the tired shoulder of his memories
He needs no metaphor to prove how much he
trembles
He says no words
afresh He sags in the ancient inns of essence
in the narrow taut moment between what happens
and what didn't happen
God, who's scared of everything
glowing in the shackles
2
I am the God they lost when they got found
It's time to lean on myself and cry
with no one to help shake off the universal mosquitoes
that land on my dreams
Glory unto me, how I accepted the trick until my heart
putrefied, how I accepted the name knowing it would
be embodied
Glory unto me, how I bestowed upon them my labyrinth
as a question to create me from mud and fear
I am God, It's time for me to send my angels and soldiers
into retirement,
to turn heaven and hell into a swing
It's time to leave this throne to emptiness or, at least,
to the humidity of my regrets
3
God desires to sweat,
to get tired, to sleep,
to go to the market,
to feel the candy melt in his pocket hidden from his greedy friends,
to gamble, to get scared,
to lust after beautiful women, then isolate himself
lonely in his room,
to become like ordinary people or failed geniuses,
to cloister himself to be different,
to stay up as a lover, as a guard, as ill
to become a father of a good or a bad boy
he desires to demonstrate against himself
to argue with those who replaced him with something
worse
he desires to be misunderstood in another way
to write a forgettable book
to weep and get sympathy
to love nature
to hate life made by men whose
pictures fill the screens
He desires to be as simple and naïve as
his believers, as pretentious as those who don't believe
in him, and as lost and sensitive as those
who are still considering him,
He desires to love a woman,
seek shelter in her, then get bored with her
God desires to be a woman
and to know why the music turns him into
a wide moment imprisoned in form
God desires to rip off the tight loose shirt of the word to
succumb to the calls of his body
God desires to dream
desires
to live, live
then no matter if he dies tomorrow or after tomorrow
God desires to be
*
The End That Recurs Nonstop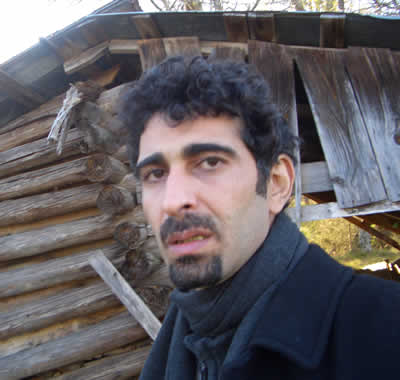 By Firas Sulaiman
Translated by Samantha Kostmayer Sulaiman
Special for Prometeo
What do they do in the war? Some of them grind the bones and the skulls as fast as they can in order to forget they had become killers; from behind the ramparts, from behind the corpses of one another, they open fire on other corpses. Some exploit the storming silences to squeeze their hearts on the cold ground in a cracked night waiting for daytime, which might come to tie what's left of veins and arteries and the broken breathes of their brothers.
Children, women and the elderly dangle from a hole in the air's wall separating the fighting fronts as seaweed dangles from boats full of blood.
In the end, this recurs nonstop. Some watch in terror the disintegration of names and things and divide the regrets by so many numbers, then toss them randomly. In the end, this recurs nonstop.
The living try to spit, to scream until their guts explode in decay.
The rightness of history explodes into fatal mistakes.
In the end, this recurs nonstop. All are waiting, servile.
…
Each side goes armed with its coffins.
Each side is a memory badly drawn.
…
Must the refugees thank god that their tents have no windows from which to view the ruined sky?
…
Those fleeing from death, who haven't yet died, they live as echoes in places that no longer exist, live in the bloodied shelter of recollections.
…
God melts as a sharp fatal tool in blind hands.
…
Each holy text, a belly of evils.  Each interpretation, an assault.
…
Because the dictator sees only his photograph, and because he's not used to seeing his photograph shaking, he doesn't believe. He sits in the frozen moment thinking that he makes history. The dictator isn't lacking for nationalists, those who stabilize what he loves to see - only his photograph. Now, when the photograph shakes, everyone sees except for him. He doesn't see, he doesn't hear, he only has his delusions and his commands.  But the people tear your photographs now, O dictator. The dictator steps from his bubble/his moment and when he does, he steps only to suppress, to restrain, to kill, to represent the future in his past; if he steps out, he does so only to enact his ending.
…
But we, who thought that the stage was prepared for our voices, our feet, realize now that we were just slow walkers in a long corridor leading to some outside.  The killers who were and still are among us, those whose naïveties we used to shove with our elbows with a lot of arrogance and a little sympathy, now, they occupy the space. The killed and those who will be killed, whose screams and cries rise above, who come from the sharp colors of life turn the stage upside down while we in our long corridor, we who used to think about exits, we are lost, weeping now.  
…
And their leader said, "you can smooth over this land of holes with corpses."
…
In this cursed East, the nation also has a lifespan.
…
In the war, the futility that struggles for its purity can escape the meaning that created it. The futility goes purely to itself dragging with it the killers and the victims.
…
In the war, when you are watching all this death, stroke the shoulder of the corpse sitting beside you, and if you are alone stroke your own shoulder.
…
In the war, you can call the hole in the tank a wound.
…
In the war, pain has neither harmony nor dissonance.
…
I write here and now about the war in order to offer a praise for peace.
I write about the war because the country in which I was born is burning to the already scorched ground.
As if writing will remind the future of all this blood still dripping from the memory of wars past.
I write knowing that writing will end neither desolation nor devastation.
I write because writing is an act of living amidst the dying.
Or to prove that we humans remain mistaken and sinning against ourselves and against this small planet. But, too, we commit offerings of poetry and of peace.
We are the children of music and of language. Can we save the earth from dying and leave messages for those who come to build a life with love and with peace?
*
Firas Sulaiman is a Syrian poet with multiple publications in Arabic including six volumes of poetry and a collection forthcoming in English translation. He has also published a collection of short stories, experimental fiction, a book of aphorisms and numerous articles, in addition to appearing in several anthologies. His work has appeared in English in Banipal, The Wolf, The Manhattan Review, 22 Magazine and Washington Square. In addition, his work has been translated into French, Romanian, Spanish, Swedish and Croatian. He currently lives with his wife in New York City.
-Poemas English-Spanish
- Poems
-Facebook
Updated at March 15th
Published at February 8th 2017

Última actualización: 28/06/2018