Maria Takolander (Australia, 1973)


July 8th to 15th, 2017
Poems by Maria Takolander (Australia, 1973)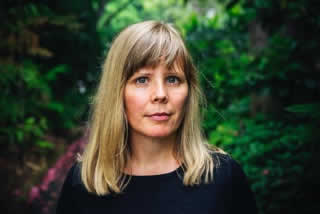 Hotel Room
This is a place furnished by sanity.
The bed cover, beige, has been ironed of dreams.
TV channels, like zebras, are caged in a flat screen.
Food and drink are miniature, in hiding.
The toilet seat has been deftly secured.
Outside there are hallways designed by doctors.
A gentle choice: up or down.
The mirror on the back of the door seals us in.
As if 'do not disturb' meant anything.
Chimney
By day it does its cumbersome work,
only slowly,
clogged with the sweat
of coal, meat, sticks and wood.
It is like a character from folklore
—or something older—transmogrified
into this domestic hunkering
of brick and soot.
*
In the evening it partakes of the ominous:
the sky's transfiguration into night.
When the men and women have come and gone,
like loaves of bread,
and the darkness solidifies and the children dream,
            the cold of the planets begins to seep in.
Before dawn, with the embers quiet,
the chimney opens itself to the stars' alien light.
Geography lessons
How a mountain can forsake you for the sky,
            casting away your heart
            like a goat kicking at a brittle stone.
How a forest can feed you with its air,
            tenuous fusion of night and day, 
            until you think it might be enough.
           
How a river can feel small and dangerous,
            calling you by your secret name,
            the one only your mirror knows.
How an ocean can rage at the moon
            until you adopt its colossal anger as your own
            and live believing it is all something personal.
Storm
After Terry Eichler's
Passing Storm, Cape Otway Road
(2003)
Dreams don't happen like this,
Although we think they should:
The earth giving in, flattening
To the darkness, the storm
Fattening, blacking like squid.
It creates its own space,
This petit mal, this little night,
With a need as vast as that
Of the beginning of time.
It may be true we don't deserve this,
Our earthly things reduced
To shadows we dream
Things from: the firs, the stooks,
The fence posts—none belong.
They don't belong.
Yet we've always waked and slept
When the sky says we should,
Like birds and monkeys,
Abandoning the world
Evening after evening
With each noiseless revolution
To the secrets of insects and bats.
Each morning we find
Something changed:
Something added—
A shift in the soil,
The sibilance of grass.
After rain, there are snails,
Startling as hailstones.
But always less remains.
And we're left with this hurting,
As if in the darkness
Or the infant light
We might have seen 
The ocean as it really is
Or god.
Canasta for lovers
Hold the hearts close to your heart:
they will feed each other blooms of colour
and the nudity of shapes
until you are bursting
with the need to hold it all in.
For you must never call a spade a spade:
your lover is angular, a dark, cemetery stranger.
Look at your lover that way.
Diamonds, the distraction of arithmetic,
can be anyone's friend.
 
Clubs are for striking.
When you foresee the end,
get out before your lover does.
Enjoy the orgasm of discarding.
Endure the afterglow
of solitude and spite.
Satellites
For David McCooey
Close your eyes and
  let me photograph you.
Touch your eyes and
  coating yourself in silver
like brine
  let me steal your soul.
 
Let me look in your mirror
  when it doesn't know.
 
Let me see you softly
  where the planets are circling
some unknown immensity.
  We're all blind in this space,
 
strangers together.
  Here I can be your bride.
 
Faceless, skinful—
  look. It's you and me lost.
 
And that's okay.
  Yes. It's beautiful.
*
Maria Takolander was born in Melbourne, Australia, in 1973 to Finnish parents. She is a fiction writer, poet, scholar, and educator.
She is the author of five books: a collection of short stories, The Double (Text 2013); three books of poems, The End of the World (Giramondo 2014), Ghostly Subjects (Salt 2009), and Narcissism (Whitmore Press 2005); and a work of literary criticism, Catching Butterflies: Bringing Magical Realism to Ground (Peter Lang 2007). She is currently working on a novel for Text Publishing.
Maria's fiction has received various grants and prizes. The Double (and Other Stories) was supported by Australia Council 'New Work' grant; was a finalist in the 2015 Melbourne Prize for Literature's 'Best Writing Award;' and was named a best book of 2013 by The Australian and other forums.The inaugural winner of the Australian Book Review Elizabeth Jolley short story prize, Maria's stories have also been anthologised nationally and internationally.
Maria's poetry has been similarly acclaimed. The End of the World was named a best book of 2014 by Australian Book Review and reviewed in the Los Angeles Review of Books. Ghostly Subjects was short-listed for a 2010 Queensland Premier's Prize. Maria's poems have also been widely anthologised.
-Oficial website Maria Takolander
-White Australia Poem by Maria Takolander in Vimeo
-Interview
-The Painful and the Threatening: an interview with Maria Takolander: 7 By Will Heyward in verityla.com
-Short stories Mascara Literary Review
- Explainer: magical realism By Maria Takolander in theconversation.com
-Review about The Double, by Maria Takolander By Karenlee Thompson in anzlitlovers.com
Published at February 15th 2017

Última actualización: 28/06/2018