Zhou Sese (Popular Republic of China, 1968)


July 8th to 15th, 2017
INVITED POETS
Zhou Sese (Popular Republic of China, 1968)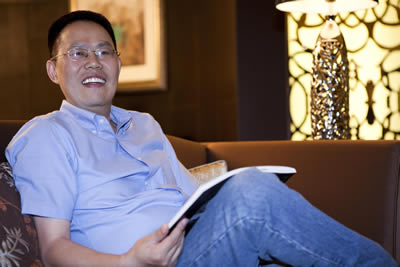 Zhou Sese, born in 1968 near Dongting South Lake, Hunan Province, China, is a poet, novelist, literary critic and painter. He was the administrator of a computer company, director of English documentary programs for the China Central Television, and chief editor of the documentary Stories of the National Library of China (one hundred episodes). He currently lives in Beijing, is a member of the China Writers Association, director of the Center for Poetic Publications (Beijing) of the Baihuazhou Literature and Art Publishing House, deputy general secretary of the Young Entrepreneurs Association of Beijing's Zhongguancun Haidian Innovative Park.
He has published ten books of poetry: The Muse's Lovers , 1990; Flying with the Language, 1992; Seventeen Years, 2005; Kaqiu Kaqiu, 2006; Under the Pine Tree, 2007; The Gifts of This World, 2009; System of Private Property, 2011; Hard Bones, 2013; Culturalism: Metapoetry, 2014; Lishan Mountain, 2016, etc. Five novels: Ambiguous Street, 2005; The Authentic, 2006; For Whom Open the Wildflowers? 2007; The Apples, 2008; The Zhongguancun's Crows, 2009; As well as a telenovela novel-script, Band of Chinese Brothers, 2009; a critical work, Festival of Criticism, 2009.
He is editor-in-chief of the Kaqiu Poetry Magazine (since 2007), editor of the poetic anthologies Poetic Selection of the New Century (2016), Annual Ranking of Chinese Poetry (2015, 2016, 2017), Poems We Read in Those Years (2016), etc. He is director of the project Collections of 100 Years of Poetry (Chinese poets and critics). He has been awarded with Chinese Poets Top 10 Influence in 2009, Rougang Poetry Prize in 2009, Best International Poet in 2014, China's Illustrious Poet in 2015, Poetry Guard Prize in 2016, among others. He created the Kaqiu-Pen Warren Poetry Prize and the Chinese poetry group of field research. He is a Buddhist believer in the Fahuasi Temple in Hunan, named after Shengzhou.
Published at May 27th, 2017

Última actualización: 28/06/2018