Poems by Khadijatou Doyneh (Guyana)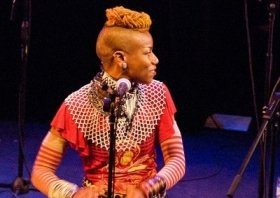 Por: Khadijatou Doyneh
The Spirit Of The Drum

(Written by Khadijatou on 24 April 1994 inside Jazz Café, London after travel research and training in Gambia and Senegal)


Pt.
The Spirit of the Drum
Lies in the Earth
The Earth… Mother…who provides
The soil…the seeds…the rain…sun…
The seasons
The Earth promotes creation and allows growth.
The trees… the trees
The trees know.
Baobabs, 100s of years old
Which have been, and still are… growing
Holds the key to the spirit of a people who today
Relate socially via the medium of the Drum.
Behind the guise of a fortress,
The Baobab trees lined around the 'Ile du Goree'
Held – for more than 300 years –
The horrors of the legacy and
The savagery of human trade
The smell of our Ancestors' flesh…and sweat…
And dried out blood… still lingers on
In the prisons purpose built to destroy the family Africa
The family unity…
the family love…
the family spirit.
Separated and forced on a tortured journey across an ocean
To unknown destinations
The ship, made of wood…from the trees… knew.
The were always watching…
They still are watching.
This time its fruits will be used to help us go forth
Evolve and advance in an ever-changing world
Today, as in those days
The wood from the trees
Are carved into drums –
Each and every one of them contains a Spirit.
The Spirit from the branches of knowledge is
Passed on to the players from those lands
And the music,
And the dance,
And the folklore
Continues to live on…and on…and on.
Pt.II
The Trees made into books
That we increasingly write as well as read
To acknowledge our heritage, spirituality, culture, self-worth
The trees are protecting us
They speak and advise us
(Is this why they are chopping down our rainforests?)
Afraid of repercussions from a higher being
They "4ever sleep with one eye open" (Me'Shell)
As the trees make the doors that We will Open, for Us,
Our skills and inventive nature will relinquish
The best of the old traditions, language, dances,
Songs remembered by the spirit of the Drum
And as we move forward
With an even more sophisticated, complex and exciting set of traditions.
Pt.III
Our times are of modernization and capitalization
Of everything and everybody
Our times are of mass genocide
Pre-planned by man and man-made devices.
Our time in which they have maintained and retained Fear
The Legacy of over 500 years
Something we all vow will never ever happen again…
Must not happen again…
Happening again.

Africa
African Diasporians
We are now dispersed
Re-taught by the legacy
And to some extent re-trained in our thoughts to be stronger.
In our modern times
We relate to the earth in a completely different way to our Ancestors
Some make profit from polluting
But some of us are endeavouring to re-educate ourselves
Returning the gifts of life and love back.
In our modern times
Africa's children are already Europeanised,
Caribbeanised
North and South Americanised
Re-acclimatised and customised to the realities of 'now'.
What does tommorow's future hold for tommorow's people?
In our modern times
Being Black is still to be 'held back' (even with some slack)
Still stereotyped, hyped and always having to fight
Against an even more complex barrage of race 'isms', skisms
Sexism, and phobia of being a homosaphen of African descent.
(African and decent
An African who 'they' sent)
On a ship made of wood.
At least this time around
We have learned to wise up!
Many trees made into books that we now write
As well as read
To acknowledge our heritage and spirituality
To acknowledge our culture and self-worth,
Something that the trees always knew.
End.
INTO THE JUNGLE
(Written about South America & Caribbean & indigenous Peoples, including African Diaspora by Khadijatou 15 June 1997)
Into the Jungle
Came some people, dem, who started to mingle
With the Man dem who lived in the Jungle
You know, the Trees then started to rumble
In the Jungle
The Natives now began to humble
Mistake the man for a God, in the Jungle
Clouds get dark, mek noise and start to rumble
In the Jungle
The Man now tek out him Bible
And to the people dem, throw down two jingle,
Make the man him friend, then him started to mingle
9 months later, mix-up baby, woman single
In the Jungle
In the Jungle
Where people cared, and loved each other
As a people
Never need to into no building with no steeple
Already knew the things that was good
And what was evil
And in the interim
Some of them are dancing and catching up new riddim
Whilst the others, dem gone out, gone 'gold digging'
Poison precious water
Dem had to stop drinking
In the Jungle
In the Jungle
The natives realised 'the man' was trouble
Come to 'bruk him back with work and pay him no money'
Take him life with a gun and screw up him 'honey'
Live was fickle
Man would all and 'knock out next man' for a nickle
Take your babies and sell them all off, for money
With no regard for mummy, daddy or the Family
Didn't give a S**t about your Destiny
In the Jungle
In the Jungle
Olay, Olay,
Olay, Olay…
Into the UK Jungle
Came our Parents, dem, who started to mingle
Dem hear a Rave was happening
Dem hear it 'pon a jingle
Pirate Station
Playing from a roof top
Message tells the man that "dem lost out 'cos dem left dem plots'
Now dem children have to stay here till dem is old and rot"
In this Jungle
Where concrete and car fumes spill out raw pollution
Man have to work hard to get a few things, like promotion
Twist up woman's hand in a dance, for some emotion
Still, Young People are dying
Authorities have got our Mothers and our Fathers crying
Yet, some of us don't want to stop and disturb our 'lifestyles'
To stop and demonstrate against it all the while…
So, centuries later
'The man', them, who went to the Jungle
Sending their Grand children, who are starting to grumble
For the man, dem, to 'return to the jungle'
When you are ask them, they were sent by their Uncle
Saying that them, themselves, they don't want no trouble.
'Cause in 'this' Jungle
The music that we playing here is 'Jungle'
Roots music, Hip Hop and Reggae is blasting
Telling the people that our history will be lasting
Surviving…. In the Junge
Reviving…. The Jungle
No way out of … The Jungle
'Cause we All Live….. In the Jungle!'
End.
---
Khadijatou Doyneh is a savvy S. London based, Guyanese raised, African-Caribbean woman of the 21st Century. A singer-songwriter, poet & drum percussionist armed with stories to tell via catchy music, songs and words, delivering a stunning live set. Khadijatou is a Graduate of Middlesex University and been performing in UK and abroad since 2004. She sings, whilst playing djembe/percussion and dances as well as her vocals & spoken-word. Her live concerts are described as 'Striking!' and known for its eclectic uses of Caribbean patois, fusing genres from Afrobeat jazz to infused dub poetry.
2016 welcomed Khadijatou back return to the London and World stages. She has just completed her thesis for her Masters in Applied Theatre at Goldsmiths University of London. Her original research in South Africa led her to be a Producer and shoot her first ever documentary film, 'Soweto & I' with young performers in South Africa that she worked with, annually, for a decade. She believes in giving young people a voices, identifying New Leaders, to give their own insights on the long-term effects (since Apartheid ended) of international cultural exchanges for young people. Those performers whom she encountered and trained, with partners, since 1995 in Soweto community halls are currently touring the World. Her work as Co-Partner of 'Step Afrika! International Cultural Festival (Soweto 1995-2008) and Artistic Director and Founder of 'Step Afrika! UK' (since 1995) has been Khadijatou's Magnum Opus, so far. Khadijatou will be Celebrating nurturing and working with young people in Soweto & UK, for over 21 years in December 2016. Khadijatou regularly performs poetry on Radio internationally and is currently a Co-Host on a weekly live 'Radio of the Oppressed' full-audience-interactive Radio Drama series, '492 Korna Klub' on Galaxy FM in London & Performing in London with her K2 Trio.
Khadijatou's writing, recording and music history include penning track 'Second Chance' and performing with super group The Heliocentrics ('Out there' Album). As a Poet, Khadijatou has touried Southern African countries of Malawi, Zimbabwe and South Africa's major cities, Johannesburg, Cape Town and Durban with the 'Poetry Africa International Festival'. Performances in UK & European include Barbican, Glastonbury Festival (with The Heliocentrics and Mulatu Astatke). Khadijatou Doyneh presents her original songs on her Launch album, 'Sex, Lies & History - a fusion of Afro-funk jazz with dub poetry.
Última actualización: 27/09/2021