Poems from Lesotho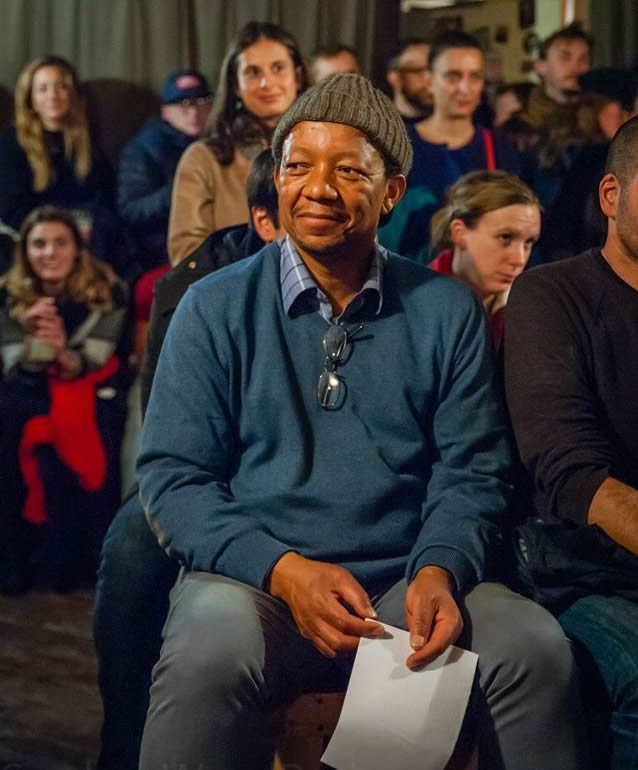 Por: Rethabile Masilo
White canes bend at two places, like fingers
Cities through fingertips inebriate me—
everywhere I go lies this pavement
defining the town with a kerb that may
or may not curve to where I go. Patient,
I like to try and see it with my cane,
slightly slanted in the hand. Not a stick,
a pen I use to trace my life again
as I walk and tap or touch stone or brick
or granite at my feet. No need to prove
God or splendour. If you don't listen well
to night you may miss the bat that moves
with rubber wing and flickers around walls
in a feeding frenzy. For the glory
of everything belongs truly to the night,
which holds day as dead retinas carry
light, to watch life with previous sight.
Janice's poem
When you get there, the horses of dawn
before you, the furious wheels of drawn carts,
each distance hard-won with sweated salt,
the road flat between miles; tense; only hoof
and sound of wheel loud above the air,
proof that this is not just a bad dream,
who can say what's best to do for our calm?
You sit like sculpted ivory among jaded colours,
something in the face you wear, hung like a mask
on walls of inner rooms, something in the sound
whose echo names you, the morning of which
rose out of the gold of you, flaring nostrils
at the world. How can we say who is to blame?
Halfway into destiny, the sun lost all hope,
and shone into itself above the great Smokies.
A slow descent home. The accurate death
of the first words ever spoken: let there be light!
What do we know about the meanings
of things that work against that kind of light?
Pretzel & ampersand
In a casket made by a missionary long ago
I sent your verse beneath the loch,
banished it there, saw it slip under and drown.
Then built a fig-leaf bonfire on my return,
piled chronicles on it, and danced nude
beside the pyre.
I long for days
of physical exertion, arms reaching behind
to ampersand the legs, and bare yearning
down the middle.
As pretzel master
you let me knot you to my mood
saying eat me! I smile, and eat you
of course without silverware.
Simon
We arrived after dark, the place already full,
and looked for spaces to pitch our tents;
then sat down and contemplated the stars,
pointing out those we knew by name that are
to children a familiar connect-the-dots
at the playground; we drew them completely
to how they appeared to our eyes, tracing lines
with our fingers in the air—before meeting
the man Jesus. I cannot recall whether
later we played shax, but the night was rife
and a fire flung sparks into the darkness above.
He was near, praying in the park somewhere:
one could tell, you could almost smell him.
And perhaps we played shax but who
can remember such a thing? No one
was going to escape the moment, taken from
scrolls and tablets with tombstone faces,
and brought before us like a sacrificial lamb.
He was kneeling near the silence of the grove
and we knew his sun was going to rise on Judea,
a kingdom spread from here to the sea, knew
prayer would stop when cries of pilgrims
came from afar as they realised what was
about to pass, and the time was right
for the carpenter to bring out his cross,
chiselled, smoothed over with a plane, oiled,
and women had mixed salt-water with herbs
for the bathing of feet. The black man Simon
was just setting off for the synagogue, biltong
and dried fruit in a pouch at his waist, along
a road where hordes lined the sides, waiting
with boards of shax folded under their arms.
Winter
—for Khotsofalang
Surely our walk will soon be
a thing of past dreams,
given that since you left
there have been no options,
brother, for body or for mind;
and this park where you lie
holds no promise of release.
We sit listening to wind
slap the leaves of the oak
that grows on your grave.
To weed the mound, dig up
and chuck away dandelions,
tufts of tussock still stuck
to our memory, to hoe, claw
the surface with our hands
and water it with salt
is to accept the solitude
of your room. On a clear day
in winter one can see the tree
far off, gnarled in abscission,
reaching to grab heaven
by its lapels. Seasons come.
Wrapped in bark against
the chill, the tree homes birds
in its branches. Meanwhile,
throughout summer, its roots
drink the life of your blood
that clings to leaves that float
earthward on scarlet wings,
till once more winter brings
its black, black night of ice.
The boy who would die
—for Motlatsi
The bedroom was a shallow grave—
perhaps the opinion of the men who came,
or of the wardrobe in that room in which a woman hid.
In any case, there was a burial in that room;
decked in bright pyjamas he slept
as bullets hankered for the softness of his body
and found the linoleum under the bed.
Men he did not know
in a house on a hill like a staircase—
from the grave you climbed to the sitting room
whose Cyclops window looked at the world,
the reason perhaps for such an act for which there was no wake,
then further up to the tin-stove kitchen
that stood above the rest, in which in winter
we sang around a pot on the stove—
if not for the outhouse some metres into the hill
the kitchen was the highest place of the house,
the closest thing to heaven we had.
No dog dared bark that night.
We lived on that hill and it lived in us, in rocks
carved out of boulders and chiselled
into bricks by able hands of noble men.
He died at the edge of his dream, a potted plant
on a winter sill, aged three, died for us;
and from then on all poems would end thus.
*
Rethabile Masilo is a Mosotho poet who has lived in France for more than 30 years. He left his country, Lesotho, as a refugee in 1981, eventually ending up in the USA where he continued his biology studies. He moved to France in 1987. Rethabile has published four books of poetry and two poetry anthologies. In 2014 his poem 'Swimming' from the book Waslap won the Dalro First Prize in poetry, as well as the Thomas Pringle Award for Poetry in Periodicals a year later. The poem had first appeared in the magazine New Coin, Vol. 49 Number 1, in June 2013.
In 2016 his second volume Waslap, published by The Onslaught Press, was awarded The Glenna Luschei Prize for African Poetry. That same year in October he was invited to participate in the 20th Poetry Africa Festival in Durban. Masilo's books are Things that are silent (Pindrop Press, 2012), Waslap (The Onslaught Press, 2015), Letter to country (Canopic Publishing, 2016), and Qoaling (The Onslaught Press, 2018).
He blogs at Poéfrika and co-edits Canopic Jar with the writer Phil Rice
-Preparing the Body Poem written and read by Rethabile Masilo in Poetry Africa, 2016. -Video-
-Morning Song Poem written and read by Rethabile Masilo. Streamed live for Transatlantic Poetry hosted by Malik Crumpler.
-After Lunch on Sundays Poem written and read by Rethabile Masilo. Streamed live for Transatlantic Poetry hosted by Malik Crumpler.
-The boy who would die Poem written and read by Rethabile Masilo. Streamed live for Transatlantic Poetry hosted by Malik Crumpler.
- The Waslap of My Father Poem written and read by Rethabile Masilo. Streamed live for Transatlantic Poetry hosted by Malik Crumpler.
-The Horses Poem written and read by Rethabile Masilo. Streamed live for Transatlantic Poetry hosted by Malik Crumpler.
-Janice's poem By Rethabile Masilo (Read by Phil Rice)
-Poems by Rethabile Masilo Badilisha Poetry X-change
-Interview and four poems Flash Frontier
-Rethabile Masilo 2016 Maryville College Wall of Fame Induction Video
-Rethabile Masilo poetry reading at Berkeley Books Paris France. Poets Live Channel -Video-
Última actualización: 06/03/2020