Loosening the Mooring Line: Journey Through a Century in Norway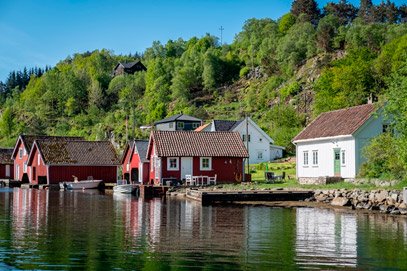 Por: Hilde Susan Jaegtnes
A little white wooden house lies a few meters from the sea on an island on the South-Western coast of Norway. A troll-shaped mountain looms on the other side of the fjord. On its rugged facade, the face of an angry prophet can be discerned.
The wind has battered the walls of this house since it was built in 1750; the atonal concerto of the rain pummeling the roof is perfect for falling asleep. During autumnal storms, the sea rises to the second stone step up to the entrance door. But the house was built sturdily to shelter the fishermen and their families from the harsh Norwegian climate. Only fire and a permanent rise in the sea level pose any real threat to its existence.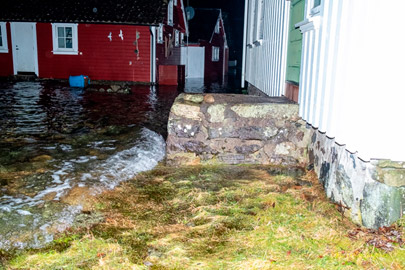 All photos by Karl Olav Jaegtnes

My grandfather was raised in this house by his grandparents. His mother died of tuberculosis when he was two years old, and his father emigrated to America to try his luck in carpentry. My grandfather's grandmother was the first to get up in the freezing cold mornings to get the fire going, so that her husband could enjoy a cup of coffee before he rowed out to catch dinner in the fjord. During the summer, my grandfather had to walk far into the hilly forest to milk the cows and carry the milk in a tin strapped to his back to a merchant boat waiting to collect the precious white drops. If he walked too fast or stumbled, the milk would spill onto his neck and trickle down his back.
At the age of 17, my grandfather travelled to Brooklyn and worked in a factory to save up money to buy his own fishing vessel. On a rare day off, he took a stroll across Brooklyn Bridge to see Manhattan. He passed by the Wall Street Stock Exchange, where people were sitting in the windows and buying and selling stocks like crazy. To his astonishment, he witnessed a man jump to his death from the window of an office building. The banks had gone bankrupt after the crash and many people lost all their savings. The year was 1929.
By 1955, my grandfather was providing for his wife and children by trawling shrimp on a fishing boat he owned. As part of the first Norwegian foreign aid program, he was sent to Kerala in India to teach local fishermen to modernize the fishing industry with bottom trawling techniques. My mother awaited his post cards eagerly and rejoiced when he returned with golden jewelry, exotic animal figurines and stories of a remote continent. The project resulted in overfishing and the destruction of parts of India's coastline, with most of the new catch going to wealthy customers, not to the poor population as intended (1). My grandfather contracted malaria, which gave him frequent excruciating attacks of pain for about ten years. Nonetheless, he spoke of his Indian adventure with awe and fondness.
I was born in Pennsylvania in 1973, where my Norwegian father was working as a mechanical engineer on nuclear power plants. In 1980, my mother insisted that we moved back to Norway so that we could spend more time with our relatives. My father was hired by the state-owned oil company and spent the rest of his career as a project director of oil platforms, gas refineries and pipelines. The oil boom was still in its early phase. In a few decades, fossil fuels would transform Norway from a poor fishing nation to the world's seventh richest country measured in GDP per capita (2) (and it is worth noting that all the six countries ranking higher than Norway, including Ireland, are notorious tax havens).
My mother inherited the little white fisherman's house, where we spent our holidays. Electricity had been installed in the 1920s, but the house had no plumbing. Water for washing and cooking had to be fetched from our well; clothes were washed in a waterfall; and the toilet was in a dark outhouse crawling with spiders. My grandfather's grandparents stared disapprovingly at us from a black-and-white photograph on the living room wall.
During our holidays, my grandfather loved to sit on a plastic chair outside his childhood home while watching me and his other grandchildren row in the bay and catch little crabs, shrimp, and fish. His back was injured after he slipped and fell on his fishing boat, but he was always cheerful and never grew tired of observing the activities of the new generations. His greatest pleasure was the hand-rolled cigarettes he chain-smoked till he died.
Although my grandfather had retired as a shrimp fisher, he continued with household fishing. In the evenings, he went out on the fjord in his wooden motorboat to set out large nets or lobster traps. Early in the morning, he pulled up the nets and traps and gutted the edible catch, throwing jellyfish, seaweed and lobsters too young to be eaten back into the sea. He never wore gloves, but the skin of his hands was too rough to sense the freezing cold water or the burning threads of jellyfish. But his fingers were nimble enough to repair the masks of the nets, which he would do during the day while listening to the radio. Every day, he enjoyed dinner prepared by my grandmother, consisting of fish served fried, boiled or as fish pudding or fish cakes together with boiled potatoes, vegetables and perhaps gravy, with a dash of parsley for flavor. I remember seeing them patiently removing fishbones from their mouths and place them on the edge of the plates. On Sundays, they treated themselves to the luxury of meat.
All his life, my grandfather knew and respected the patterns of the ocean and the weather. In return, the ocean provided his family with food and spared his life.
In 1982, my father bought an 8-bit personal home computer, a ZX Spectrum on which my brothers and I learned to program and play games. None of my friends had a computer at this time, and few suspected that computers and the internet would revolutionize the world in just a few decades. On the contrary, the president of IBM famously predicted in 1943 that the total world market was limited to "maybe five computers". In 2020, data storage warehouses consumed 1-2% of global electricity demand, but this figure is estimated to increase with the growing amount of stored data, perhaps as much as up to 50% of global electricity demand. Today, only Iceland uses more electricity per capita than Norway.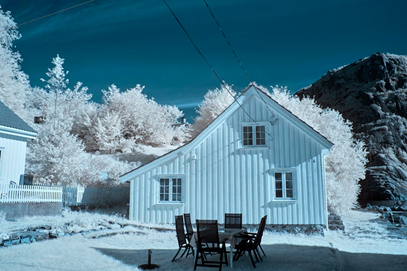 My grandfather died in 1996 of heart failure, 16 years before I published my first book. I never got to ask him whether he was sad that none of his descendants chose fishing as their profession. Would he have been proud of me, even though I failed to carry on his lineage with children of my own? Would he have applauded my choice to pursue writing as a career? And what would he have thought of future generations' excessive energy consumption, which may be the doom of his childhood house and even our entire planet?
A few years ago, the little white house was passed on to my brother and myself for holiday use. Except for an extension carried out in the early 1800s, the structure of the house has remained as originally erected in 1750. But now, the house is equipped with plumbing, a shower, heated bathroom tiles, a dishwasher and laundry facilities. High-speed internet allows us to stream tv series and play computer games. Our plastic speedboat takes us swiftly out to the fjord if we want to fish for leisure, but we usually catch more than we can eat. My brother complains that the house lacks a charging station for his two Tesla electric cars. The view of the troll mountain is obstructed by salmon farms and cruise ships plowing through the fjord, and the mournful cries of seagulls are drowned by dance band music blasting from our neighbor's bluetooth speakers, a common occurrence since he refurbished his red boat shed into a luxurious cabin. About five hundred people live permanently on the island, but the population doubles during the holidays. Only a few residents still make a living by fishing on boats. Fish farming, however, has become the third largest industry in Norway, second only to oil, gas and hydropower. In fact, 53 percent of all Atlantic farmed salmon in the world is produced by Norway (3).
My grandfather's grandparents still hang on the wall with their disapproving glare. I wonder what they thought when their son, my grandfather's father, left home for the US in 1902. This is how he described his departure in his diary:
"Farewell then, to all who accompanied me to the ship. For a long time, I stand on deck and watch them, trying to tell them apart: Simon with the soft felt hat, my brother, you left us so many times, and now it is my turn. Then Ludvig and Kristian and Reinhardt. And all the beautiful girls – it hurts, having to leave – but once you have left and loosened the mooring line, you have no choice but to keep dancing, whether you are travelling north or south."
Essay on the issue of "World Peace, a Pact with Nature" for the 32nd Medellin International Poetry Festival, Colombia, July 23 to 30, 2022
1. https://www.onmanorama.com/lifestyle/keralaspora/2021/06/13/how-norway-helped-modernise-kerala-fishing-industry.html
2. https://worldpopulationreview.com/country-rankings/richest-countries-in-the-world
3. https://en.seafood.no/news-and-media/news-archive/celebrating-50-years-of-modern-aquaculture/
---
Hilde Susan Jaegtnes is an American-born Norwegian poet, fiction writer, screenwriter, actor and composer. Jaegtnes trained as an Actor Musician at Rose Bruford College in London and earned a bachelor's degree in Political Science and International Relations from San Francisco State University as well as a master's degree in Writing for Screen and Television from the University of Southern California, Los Angeles. Her literary merits include five published books in Norway in the genres of poetry, flash fiction and novels. Her latest novel, «I Founded the United States», was nominated for the Brage Prize in 2021, Norway's most prestigious literary award. Four of her feature film screenplays have been produced, and she also wrote the third season of the political thriller tv series «Occupied». Jaegtnes frequently returns to themes such as identity formation, gender, power imbalances and existential loneliness. Her writing style covers a wide range from descriptive prose to absurdist playful satire to surrealist poetic dreamscapes. Jaegtnes has the mind of an evolutionary biologist, the body of a clown and the heart of a Marxist surrealist.
Última actualización: 08/06/2023