World Peace, A Pact With Nature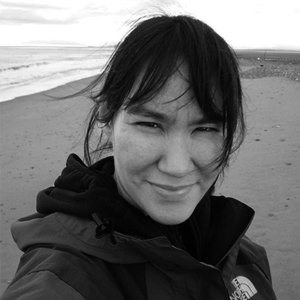 Por: Joan Naviyuk Kane
It would not be long ago that we would know anything other than the real world around us, with us. Like my mother, and her mother before her, I have come to know something of the way the land and sea and ice lives and will always love me back. I survive with the hope that one will pull the petal from seed, a pebble from one's own mouth, and press for sovereignty despite all the damage one might sustain from one's enemies.
Agate, ivory. Without alliance, I was told, we would not fill the air with our difficult musics. The audience, then, does never change. Always a mother & grief, never a worthwhile father. So I know what it means to walk alone beneath the full buck moon, to scratch a phrase like fragments are the only form he trusts onto the page, but this is a letter & maybe one of the only places I will write this down: it makes me uncomfortable to be loved though once I was sad to have been loved, in effect, not at all: which is to say less than the other & I am racked to with grief to have thought I could make sense of any of it.
Cambridge, Massachusetts
1/14/22
---
Joan Naviyuk Kane is Inupiaq with family from Ugiuvak and Qawiaraq. The author of eight collections of poetry and prose, she teaches creative writing at Harvard and Tufts, is a lecturer in the Department of Studies in Race, Colonialism and Diaspora at Tufts, and was founding faculty for the graduate creative writing program at the Institute of American Indian Arts. She was a Visiting Fellow of Race and Ethnicity at The Center for the Study of Race and Ethnicity in America at Brown University in 2020-2021, and the 2021 Mary Routt Endowed Chair of Creative Writing and Journalism at Scripps College. Her second book, Hyperboreal (winner of the 2012 Donald Hall Prize, an American Book Award, and a finalist for the 2014 PEN Center USA literary award), will be published in translation by Editions Caractères in 2022, and a collection of new poems, Dark Traffic, was published in the Pitt Poetry Series in September.
She has received a Guggenheim Fellowship, a Whiting Writer's Award, an American Book Award, the United States Artists Creative Vision Award, the Donald Hall Prize, the Native Arts and Cultures Foundation National Artist Fellowship, and fellowships from the Radcliffe Institute, the Rasmuson Foundation, the School for Advanced Research, and Brown's Center for the Study of Ethnicity and Race in America. A lecturer in the department of Race, Colonialism and Diaspora at Tufts, she also teaches creative writing at Harvard, Tufts, and the Institute of American Indian Arts. She raises her sons in Cambridge, Massachusetts.
Published on 20.02.2022
Última actualización: 23/03/2022