Poetry readings in 117 cities for Peace of Colombia
Poetry readings in 117 cities for Peace of Colombia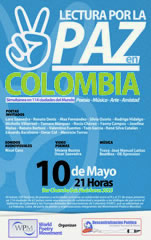 By World Poetry Movement
At least 200 poetry readings and art activities will be held between next 9 and 21 May in 117 cities from 63 countries as an expression of solidarity with the peace talks between the Government of Colombia and the Revolutionary Armed Forces of Colombia (FARC), being carried out in Havana, Cuba, from poets and member organizations of the World Poetry Movement (WPM) and Word in the World.
Over 850 poets, artists, intellectuals and scientists from 139 nations signed a statement supporting this global campaign, which began last February, created from the efforts of world poetry to help solve some of the deepest humanitarian crises of our time, war, the deterioration of the lives of people and nature, and the material and cultural poverty of millions of human beings.
The World Poetry Movement seeks to sensitize humanity regarding the dangers that threaten all forms of life on Earth, the need to build a process of spiritual unity in the world, and the urgency of global peace with social justice, in dignity, beauty and the splendor of existence.
The Esquipulas Foundation of Nicaragua is preparing events in Managua, León, Matagalpa, Esquipulas, Masatepe, Somotillo and Masaya. The Benidorm Poetic School is organizing poetic actions in Xalapa (Mexico), Benidorm (Spain), Murcia (Spain), Braga (Portugal), Caracas (Venezuela), Campogrande (Brazil), Malaga (Spain) and Tegucigalpa (Honduras). At the House of Writers of Montevideo (Uruguay) poets, storytellers, musicians and artists will participate in the event.
El Proyecto Cultural Sur will take nine readings of poems from 9 to May 14 at schools in Buenos Aires (Argentina) and the Book Fair in the capital Argentina (May 11), the public broadcast by Radio Radio Arinfo and Fly. In Galati (Romania), nine poets read their poems and display a photo exhibition with the title "The Island. An Intimate Calligraphy".
On May 17, for five hours, in Lome (Togo) musicians, poets and 50 storytellers from Somalia, Syria and Togo, belonging to the Association of Messengers of Hope, will read poems and stories, and sing songs for peace in Colombia. In Nairobi (Kenya), rappers, hip hoppers, performers and advocates of the Spoken Word genre will join this world poetry day.
With readings of poems, among other activities, May's worldwide poetic action for peace in Colombia has been joined by organizations such as: Festival Internacional de Poesía de La Habana (Cuba), Fondation Prokilti (Haití), Festival Internacional de Poesía de Medellín, Teatro La Candelaria, Casa Museo Fernando González, Casa de Poesía del Valle Jorge Isaacs, Fundación Plenilunio, Colegio Gimnasio Fontana, Universidad Sergio Arboleda de Santa Marta, Universidad de Cartagena, Corporación Sociocultural PezcArte de Riohacha (Colombia), Desembarco Poético and Asociación de Escritoras Contemporáneas del Ecuador (Ecuador), Movimiento Comunal Nacional (República Bolivariana de Venezuela), Festival Latinoamericano de Poesía en el Centro, Fundación Floreal Gorini, Festival por la Paz de Santa Fe and Sociedad Argentina de Artistas Plásticos (Argentina), Fragua Thomas Sankara de la Casa Hankili and Festival Iberoamericano de Poesía Salvador Díaz Mirón (Mexico), Escuela de Estudios Generales de la Universidad de Costa Rica (Costa Rica), Brigadas de Poetas Revolucionarios (San Francisco, Estados Unidos and Roma, Italia), Harare International Festival of Arts (Zimbabwe), International Poetry Festival a Spier and Barefoot Poets Poetry Reading (Suráfrica), West Africa for the OWWA, Women Writers Conference y Splendors of Dawn (Ghana), Contemporary Poet and Writers Association of Turkey (Turquía), International Poetry Festival of Krytia, Poetrywala in Mumbai (India), Press Club of Dakka (Bangladesh), MetroManila on programm Happy Mondays in Quezon City (Philippines), International Human Rights Defender Network (Siria), Festival Internacional de Poesía de Granada, el Departamento de Cultura del Ayuntamiento de Bilbao and Asociación Cultural Arte Fénix (España), La Maison de l'Amérique Latine, Radio Bumerang and La Vache Bleu (París, Francia), Poets Circle and Volos Poetry Slam (Grecia), Nelversogiusto-Senigallia Poetry (Italia), The International Poetry Festival Meridian Czernowitz (Ucrania), Writers Union House (Islandia), International Literary Symposium (Eslovenia), Zagreb City Library, Writers Society and Croatian P.E.N. Centre (Croacia), Annikki Poetry Festival (Finlandia) Writers' Union of Romania (Rumania) and Turkish-Cypriot Artists and Writers Union (Chipre).
There will also be other poetic and artistic interventions in Smyrna and Estambul (Turkey), Ramallah (Palestine), Delhi, Bhagalpur Bihar, Jaipur, Chandigarh, Kerala, Shillong and Auroville (India), Tianjin (China), Katmandu (Nepal), Damasco (Syria), Tel Aviv (Israel), Teherán (Iran) El Cairo (Egypto), Arusha (Tanzania), Gaborone (Botswana), Durban (South Africa), Harare (Zimbabwe), Porto Novo (Benim), Bogotá, Medellín, Cali, Cartagena, Santa Marta, Pereira, Ibagué, Montería, Riohacha, Envigado and Itagüí (Colombia), Caracas, Islas Margarita, Maracay and Trujillo (Bolivarian Republic of Venezuela), Santiago de Chile (Chile), Lima y Arequipa (Perú), Quito (Ecuador), La Paz (Bolivia), San José (Costa Rica), Pando and Ciudad de Rivera (Uruguay), Asunción (Paraguay), Buenos Aires, Rosario Mendoza, Santa Fe and Neuquén (Argentina), Campo Grande (Brazil), México D.F. (México), Guatemala City (Guatemala), Havana (Cuba), San Juan (Puerto Rico), Puerto Príncipe (Haiti), San Francisco, Atlanta, San Diego, Michigan, Cincinatti, Los Ángeles, Newark, Venice (United States), Montreal and Fredericton (Canada), París (France), Londres (England), Delhi, Bhagalpur Bihar, Jaipur, Chandigarh (India), Rome, Brescia and Senigallia (Italy), Madrid, Valencia, Bilbao, Murcia, Badajoz, Granada y San Sebastián (Spain), Braga (Portugal), Athenas y Volos (Grecia), Sofia (Bulgary), Rotterdam (Netherland), Oslo (Norway), Reykyavyk (Iceland), Tórshavn (Faroe Island), Škocjan (Slovenia), Zagreb (Croatia), Tallin (Estonia), Helsinki (Finland), Nicosia (Chipre), Fier (Albania), Tashkent (Uzbekistán), Chernivski (Ukraine) y Galati (Romania).
May 8th, 2013
Última actualización: 04/07/2018